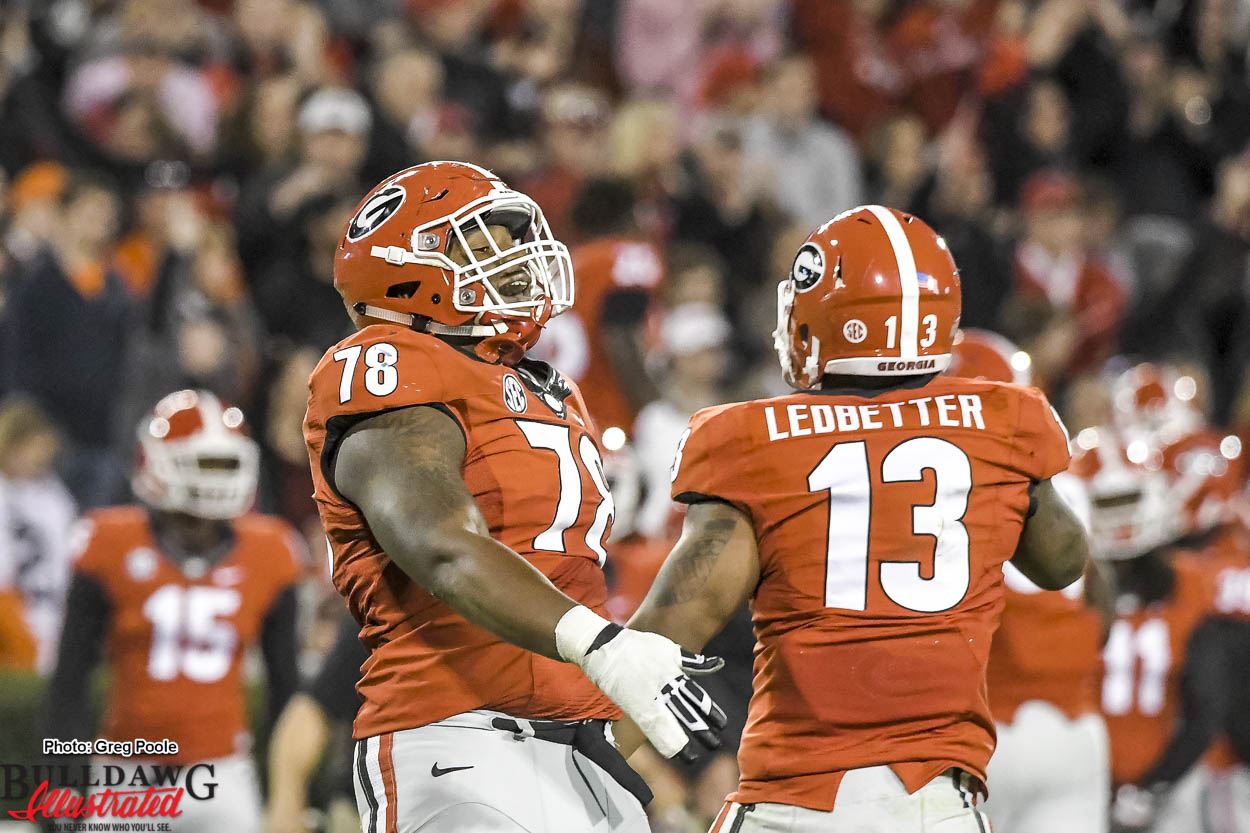 The Georgia Bulldawgs conclude the up and down 2016 regular season with their annual tilt against Georgia Tech in what can best be described "Old Fashioned Hate."  It certainly isn't clean.

What makes it old fashioned is I would imagine a lot of fans my age (early 30s) don't hate Tech with the vigor and fire as other schools, such as Florida.  But Tech is still right there.
I can't remember where I read or heard this, but Mark Richt once said that in his first season, the Tech game was the most important game for him and for the Georgia people.
The Tech game was important to show  things were going to be different in Athens.  In 2000, Georgia did infamously beat Tennessee, but lost to South Carolina, Florida, Auburn, and Tech.  In 2001, Georgia lost to South Carolina, Florida, and Auburn.  Beating Tech was a bigger deal, big picture wise, than beating Tennessee (although, the Hobnail Boot game was a pretty big deal).
For all the great things Richt did at Georgia, owning Tech and Auburn might be two of his biggest accomplishments outside the 2002 and 2005 SEC Championships.
Kirby already has beaten Auburn and carried on that tradition.  He needs to beat Tech to show all the stakeholders that his ship is heading in the right direction.   There is a big difference between 8-4 and 7-5.
Just ask Georgia Tech, as they regularly go 7-5.
But to get to 8, maybe 9 wins, Georgia is going to have to beat Tech.  And that won't be an easy task for Kirby Smart and Mel Tucker.  Not this season at least.
For all the success that had at Tech, there were some moments where it was not good, or closer than it should have been.  Since the arrival of Paul Johnson, Tech has given Georgia the most trouble when it had a first-year defensive coordinator.
I won't try and speak too knowledgeably on the subject, but think about Tech for a moment (try and do so on an empty stomach).  The teams Tech plays on an annual basis with athletic defenses-Georgia, Virginia Tech, Clemson, North Carolina-usually have success limiting the damage from the Triple Option.   If you see the Triple Option frequently, defenses can slow it down.
They are still going to get their yards, but good defenses with familiarity and athletes can slow it down.
It has been the case at Georgia.
In 2008, Willie Martinez's defense gave up 409 rushing yards and 45 points against Tech.  Joshua Nesbitt was just 1/6 for 19 yards.  The next year in 2009, Georgia held Tech to 205 yards on 51 carries.
In 2010, Todd Grantham's pro style defense gave up 411 yards on the ground and 34 points in a winning effort.  Georgia won a wild night game in Sanford Stadium, but it was tough.
In 2011, Grantham's second season seeing the triple option, Georgia held Tech to 17 points and 243 yards rushing.
But in 2012, Grantham's third season, Tech scored 10 points (3 until midway through the 4th quarter) on 306 yards on 67 carries.
And in 2013, Grantham's final season, Tech scored 24 points in regulation.  Tech actually had success through the air on a few big pass plays.  After getting shell-shocked early, the defense settled down.   The defense held the option to 263 yards on 58 carries.
Then that brings us to Jeremy Pruitt.  In Pruitt's first year, Georgia should have won the 2014 game.  While that game fell on Mark Richt and poor strategy, Pruitt's defense still got shredded for 399 yards on 70 carries.
Last season, the Georgia defense held Georgia Tech to 194 yards and 7 points.
So since Paul Johnson's arrival, the average rushing yards per game against Tech for a first time Defensive Coordinator is 406 yards in three games.
In the five games where a UGA defensive coordinator has seen the triple option before, the average rushing yards per game is 240.
Georgia's rushing defense this season has been very good, only giving up 133 yards per game (good for 5th in SEC). That is about in line with Florida, Auburn, and LSU.
In fact, Georgia's defense has been very good this season.  Read what I wrote about the Florida game, but basically, what has caused the disparity in the defensive statistics this season has been the special teams and turnovers putting free points on the board, or putting the defense in tough positions.   You have to be beyond pleased with how the Georgia defense has played this season.
But the defense will be tested Saturday in a way they haven't been all season.
Hopefully, the Georgia offense will be able to move the ball and keep up because if recent history is any indication, Saturday could be a long day for the Georgia defense.
And beating Tech, going 8-4 and finishing the season strong will go a long way in making the Georgia people excited about the bright future in Athens in the coming season. But it all starts with beating Tech Saturday.
Easier said than done.