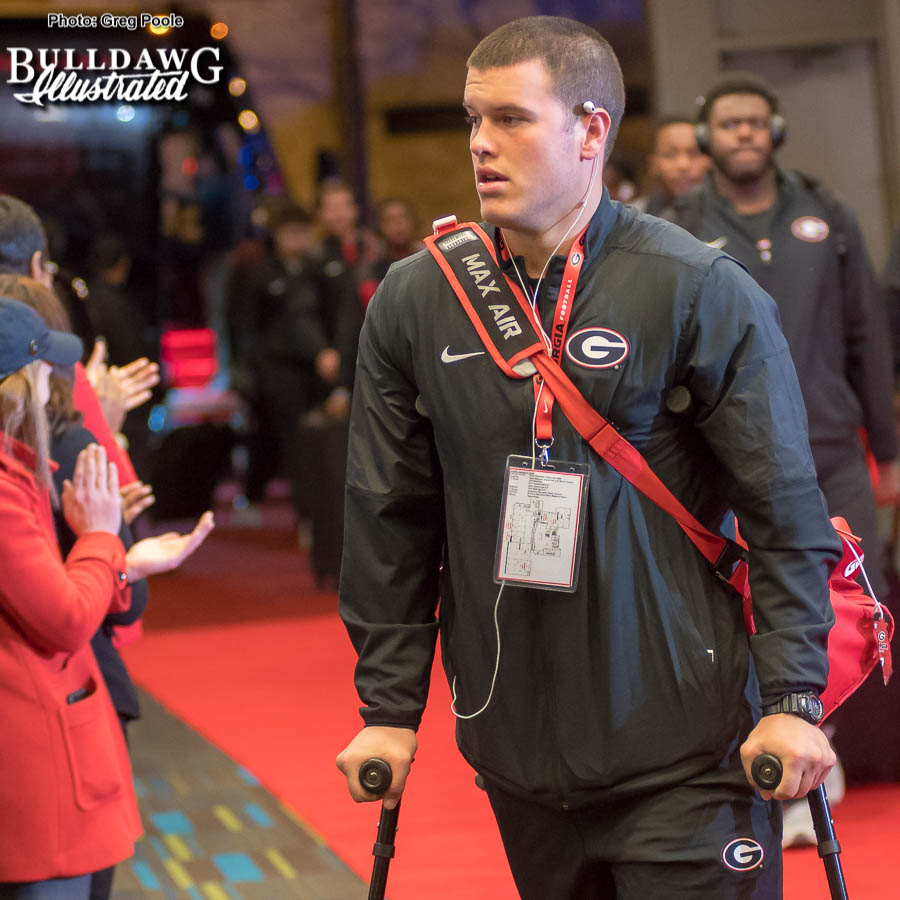 As we count down the final hours until tonight's kickoff of the 2018 College Football Playoff National Championship game between Georgia and Alabama, let's take a look at the latest injury reports for the Bulldogs and Crimson Tide.


Here is the latest injury report for both Alabama and Georgia from http://www.donbest.com/ncaaf/injuries/ as well as what we learned over the weekend from head coaches Nick Saban and Kirby Smart during the National Championship media day on Saturday.
One big question for the Crimson Tide was on whether or not starting right guard senior Lester Cotton would be able to play. Nick Saban did not mull around or sidestep the question and simply answered with "He's out."
When asked about the rest of the injured players for Alabama, Saban said, "We're not healthy. We've got an injury list that's really, really long. It's been a cumulative effect of the season." Saban added, "I can't even tell you the number of guys that we have out, but it's a pretty significant number."
Alabama Injury Report

Date | Pos | Player | Injury Status
12/19/17 | LB | Dylan Moses | Foot | is out indefinitely
11/05/17 | LB | Shaun Dion Hamilton | Knee | is out indefinitely
10/19/17 | WR | Donnie Lee Jr. | Dismissed | is out for season
09/18/17 | TE | Miller Forristall | Knee | out for season
01/06/18 | OL | Lester Cotton | Knee | is downgraded to OUT Monday vs Georgia
01/06/19 | DB | Minkah Fitzpatrick | Kidney | is upgraded to "will play" Monday vs Georgia
01/04/18 | RB | Joshua Jacobs | Hamstring | injured last game, is "?" Monday vs Georgia
01/03/18 | LB | Anfernee Jennings | Knee | is downgraded to OUT Monday vs Georgia
01/01/18 | DB | Nigel Knott | Undisclosed | is "?" Monday vs. Georgia
01/01/18 | DB | Hootie Jones | Knee | is "?" Monday vs. Georgia
Georgia is the healthier team of the two Southeastern squads headed into today's National Championship game, but there was a question on the status of sophomore tight end Charlie Woerner who injured his leg in the Rose Bowl game versus Oklahoma last Monday on Jan. 1st. Kirby Smart updated us on the status Woerner.
"He's (Woerner) doubtful," said Kirby. "He's getting some treatment, but he's very doubtful."
Woerner has played in all of the Bulldogs' 14 games this season, reeling in 9 catches for 100 yards. He was on pace to have his best game of the year and his collegiate career so far in the Rose Bowl where he had 3 receptions for 21 yards in the first quarter until the injury.
And there was also a question on whether or not junior wide receiver, special teamer Jayson Stanley would be available to play after both he and Natrez Patrick were arrested in Winder-Barrow during a traffic stop shortly after the SEC Championship Game back in the first week of December. After not playing in the Rose Bowl game serving an apparent suspension for that off-the-field incident, Smart had more positive news on Stanley.
"He will play," Smart said.
While Stanley hasn't recorded a catch this year, he has been a beast on special teams and a tenacious blocker at receiver helping tailbacks Nick Chubb, Sony Michel, D'Andre Swift, and company run a monk on opposing defenses this season.
Junior inside linebacker Natrez Patrick also did not play in the Rose Bowl game as he entered an alcohol and drug rehabilitation facility since his probation violation stemming from that traffic stop and subsequent arrest. Patrick is not expected to play because he is still receiving treatment.
Senior Reggie Carter and junior Juwan Taylor along with freshmen Monty Rice will likely rotate in to replace Patrick playing along side All-American, Butkus Award winner Roquan Smith when the Bulldogs defense lines up with two ILBs in the formation.
Georgia Injury Report

Date | Pos | Player | Injury Status
11/04/17 | LB | Rashad Roundtree | Concussion | is out indefinitely
01/07/18 | TE | Charlie Woerner | Leg | is downgraded to doubtful Monday vs Alabama
01/06/18 | WR | Jayson Stanley | Not Suspended | is upgraded to probable Monday vs Alabama
01/01/18 | DB | Deangelo Gibbs | Undisclosed | is "?" Monday vs. Alabama
01/01/18 | DB | Latavious Brini |sciplinary | is "?" Monday vs. Alabama
01/01/18 | LB | Natrez Patrick | Suspension | is "?" Monday vs. Alabama
While Alabama has a longer injury list that Georgia's and is still going to field very good team, one area of concern for the Tide is at linebacker with three out for Monday night's national title game. And what may be even in bigger for Bama defense is that All-American safety Minkah Fitzpatrick is nursing a bruised kidney, but he is expected to play. How close to 100% will be the question?
And even though Lester Cotton is a big a loss for the Tide on the O-line, I would not expect too much of a drop off with J.C. Hassenauer, who is a senior, likely replacing the injured starter at right guard. The other option would be freshman Jedrick Wills.
Unfortunately, injuries are part of a contact sport like football, and they can and do affect a team's season. A team that can weather the injury bug is usually one with a deep roster, and Alabama certainly has a talented depth chart given the level at which Nick Saban and his staff are able to recruit each year. Georgia's depth has also improved under Kirby Smart over the last two years, but it is still not quite at the same level of the Crimson Tide; although the gap is not near as wide as it used to be. Long story short, I still expect this Georgia-Alabama National Championship game to be a four-quarter battle between two heavyweight SEC teams.
---
Recent Articles by Bob Miller
[pt_view id="83405b425p"]