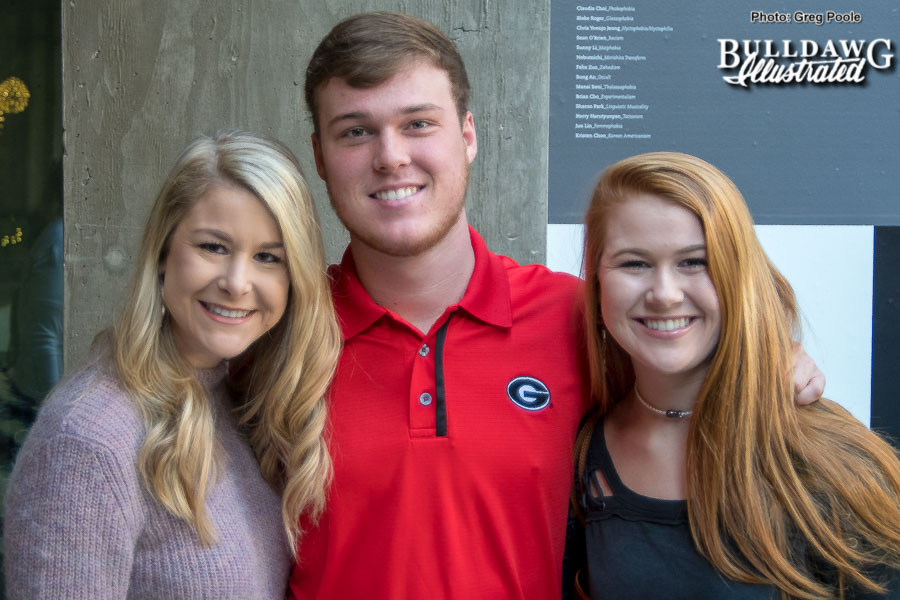 LOS ANGELES – The scene was familiar to the Bulldawg Nation. The Redcoat band was blasting out the Georgia fight songs and the melodies they play on Saturday afternoons in Sanford Stadium, and the UGA cheerleaders and mascot Hairy Dawg were dancing away as the fans in red and black clapped in rhythm.
Only thing is, this scene on a late Sunday morning was taking place more than 2,000 miles away from Athens, Ga. A Georgia pep rally, known as the Rose Bowl Bash, was being held in downtown Los Angeles, Calif., in the City of Angels.
Of course the Bulldog faithful, who have filtered into California by the thousands, didn't really need a pep rally to get fired up for what's transpiring Monday afternoon in Rose Bowl Stadium in nearby Pasadena. Ever since it was announced that the University of Georgia had landed a spot in the College Football Playoff semifinals – following the 28-7 SEC Championship game win over Auburn in Atlanta – Bulldawg Nation has been beside itself in anticipation of their football team meeting the Oklahoma Sooners in the "Granddaddy of All the Bowl Games."
Because, as all Georgia fans everywhere are aware, a win over the Sooners on New Year's Day means the Bulldogs will be in the CFP national championship game the following Monday in Atlanta, against the Clemson-Alabama Sugar Bowl survivor.
"It's a once in a lifetime thing, something I've been looking forward to," declared Greg Sullivan of Athens. "We flew in on Wednesday from Atlanta, been here for some time and have really enjoyed ourselves. I look for a Georgia win but it's going to be close, I believe. But we're excited and ready to go!"
Andy Sorrells of Grayson accompanied Sullivan to California and thinks the Bulldogs are in good position to pull out the victory on Monday.
"I'm a season ticket holder," said Sorrells. "Both Greg and I are football, basketball and baseball season ticket holders so we're everywhere. I think it's going to be a close game. I think both of our strengths match each other. Their offense is their strength, our defense is our strength but I think we've got a little bit more balance with our offense and defense versus their offense and defense. I'm hoping we can keep the ball away from them a little bit with our run game, wear them down and not give them much opportunity to score," added Sorrells. "I can't wait to get inside the Rose Bowl. Notre Dame this year, it was great going up there but coming out here being in the semifinals and all the way across the country, I'm excited."
Gregg Cowan and wife Evon are Georgia season ticket holders from Mansfield, Ga. and like most rabid Bulldog fans, follow their team through thick and thin.
"We go to all the games," said Gregg Cowan. "This game is special. It's unbelievable to be where we're at and you've got a freshman (QB Jake Fromm) that's leading us. I can hear Larry Munson saying it now, 'My God, he's a freshman!' I know that Rose Bowl Stadium is beautiful and I can't wait to be there. I think there's gonna be 50,000-plus Georgia fans over there (Monday)."
"I think this is awesome!" chimed in Evon. "To be out here, the weather's great, the people are nice and we are excited. The game's just going to be unbelievable. We've been to Los Angeles before, back in the mid-90s, but this is our first Rose Bowl. It's just awesome!"
Marlon Brown and wife Karen made the cross-country trip to Los Angeles from College Park, Ga. And like all Bulldog fans everywhere, they are beyond excited over seeing their team standing just two wins away from bringing the school its first national championship since freshman Herschel Walker and the 1980 Bulldogs toppled Notre Dame in the Sugar Bowl.
"I' m not a season ticket holder but a long-time fan," said Marlon. "This is well overdue for Georgia. I wouldn't miss it, had to be here. I didn't get to the Notre Dame game earlier but I wasn't going to miss this one, at all. I think this game is going to be one that will put Georgia on the map. We've been underrated for so long. We've been No. 1 and we got bumped off No. 1 but it's time to show them we're really No. 1! Absolutely, I'm excited to get to the Rose Bowl. It's been a long time coming."
"I'm really excited to be out here," exclaimed Karen Brown. "Marlon and I go to all the games. This Georgia team is special and I'm just excited to be here. We've been to California before but this game is the best reason to be here."
The younger Georgia football fans are also most evident around Los Angeles and just as thrilled over the Bulldogs' success this season as the decades-long UGA fans are.
"I'm very excited to be out here and I'm ready to see the Dawgs take it home!" offered Maggie Moore of Gainesville, Ga., the excitement and enthusiasm written all over her face as she spoke. "This is our first time in LA and I love it. We've been going to the games all year."
Maggie's boyfriend, Cole Clark, called the trip to the Rose Bowl a once-in-a-lifetime experience.
"It's very cool to be out here and I'm very excited – it's a once-in-a-lifetime trip to be out here and I'm ready to see the Bulldogs take it home," Cole said. "My dad's a season ticket holder. I see most of the home games. I didn't see the Notre Dame game; this is really my first away game this year. Like I say, this is a once-in-a-lifetime deal."
Maggie and Cole's close friend Kelli Spivey, also from Gainesville, echoed the same sentiments and feelings as did all the Georgia fans attending Sunday's pep rally.
"We're very excited to be out here for the first time," Kelli said. "We're ready to see the Dawgs take it home so we can go to the (Mercedes) Benz and watch the national championship. We're season ticket holders. We love going to Athens and watching them all year long. I'm looking to see a big victory Monday, just take it home all the way to Georgia!"
One thing's for certain. You can expect the Bulldawg Nation to be loud and proud in the confines of the famous Rose Bowl Stadium on Monday when the Bulldogs and Sooners kick if off with so very much at stake. The traveling Georgia fans made a statement on Sept. 9 when more than 40,000 of them packed Notre Dame Stadium. All signs point to maybe 50,000-plus Bulldog supporters converging on Pasadena Monday.
---
Recent Articles by Murray Poole
[pt_view id="2fb799183g"]