From the bracelet and hug you receive when you arrive, to the kids that make you smile, Camp Sunshine just means more. A group of Georgia football players toured the campgrounds, made arts and crafts and ended the day with a game of dodgeball. Campers encouraged the team to dance, asked for autographs and never took a smile off of their face.


Camp Sunshine is a camp for kids who dealt with cancer or who currently have cancer. The visit for the team has turned into a tradition at Georgia and one that each player never forgets. Whether the player just comes one time, or they come every year, Camp Sunshine leaves an impression.




For the junior tight end, Jackson Harris, this trip marked his second year visiting.


"It's a lot you know, people always say come here, and you do all this stuff for these kids, but at the end of the day we're doing it for ourselves too," Harris said. "It goes both ways, and to just see these kids and get to enjoy what they have you can't help but let it rub off on you."


Campers smiled and waved when they saw a player and yelled 'Go Dawgs' as they rode by on their bikes. However, one child stood out in the crowd with his confidence and witty words. Kolby is a camper at Camp Sunshine, and he was on a mission. The players met him as they went into the arts and crafts building. He began asking players for their autographs and making conversation. One of the players told him if he gave his autograph to him he wanted Kolby's autograph. The witty youngster came back with a remark that can only make you smile. Kolby told the player that he would give him his autograph for five dollars and that is the only way he would do it. After he said it laughter erupted which gave him even more confidence to get every player's autograph.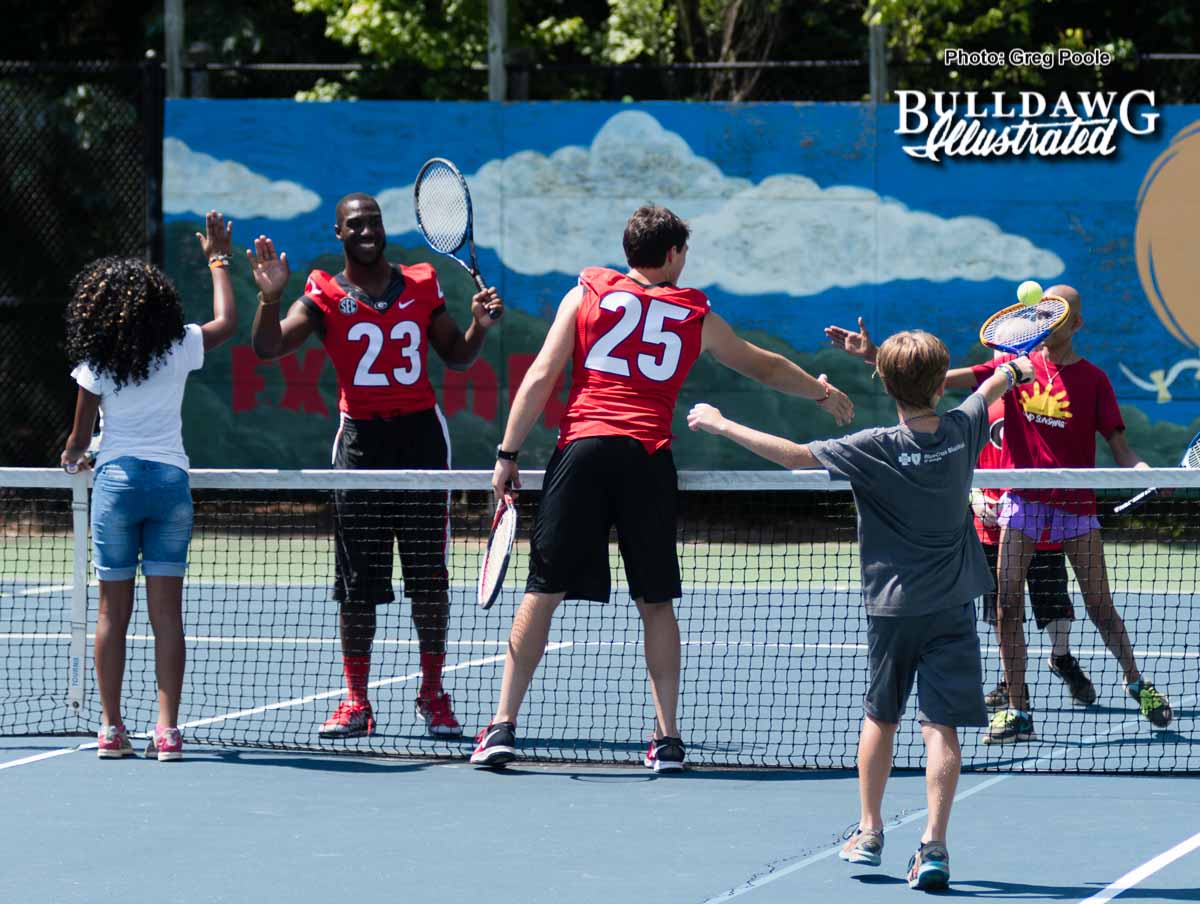 During the tour, players split up into two groups with half going to the tennis courts and the other toward the archery range. Redshirt junior, Lamont Gillard chose the archery range where two girls taught him and fellow offensive lineman Kendall Baker how to shoot. Gillard showed his competitive side while shooting and even hit the bullseye after the camper helped him perfect his technique.


"It means a lot to me, a lot to the team, and to the coaches seeing us give back to them in some way," Gillard said. "They love it, and it puts a smile on their face."


&nsbp;


As the tour ended, players and campers met in the gym for some basketball and a game of dodgeball. As the campers came in to visit and take pictures with the players another game emerged. "Gotcha" is a game the kids and volunteers play by pinning clothes pin to someone's clothes without them noticing. If they notice you have to try until you pin someone's clothes successfully.




Players had clothespins on their jerseys, hats, and shorts as each camper played the game to perfection. Lorenzo Carter and Michael Barnett picked up on it and joined the fun. The two helped the smallest campers get the biggest football players.


Camp Sunshine showed the team today as well as me just how much it means.



[foogallery id="107844″]


Recent Articles by Savannah Leigh Richardson


[pt_view id="8722077nva"]