Georgia Football continued fall camp on Tuesday with another high-intensity practice. Coaches kept the energy up with upbeat music along and motivating words. Here are my three takeaways from each side of the ball from day two of camp.


First, the defensive side of the ball where I observed the defensive line, the linebackers, and briefly the secondary.

DEFENSIVE LINE:


I watched a good bit of the defensive line today, and they are physical. Trent Thompson is a monster and didn't look like he lost any weight or muscle while out. Jonathan Ledbetter encouraged his teammates during the two drills I watched and was very vocal. A good bit of what we saw of the D-line were the players running through a drill that seemed to work on their foot work and mobility. Thompson looked strong running through the drills. Another thing to note is that Daquan Hawkins-Muckle was practicing with the d-line again. He took reps with the second group while Thompson, Ledbetter, and Michail Carter went in the first group.


LINEBACKERS: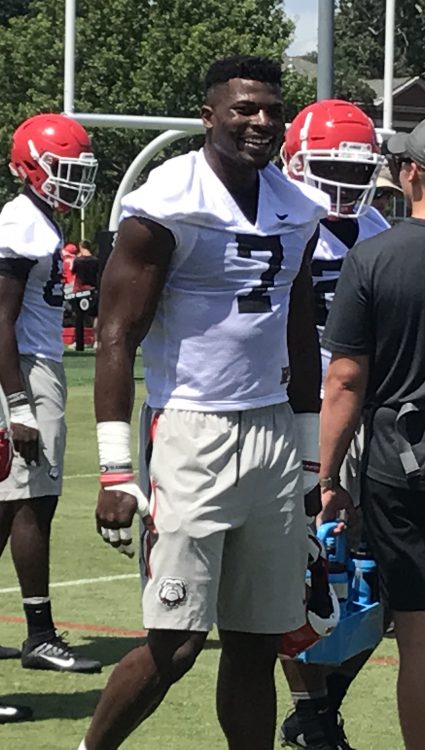 Lorenzo Carter and Davin Bellamy led the linebacker corps during practice today, and they both are in crazy impressive shape. After practice Coach, Kirby Smart mentioned that Carter checked into camp at 250 pounds and he looked every bit of it. While observing the group, the players were running a drill where they hit a tackling bag and in motion. Refer to the video below to see better what I'm describing. Carter and Bellamy both were smiling and focused on practice. Carter talked the other linebackers up and showcased his leadership which is something that impressed me. As one of the veterans, it's time for Carter to make himself known as a leader and that shined through in practice today.


SECONDARY:

Freshmen Deangelo Gibbs and Richard LeCounte III both stood out while watching the corners and safeties. Both jumped at the chance to run drills and focused on what the coaches told them. While watching them, Smart came out of nowhere making his presence known shouting to Tray Bishop about being more violent.




Moving to the other side of the ball and the offensive side of things, I got to watch the quarterbacks, offensive line, and tight ends.

QUARTERBACKS:

As I mentioned in yesterdays report, Eason looked spot on in his passes. I observed him again today, and yet again his accuracy was impeccable. There was only one pass that was slightly behind wide receiver Terry Godwin, and when I say slightly, it was less than a half of a second behind. Maybe Godwin was just running extra fast, but that was the only thing I saw off from Eason. Fromm continued at what seemed to be the second spot. Stetson Bennett looked to be going third and Brice Ramsey throwing last.

OFFENSIVE LINE:

Tuesday appeared to be freshmen day as Justin Shaffer, Andrew Thomas, and Isaiah Wilson made impacts during the viewing period. Wilson's form looked spot on for a tackle. At one point he gave the guy with the bag a run for his money. Shaffer seemed to take reps at left guard behind Pat Allen. Another thing I watched was Wilson taking reps at right tackle behind Dyshon Sims. Ben Cleveland also took reps behind Sims. Thomas, Isaiah Wynn, and D'Marcus Hayes took reps at left tackle, and the two newcomers seemed to be grasping Coach Sam Pittman's words of wisdom.

TIGHT ENDS;

Right before the end of the viewing period, I watched the tight end group for a brief moment. Charlie Woerner and Isaac Nauta both seemed to put some muscle on and overall, looked bigger. The group was with the O-line most of the viewing period where they worked on their blocking skills.


Day two of fall camp was a beautiful August day with not a cloud in sight. All the players looked focused and excited to be on the turf again. The team wore jerseys and shorts again but will move to some pads tomorrow.


Check out Day two's photo gallery below!


[foogallery id="109004″]





Recent Articles by Savannah Leigh Richardson


[pt_view id="8722077nva"]