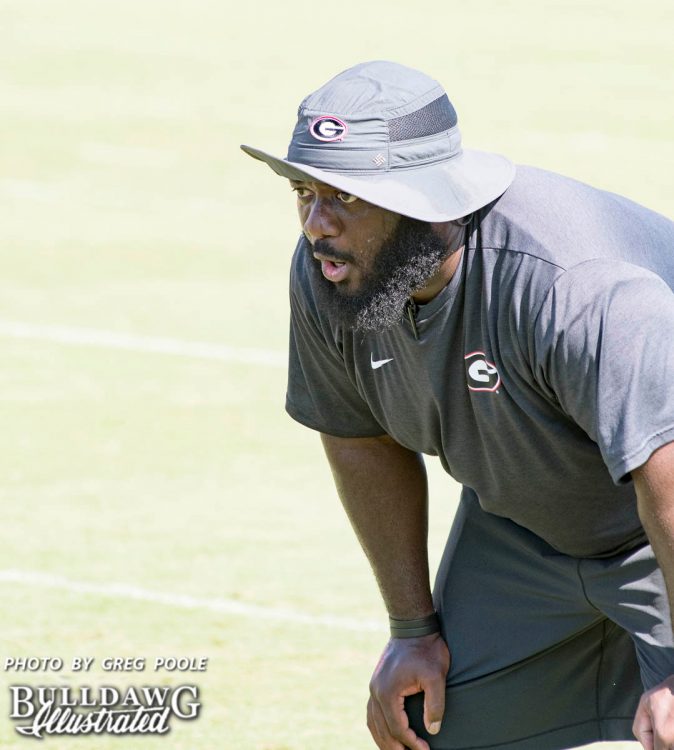 The Georgia Football team's defense seemed to be focusing on how to attack and stop a spread run-pass-option offense or RPO, which is the style of offense that the Bulldogs' first opponent, the Appalachian State Mountaineers, of 2017 run. The Bulldogs defense had positives and negatives throughout the media's viewing period, but it was clear that the defensive side of the ball had its focus on the spread.


Defensive Line

Bulldogs defensive line coach Tray Scott did not seem to be pleased with the effort that his d-line was showing in their drill. Scott seemed to be working with the lineman on how to attack an offensive line in an RPO offense and was trying to get his guys to do a better job of sealing up gaps in various blocking schemes.


However, it seemed the defensive line was having some struggles in this area and Scott was not the only one to notice. Kirby Smart also got on the defensive line group for their work in drills and his comments showed his disdain with the group's effort. Smart mentioned after practice that he was not pleased with the group's conditioning and that they needed to be able to play longer and harder than they were doin on Wednesday.


Although it was not a stellar day for the defensive line, Julian Rochester and Jonathan Ledbetter stood out and both received praise from Coach Scott. The defensive line should be a solid group for the Bulldogs this season, but they still have a few improvements to make.


Linebackers

I was not able to get a good look at the linebacker corps, but Lorenzo Carter and Davin Bellamy both had big smiles on their faces at practice and seemed to be pleased with their drill work. It is also important to note that Coach Glenn Schumann and Coach Kevin Sherrer both were less vocal with their group than some of the other position coaches and seemed to be more pleased with their work.


Defensive Backs

Defensive coordinator Mel Tucker worked with the defensive backs on catching passes and the Bulldogs safeties did a great job during this drill. I do not recall a single pass hitting the ground during this drill as each and every safety hauled in the ball that was intended for them.


Coach Smart later came over to work with the safeties and he seemed to be working on more play recognition drills with this unit. He was clearly working with the safeties on recognizing different schemes and plays by how a team lined up and he was working out of the spread as well. Richard LeCounte III and Latavious Brini both made mistakes during this drill but seemed to have more positive outcomes than negative ones.


The Bulldogs defense should be a solid group in 2017 and has the potential to be one of the best defenses in the country, but it is also clear from the coaches that there is still work to be done on that side of the ball for them to reach that potential.


---
Recent Articles by Michael Pope


[pt_view id="b8629e37y8″]