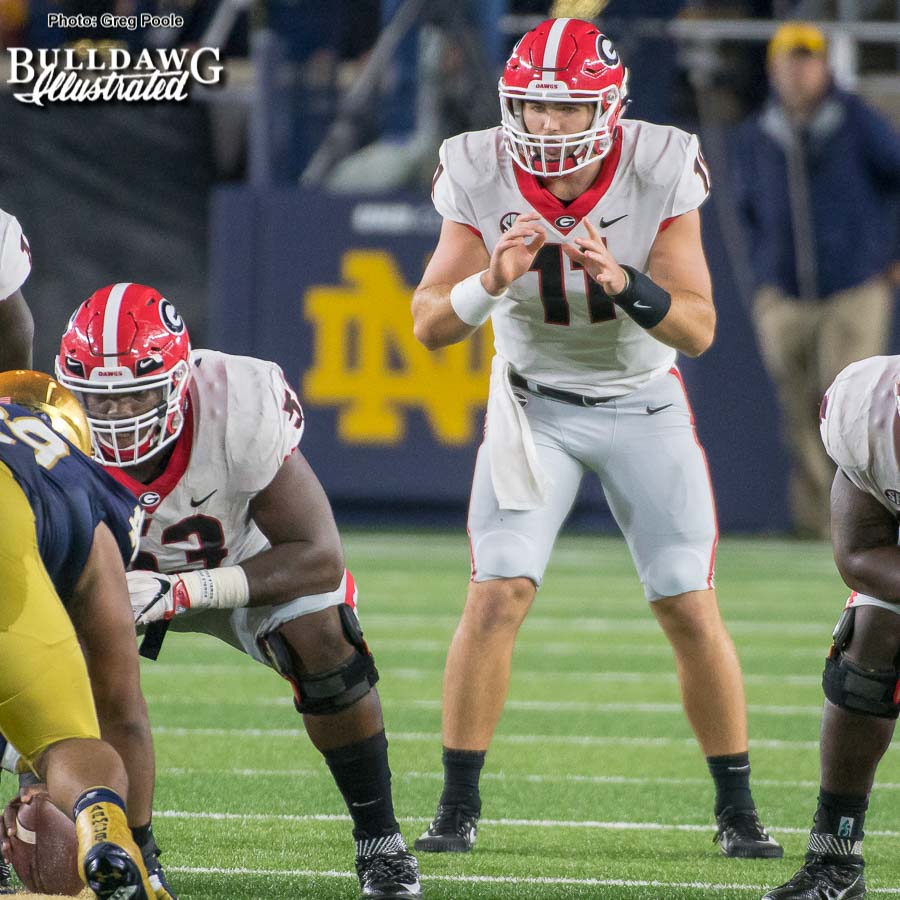 Senior defensive back J.R. Reed (20), and the Georgia Bulldogs are not new to being tested under the national spotlight.
Two years ago, Georgia defeated Notre Dame 2019 in South Bend in primetime on NBC. Later that year, Georgia defeated Auburn 28-7 in the SEC Championship, and edged the Oklahoma Sooners 54-48 in the Rose bowl. before falling to Alabama 26-23 in the National Championship.
"It doesn't matter how big or how small the game is, we're going to compete," Reed said.
The magnitude of this upcoming non-conference battle with No. 7 Notre Dame is gigantic. The last top 10 matchup in Sanford Stadium was in 2013 when Georgia beat LSU 44-41 in a down-to-the-wire thriller. In fact, that was the last time ESPN's 'College GameDay' was in Athens, and they return this Saturday when the Bulldogs take on the Fighting Irish. The game will be televised on CBS at 8 p.m.
"We're used to games like this," Reed said. "This is what you come to Georgia for."
Sophomore offensive lineman Cade Mays (77) was in high school about to make his commitment when Georgia lost to Alabama in the national championship. But playing under the national spotlight isn't that new to him, and he seems eager to play back on the big stage.
"We've been on the big stage before," Mays said. "A lot of these guys went on that national championship run. We've been in big games before. When Saturday comes, I think we will be able to block out all that outside noise."
E
Watch a fullscreen slideshow (opens in new tab)
HERE
.
These photos can be viewed, downloaded
HERE
.
Notre Dame players are used to the spotlight as most Fighting Irish games are televised on NBC. In 1991, Notre Dame signed a contract partnership with NBC, and then in 2013 they renewed the contract for $15 million a year.
This past Sunday, Notre Dame head coach Brian Kelly commented on the stage in which his team competes on every week.
"My players know that all their games are broadcasted either on NBC, or CBS, or ESPN or ABC," Kelly said. "So they know they're in that spotlight and they choose to come to Notre Dame because they want that. They relish that opportunity."
Georgia head coach said Kirby Smart Tuesday in his press conference that nothing in the pregame routine will change, and that he, his staff, and his players will treat it like any other regular game. Smart knows fans have been waiting years for this game, but for him it's just like any other regular Saturday.
For Reed, he definitely has seen the electricity around Athens and around campus. But he knows he can't treat it any differently than what it is, which it's just another Saturday in Athens. He knows that the crowd will is going to be hype, but he seemed ready to match that level of intensity when he runs out of the tunnel Saturday night.
"The vibe on campus is it's test week," Reed said. "That's the vibe I've been getting. Everybody has been telling me they're worried about their tests then the game. But I think everyone is going to show up. It's just another game, but I am going to amped regardless come game time"