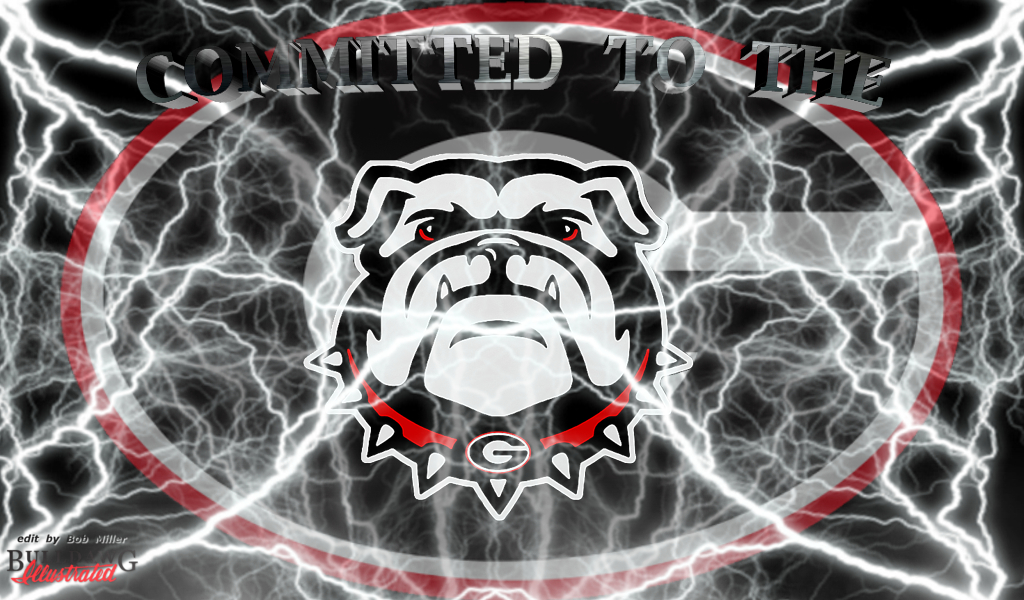 A week after the Bulldogs played their 12th and final regular season game, the University of Georgia football program's recruiting train is full steam ahead with coaches on the road making in-home visits, several scholarship offers, and hosting prospects for official visits over the weekend. And that was not all. To top it all off, the Dawgs also picked up a couple of big time commitments.

IN-HOME VISITS
Georgia coaches hit the ground running on Sunday as soon as the contact period began, which allows staff to go visit prospective student-athletes off campus. Some of the first stops made were by Head Coach Kirby Smart and Offensive Coordinator Jim Chaney visiting 2017 QB and current UGA commit Jake Fromm, and by Defensive Coordinator Mel Tucker and Linebackers Coach Glenn Schumann visiting 2017 DB and current UGA commit Richard LeCounte III. On Monday, Coach Smart and Wide Receivers Coach James Coley stopped in to see 2017 WR Jeremiah Holloman and his mom Oneida Holloman, which turned out to be a very fruitful visit based on the news from Thursday. More on that in a little bit.
Another in-home visit of note was Coach Smart and Offensive Line Coach Sam Pittman visiting 2017 offensive tackle Alex Leatherwood on Thursday. They were able to convince him to come to Athens for an official on Friday; however, I am not so sure Georgia made any headway here. Below is a full list of in-home visits I was able to confirm:
Coach Smart and Coach Chaney visited 2017 QB and UGA commit Jake Fromm on Sunday 11/27
Coach Schumann and Coach Tucker visited 2017 DB and UGA commit Richard LeCounte III on Sunday 11/27
Coach Smart and Coach Coley visited 2017 WR and UGA commit Jeremiah Holloman on Monday 11/28
Coach Shane Beamer visited 2017 DB Brelin Faison-Walden on Tuesday 11/29
Coach Tucker visited 2017 JUCO CB Lonnie Johnson Jr. on Wednesday 11/30
Coach Schumann visited 2017 ILB / FB Mac Redmond on Wednesday 11/30
Coach Chaney visited 2018 QB Trevor Lawrence on Wednesday 11/30
Coach Smart visited 2018 WR Jacob Copeland on Thursday 12/01
Coach Dell McGee visited 2017 RB Toneil Carter on Thursday 12/01
Coach Schumann visited 2017 CB Ameer Speed on Thursday 12/01
Coach Smart and Coach Pittman visited 2017 OT Alex Leatherwood on Thursday 12/01
Coach Tucker visited 2017 CB Eric Stokes on Friday 12/02
SCHOLARSHIP OFFERS
Along with in-home visits, Georgia sent out several new scholarship offers this past week. A couple of offers of note were to 2017 junior college, defensive back prospect Keisean Nixon and to 2017 wide receiver Tamorrion Terry. The Bulldogs also made a preferred walk-on offer to 2017 kicker Cole Phillips.
Nixon is a physical 6-0 and 200 lbs DB, very much in the mold of the Bulldogs' Maurice Smith, and Terry's situation is similar to 2017's Brian Herrien's as he has all the tools to be an explosive WR but is close on academics to qualify. The PWO offer to Phillips is probably the most eye-brow raising of the bunch given the fact that Rodrigo Blankenship is a PWO and kicked well for Georgia this season. Here is a complete list of the scholarship offers this week:
UGA offered 2020 OL Jake Wray on Monday 11/28 (He is the brother of 2018 OL commit Max Wray)
UGA offered 2017 JUCO CB Keisean Nixon on Tuesday 11/29
UGA offered 2018 TE Brevin L. Jordan on Tuesday 11/29
UGA offered 2019 OL Warren McClendon on Tuesday 11/29
UGA offered 2017 kicker Cole Phillips as a PWO on Wednesday 11/30
UGA offered 2020 athlete Avantae Williams on Thursday 12/01
UGA offered 2017 WR Tamorrion Terry on Saturday 12/03
OFFICIAL VISITS
One of a number of changes that Kirby Smart has made since taking the Head Coaching position at Georgia is on how the Bulldogs approach and handle recruiting. Within those changes, instead of one big camp or event for recruits like Dawg Night in years past, he held several smaller camps. One of the other changes with recruiting was with official visits. Compared to the previous coaching staff and the past 15 years, there were just 3 prospects that took official visits to UGA during the season. Expect there to be quite a few official visits between now and National Signing Day 2017 on February 1st, and the Bulldogs got those visits rolling over the weekend.
2017 defensive end Josh Kaindoh, who just decommitted from the University of Maryland came into Athens on Friday, and the Bulldogs are also pushing strong for 5-star offensive tackle Alex Leatherwood, who is currently committed to Alabama. Unfortunately, I am not so sure UGA and the coaches made all that much of an impression on Leatherwood. 247's Hank South reported that he left his OV early to go see Alabama play Florida in the SEC Championship game on Saturday afternoon. Here is a list of official and unofficial visitors from the weekend:
Note: Names in "red" are prospects already committed to UGA
Friday, December 02
Robert Beal -2017 WDE – Peachtree Ridge HS, Suwanee, GA (transferred from IMG Academy)
Josh Kaindoh – 2017 WDE – IMG Academy , Bradenton, FL
Alex Leatherwood – 2017 OT – Washington HS, Pensacola, FL (committed to Alabama)
Tre McKitty – 2017 TE – IMG Academy, Bradenton, FL (committed to Oregon)
Monty Rice – 2017 ILB – James Clemens HS, Madison, AL
Leonard Warner – 2017 ILB – Brookwood HS, Snellville, GA
Saturday, December 03
Nate McBride – 2017 ILB – Vidalia Comprehensive School, Vidalia, GA (note: McBride Tweeted out on Dec. 2nd he was rescheduling)
Xavier McKinney – 2017 DB – Roswell HS, Roswell, GA
Unofficial Visitors
Dominick Blaylock – 2019 WR – Walton HS, Marietta, GA
Ryland Goede – 2019 TE – Kennesaw Mountain HS, Acworth, GA
COMMITMENTS
Of course, the biggest news of the week was on Thursday when the Bulldogs picked up two commitments for the class of 2017 with defensive end Malik Herring and wide receiver Jeremiah Holloman announcing their decision in a very classy and well done commitment video that also starred current Georgia commits Jake Fromm and Richard LeCounte III. With Herring and Holloman's announcement, that gives the Bulldogs 18 commitments for 2017 and a very solid number 3 ranked class according to 247 as well as ESPN and a number 4 ranked class according to
Rivals and Scout.
So, what's next for Georgia when it comes to recruiting? Will there be any more commitments any time soon?
I expect more off campus and in-home visits all the way up to the end of this current contact period on Monday, December 12th. I think we can also expect some more scholarship offers to go out this week. In addition to off-campus visits, UGA will host some more 2017 prospects on official visits this coming weekend. As of right now, I know that 5-star offensive tackle Isaiah Wilson will take his OV on December 9th as well as 4-star athlete Christopher Henderson. There will more than likely be more prospects taking officials than just those two; plus, there should be some unofficial visitors. And as far as commitments, I do suspect there will be a couple of more this week. It was rumored that there could be another one over the weekend, but as of early Sunday morning, that has not transpired yet.
So stay tuned Bulldawg Nation. Georgia's red and black recruiting train aka the Smart Express is just getting started.