As practice got underway today, there were a few noticeable things that stood out during the media viewing period. The intensity of Practice seem to be a little higher, and the players zoned in. The coaching staff was also on another level. There was no chatting among each other, just running drills.
Injuries, Injuries, and more Injuries:
The team as a whole looked banged up, and there were quite a few players in black jerseys scattered over the practice field. Some of the most prominent black jerseys were Reggie Davis and Natrez Patrick. Ryne Rankin was also in a black jersey.
As for DaQuan Hawkins-Muckle, he was in a walking boot that covered his entire lower leg. It was Hawkins-Muckle's first time since he had sprained his ankle that he was back at practice. He was walking around practice with a crutch, so his return date is still uncertain.
Other guys that seemed to be banged up were Lorenzo Carter who was being looked at by the training staff while the media was there. Trent Thompson, who hurt his hip was playing without any trouble but was having some girdle being put around his lower back and abdomen on him as the press was leaving.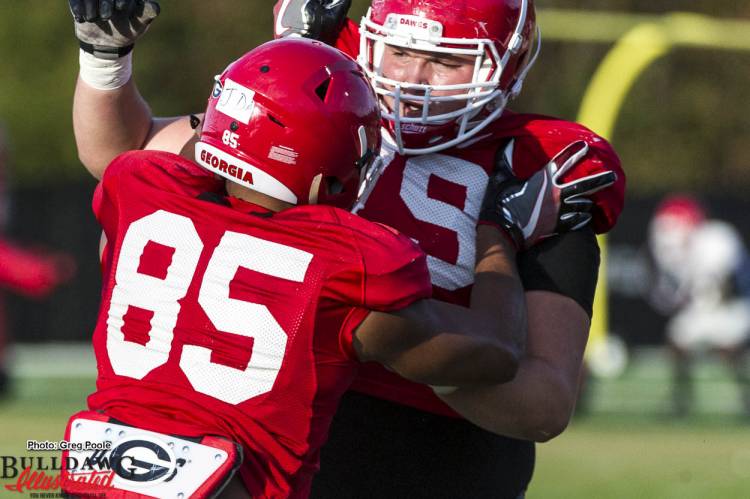 Offensive Line:
The offensive line was in full force in practice today. Pat Allen was taking second team reps at the right guard position again today. As for Solomon Kindley, he was taking reps there as well, but Allen was going in front of him.
Tyler Catalina seems to be at full strength today after being injured in the Kentucky game. He showed no sign of injury and was running the first team reps at left tackle.
Summary:
As a whole, the team looked ready to go. They were playing with intensity and a no-nonsense attitude. The offensive line was trying some new things out, and although the team seems banged up, they looked to be fighting and practicing through the injuries.