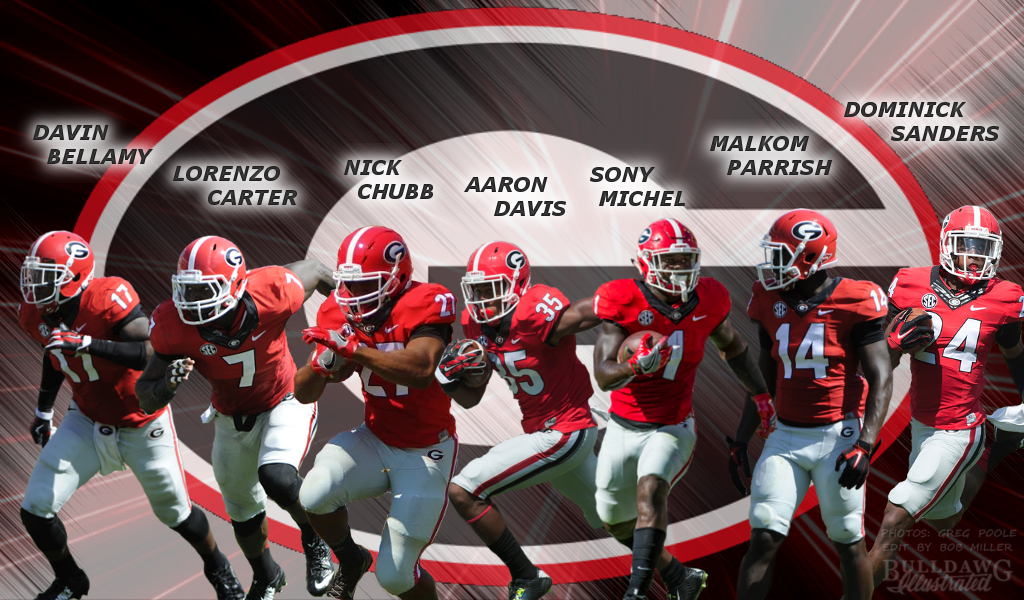 A day after the Bulldogs celebrated the 13th SEC title in program history, seniors Nick Chubb, Sony Michel and Isaiah Wynn along with junior Roquan Smith took home the top awards at the University of Georgia football team's annual gala on Sunday night at the Classic Center.


The four upperclassmen were named team captains, with Smith, a native of Montezuma, Ga., representing the defensive unit and Chubb, a native of Cedartown, Ga., Michel, a native of Plantation, Fla., and Wynn, a native of St. Petersburg, Ga., representing the offense. The gala came on the heels of the Bulldogs' whipping second-ranked Auburn 28-7 in the SEC Championship Game on Saturday and the team being put in the College Football Playoff's semifinal round in the Rose Bowl versus second-ranked Oklahoma on Sunday.
Chubb and Michel garnered the Vince Dooley Offensive Most Valuable Player honors while Smith was named the Vince Dooley Defensive Most Valuable Player. Chubb also received the Leon Farmer Strength and Conditioning Award. From special teams, sophomore receiver Mecole Hardman, native of Bowman, Ga., was named the Vince Dooley Most Valuable Player.
The Charley Trippi Award for most versatile player also went to Michel and senior linebacker Lorenzo Carter of Norcross, Ga. The Frank Sinkwich Award, given to the players who demonstrated the most toughness, went to Wynn and senior defensive back Malkom Parrish of Quitman, Ga.
The David Jacobs Award, given to a player who portrays courage, spirit, character and determination, went to senior linebacker Reggie Carter of Snellville, Ga., and senior tight end Jeb Blazevich of Charlotte, N.C.
The Up Front Awards for play along the line of scrimmage also went to Wynn, junior center Lamont Gaillard of Fayetteville, N.C., graduate nose guard John Atkins of Thomson, Ga., junior defensive end Jonathan Ledbetter of Tucker, Ga., and senior linebacker Davin Bellamy.
Newcomer of the Year Awards went to freshman quarterback Jake Fromm of Warner Robins, Ga., freshman tailback D'Andre Swift of Philadelphia, Pa., freshman tackle Andrew Thomas of Lithonia, Ga., redshirt sophomore defensive back J.R. Reed of Frisco, Texas, graduate punter Cameron Nizialek of Chantilly, Va., redshirt freshman tailback Prather Hudson of Columbus, Ga., and senior fullback Christian Payne of Athens, Ga.
Most Improved Player Award winners included sophomore tight end Charlie Woerner of Tiger, Ga., junior guard Kendall Baker of Atlanta, Ga., sophomore defensive end David Marshall of Thomaston, Ga., senior safety Dominick Sanders of Tucker, Ga., junior linebacker D'Andre Walker of Fairburn, Ga., sophomore defensive lineman Tyler Clark of Americus, Ga., redshirt sophomore place kicker Rodrigo Blankenship of Marietta, Ga., sophomore receiver Tyler Simmons of Powder Springs, Ga., and junior receiver Jayson Stanley of Fairburn, Ga.
Scout Team Player Award winners were senior offensive lineman Thomas Swilley, redshirt sophomore fullback Turner Fortin, freshman quarterback Stetson Bennett from Blackshear, Ga., redshirt freshman receiver Willie Erdman, freshman defensive back Jake Skole from Roswell, Ga., senior linebacker Daniel Harper from Atlanta, Ga., redshirt sophomore defensive back KJ Smith from Perry, Ga., redshirt sophomore defensive lineman Michael Barnett of Dorchester, S.C., sophomore linebacker Jaleel Laguins of Watkinsville, Ga., senior tight end Jordan Davis of Thomson, Ga., senior fullback Jacob Gross and redshirt freshman defensive back Jordon McKinney of Dalton, Ga.
The Community Service Award went to graduate defensive back Aaron Davis of Locust Grove, Ga., and the Senior Scholar Award went to senior snapper John Courson of Athens, Ga., who has a 4.0 in Biology and Psychology with a Neuroscience Emphasis.
Team Captains

Nick Chubb, Sony Michel, Isaiah Wynn, Roquan Smith
Vince Dooley Offensive MVP

Nick Chubb, Sony Michel
Vince Dooley Defensive MVP

Roquan Smith
Vince Dooley Special Teams MVP

Mecole Hardman
Charley Trippi Award

Sony Michel, Lorenzo Carter
Frank Sinkwich Award

Isaiah Wynn, Malkom Parrish
David Jacobs Award

Reggie Carter, Jeb Blazevich
Leon Farmer Strength and Conditioning Award

Nick Chubb
Up Front Award – Offense

Isaiah Wynn, Lamont Gaillard
Up Front Award – Defense

John Atkins, Jonathan Ledbetter, Davin Bellamy
Offensive Newcomer of the Year Award

Jake Fromm, D'Andre Swift, Andrew Thomas
Defensive Newcomer of the Year Award

J.R. Reed
Special Teams Newcomer of the Year Award

Cameron Nizialek, Prather Hudson, Christian Payne
Offensive Most Improved Player Award

Charlie Woerner, Kendall Baker
Defensive Most Improved Player Award

David Marshall, Dominick Sanders, D'Andre Walker, Tyler Clark
Special Teams Most Improved Player Award

Rodrigo Blankenship, Tyler Simmons, Jayson Stanley
Offensive Scout Team Player of the Year

Thomas Swilley, Turner Fortin, Stetson Bennett, Willie Erdman
Defensive Scout Team Player Award

Jake Skole, Daniel Harper, Kirkland Smith, Michael Barnett
Special Teams Scout Team Player Award

Jaleel Laguins, Jordan Davis, Jacob Gross, Jordon McKinney
Community Service Award

Aaron Davis
Senior Scholar Award

John Courson (4.0, Biology and Psychology with a Neuroscience emphasis)