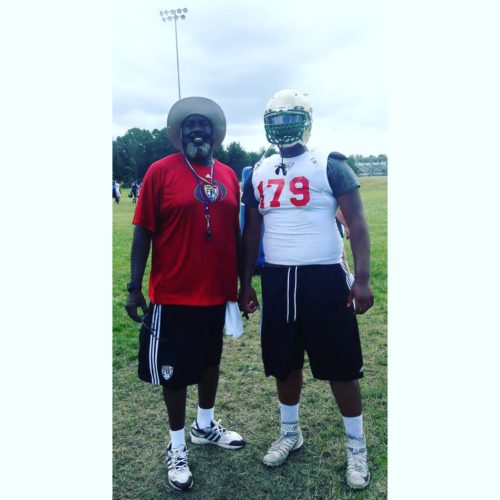 Georgia adds another bit of good news with yet another commitment for its 2019 class. The Bulldogs adds its second commitment in three days with Xavier Truss. He took to Twitter Sunday afternoon and announced his commitment to Georgia. His commitment marks the first offensive tackle of the 2019 class. 
The Warwick Rhode Island native is a hot commodity in the 2019 class. According to the lastes 247Sports Composite rankings, he ranks as the No. 102 overall player, the No. 15 OT, and the No. 1 prospect in Rhode Island. Truss currently holds 31 offers with the latest coming from Louisville on March 7.Georgia offered on February 6, and made up some serious ground.
Since the middle of April, he traveled all over the country visiting various schools. Offensive line coach Sam Pittman pulled Truss from up north beating out several dominant programs. Truss visited Michigan April 14, Ohio State  April 16, and  Penn State on April 21. Then he traveled to Alabama June 14, Auburn June 15 and Georgia on June 16.  However, after his visit on Saturday, he pulled the trigger and commited to the Bulldogs.
"First off, I would like to thank my parents for believing in me and making countless sacrifices to get me to this point in my life, I would not be where I am today without you," Truss said, via his Twitter. "I would like to thank my coaches and teammates at Bishop Hendricken for sticking with me and making me a better player on the field as well as a better man and person. Lastly, I want to thank the many coaches out there that believed in me enough to offer me a scholarship to their university. With that said, I would like to announce that I am 110% committed to the University of Georgia! Go Dawgs!"
The 6-7.5, 340-pound prospect chose the Bulldogs over Penn State, Alabama and Auburn. According to his 247Sports profile, Penn State held 100 percent of the advantage. However, Pittman sprinkled his magic Saturday and got him to choose the Bulldogs.
Georgia has the highest average rating per commitment in the country with a 95.15 rating amoung the ten verbal commitments to date. Another interesting tidbit is all 10 commits are ESPN top 300 prospects and all blue chip recruits. The addition of Truss gives Georgia 10 commitments and moves the Bulldogs up to the No. 5 overall class.
Xavier Truss Film: