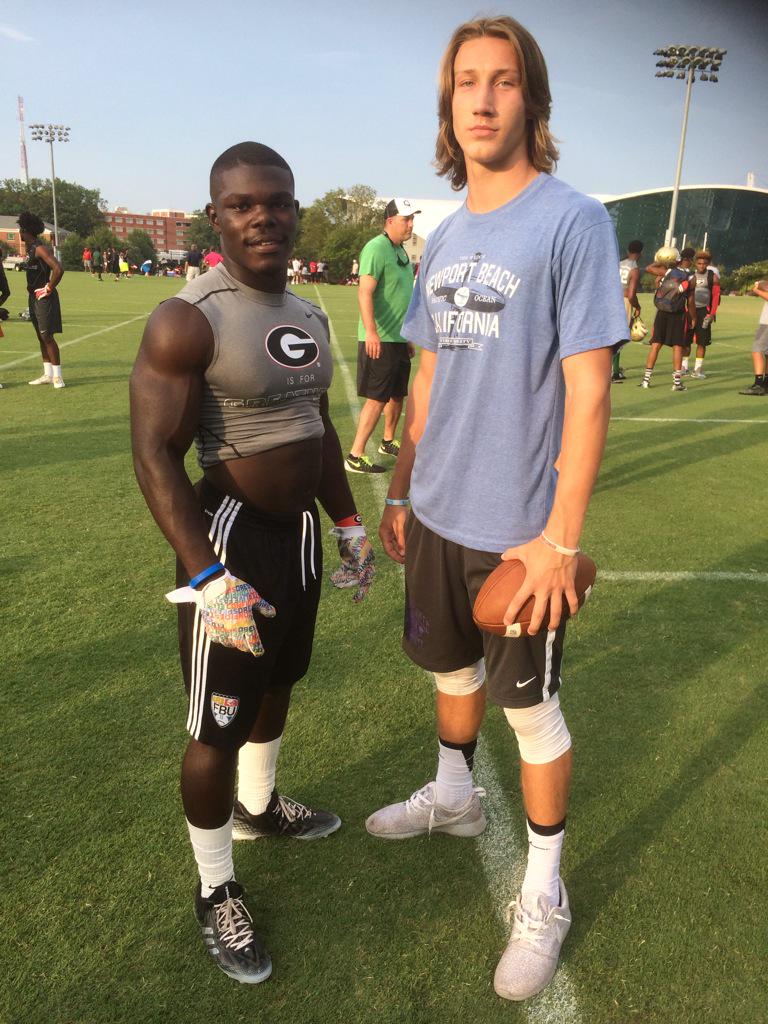 The University of Georgia hosted another round of unofficial visits for varsity high school football players, and among those in Athens over the weekend was the number one quarterback prospect and player for the class of 2018, and the Bulldogs might have just hit a home run with Trevor Lawrence.

Indeed, they may just have.


Lawrence arrived in Athens on Saturday morning, and it was his first time to get to meet with UGA's new coaching staff. Before his visit, Tennessee had been the clear favorite, but afterwards, Lawrence told SCOUT.com's Chad Simmons that UGA was up at the top with the Vols.

"Coach [Jim] Chaney (Offensive coordinator) and I talked a lot. It was just a bunch of small talk. He talked to me about the staff, their plans, and things like that. Coach [Kirby] Smart (Head coach) told me that they really want me there. He told me he couldn't promise me anything, but that he wanted me. He does not know what is going to happen with Jacob Eason, so he couldn't promise me anything there. Nobody really knows what is going to happen," Lawrence said. "Georgia is up there. I would say Georgia and Tennessee are tied at the top."

That has to be music to the ears of not only the Georgia coaching staff but to the fans as well.

So why talk about a quarterback, especially since Georgia has phenom class of 2016 QB Jacob Eason enrolled and on campus ready to take the reigns of offense for the next several years? When 2018 rolls around, Eason will be either a junior or a redshirt sophomore depending on what the coaching staff decides to do with the freshman this season. Either way, he will be eligible to declare early for the NFL draft, and even if he stays for a 4th year in 2019, who takes over for "Skinny" after his collegiate career is done.

I give you Cartersville varsity high school QB Trevor Lawrence. The 6 foot 5.5 and 191 lbs rising junior almost looks like a Jacob Eason clone when the two are standing side by side, see the photo of the two QBs in the embedded Tweet above.

And that is not the only areas they are similar in. Like Eason, Lawrence has a cannon for an arm and is mobile for a tall QB. Lawrence isn't only impressive in stature or in camps, like Eason, he is also putting up gaudy numbers on the field. Last year, as a sophomore, he completed 233 passes on 364 attempts (a 64% completion percentage) for 3,655 yards and 43 touchdowns to only 4 interceptions. As a freshman, Lawrence completed 187 passes on 310 attempts (a 60.3% completion percentage) for 3,042 yards and 26 touchdown to only 7 interceptions.

Plus, did I mention he is the number one player and quarterback for 2018! Now, of course, rankings can change and will do so between now and NSD 2018, and a lot can change in regards to Lawrence's recruitment. Competition for the young but talented QB is already fierce with Lawrence having received over 20 scholarship offers to major FBS programs including Alabama, Clemson, Florida, Ole Miss, and Tennessee, but Georgia has their two front Dawg paws in the door.


---
Trevor Lawrence's Highlights:
click on video to play
---
---