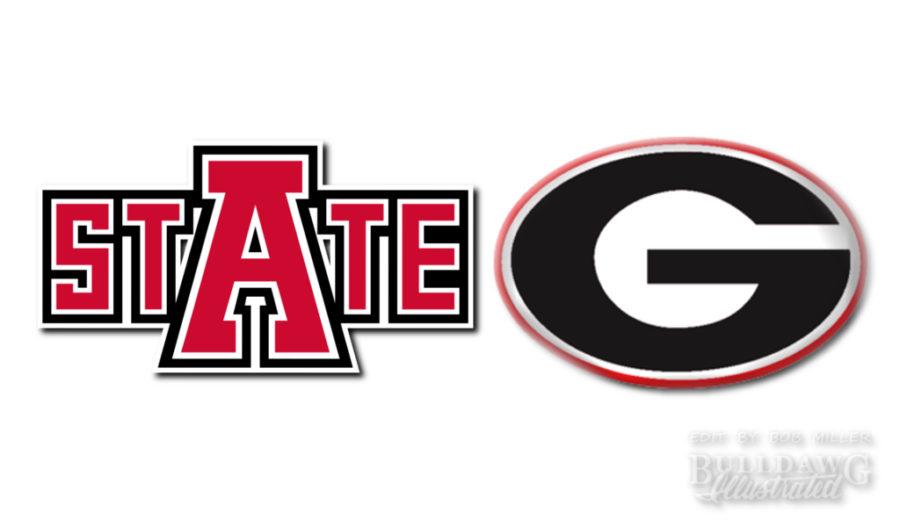 GEORGIA vs. Arkansas State
GAME TIME: 12 Noon (EST)
CHANNEL: ESPN or ESPN2
It's the second of three straight at home Saturday at high noon, as Georgia hosts Arkansas State between the hedges, which was officially christened Dooley Field at Sanford Stadium in this past Saturday's 63-17 win over Murray State.
Kirby Smart's program is doing every Bulldog proud. This fourth edition of "Kirby's Canines" has been driven to play to a standard, "Do More" the motto of this season's team. Things were a bit sloppy and sleepy in the first quarter last week, and Georgia was tied with the Racers 7-7. But the Bulldogs got things clicking with a 35-point second period.
Now comes a second straight game with the Bulldogs as a heavy favorite.
Arkansas State is no pushover though. One of the top programs in the Sun Belt Conference, the Red Wolves have been to a bowl game in eight consecutive seasons and won the league championship a staggering five times in six years between 2011 and 2016. The Red Wolves smoked UNLV this past weekend 43-17, evening their record at 1-1 after a 37-30 season-opening loss to SMU.
This team is playing with a heavy heart. In August, ASU head coach Blake Anderson's wife Wendy passed away after a lengthy battle with cancer.
Anderson has been Arkansas State's head coach since 2014, bringing stability to a program that went through four coaches in four years, including Auburn head man Gus Malzahn and Hugh Freeze, currently at Liberty formerly of Ole Miss. Under the watch of Anderson, the Red Wolves have not only been bowl regulars, they have been willing to play elite programs. Arkansas State has played Alabama, Auburn, Southern Cal, Miami and Missouri over the past few years. Next season, the Red Wolves go to Michigan and in 2021, Arkansas State ventures to Washington.
In search of that breakthrough win, Arkansas State will hope to catch a late-arriving Sanford Stadium crowd with a Bulldogs team looking ahead to next week's high profile date with Notre Dame. Smart is driving his team to prevent any upset chances and certainly made reference not only to Georgia State's season-opening win at Tennessee but also his first year in Athens when the Bulldogs, as a 50-point favorite, escaped with a 26-24 win over Nicholls State.
One sloppy Saturday can derail all of a team's dreams.
As Smart preaches, humility is a week away.