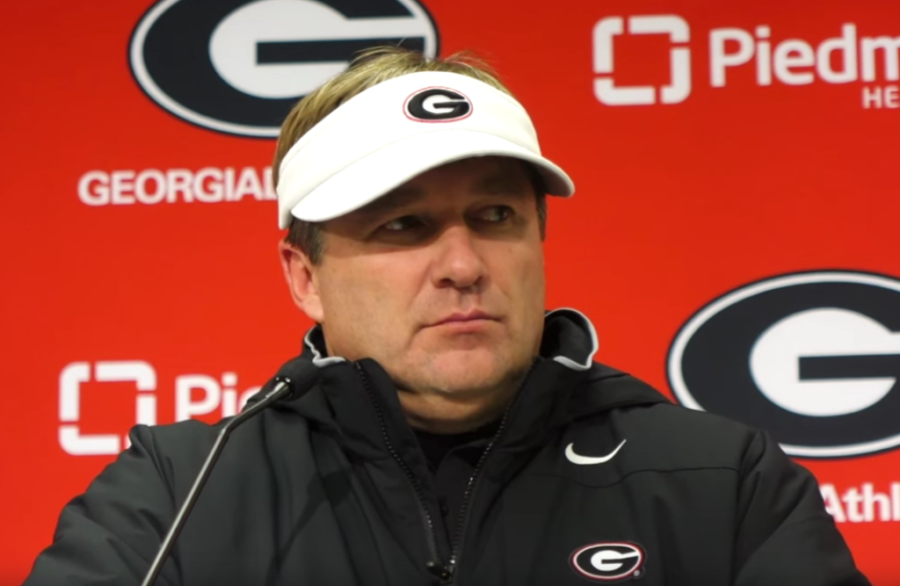 After much anticipation, the Georgia Bulldogs football program learned their 2020 conference-only schedule Monday evening.
The SEC announced at 3 p.m. EST on Monday that Georgia will travel to Fayetteville to play at Arkansas on Sept. 26. At 7 p.m. EST the rest of the schedule was released. Below is how it will look.
September 26: at Arkansas
October 3: vs. Auburn
October 10: vs. Tennessee
October 17: at Alabama
October 24: at Kentucky
October 31: OPEN
November 7: vs. Florida (Jacksonville)
November 14: at Missouri
November 21: vs. Mississippi State
November 28: at South Carolina
December 5: vs. Vanderbilt
December 12: OPEN (for rescheduled games)
December 19: SEC Championship game
The first thing that sticks out to me is that Georgia will be on the road for over a month. When UGA takes on Tennessee in week three, it won't get back to its home field until Nov. 21. 
The crucial part of the schedule will be weeks two through four with Auburn and Tennessee at home, while the next week UGA travels to Alabama.
UGA won't get Florida on the originally scheduled weekend, which would have been Oct. 31. Instead, that week is open giving the Bulldogs some breathing room. That game might have been initially pushed back a week because it might allow for fans to attend "The World's Largest Outdoor Cocktail Party."
Georgia has had a lot of recent success against Auburn and Tennessee. The Bulldogs haven't lost to Auburn at home since 2005 and are a riding a three-game winning streak over the Vols, while also beating them in eight out of the last ten matchups.
This will be the second time in the Kirby Smart era that Georgia has hosted Mississippi State at home. The Bulldogs from Athens thumped the Bulldogs from Starkville 31-3 back in 2017. That year was Dan Mullen's last season at MSU before coming the head coach at Florida in 2018.
Georgia hasn't been back to Tuscaloosa since 2007 when Matthew Stafford hit Mikey Henderson for a 25-yard completion in overtime to complete a 26-23 victory. Sadly, that was the last time since Georgia has beaten Alabama. Starting in 2008, Alabama has beaten UGA five straight times, twice in the SEC Championship and once in the National Championship game. The other times have been in Sanford Stadium (2008 & 2015) and the result wasn't pretty either time for the Bulldogs.
This will be the first time Georgia has played Missouri in the month of November. The two teams usually meet earlier in the season in September or towards the middle of the schedule in October. Since joining the conference in 2012, Missouri has never beat the Bulldogs at home. The closest they came to winning in Columbia was in 2016 during Smart's first year. It took a last minute Jacob Eason game-winning touchdown to propel the Bulldogs to a 28-27 win that night.
Georgia returns to South Carolina on Nov. 28 looking for revenge against the Gamecocks, who spoiled their season upsetting the Bulldogs 20-17 in double overtime. Even though Georgia was man-handled by LSU in the SEC Championship game, the Bulldogs still possibly could have made the College Football Playoff if they wouldn't have lost to the Gamecocks. I'm sure Kirby Smart still has a bitter taste in his mouth about that one, and will have the team more than prepared that week.
The final game of the 2020 football season is being played on the first Saturday in December, which is typically reserved for the SEC Championship game. Usually Georgia ends the season against Georgia Tech, but this year the Bulldogs will host Vanderbilt at home in Sanford Stadium. Last season, Georgia opened up against Vanderbilt in Nashville as they won comfortably, 30-6.
The following week is left open to potentially rescheduled games and the SEC Championship will be played on Dec. 19.
My early prediction is that Georgia goes 9-1 and wins the SEC East. I think the loss occurs in between weeks two and four. That's a tough schedule to maneuver with a brand new offense and Auburn at home, Tennessee on the road, and at Alabama. I don't want to make my pick just quite yet, but that's where I see UGA potentially slipping up.