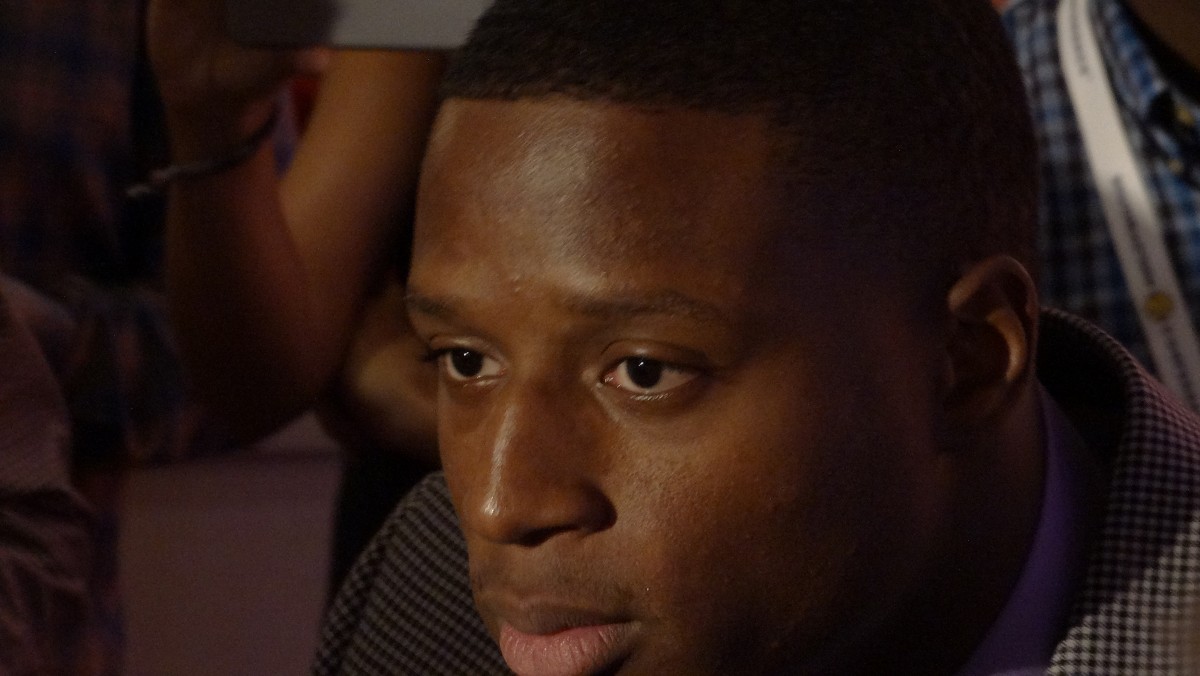 HOOVER, Ala. – The fastest member of the Alabama Crimson Tide's backfield is senior Kenyan Drake.
That's why, when the 6-1, 210-pound product of Powder Springs, Ga. was lost for the season last year when he suffered a devastating broken leg in the Tide's 23-17 Oct. 4 loss at Ole Miss, it hurt the Alabama football team considerably, both from a physical and mental standpoint.
Not only did the Crimson Tide go on to drop the stunner in Oxford, Miss. but they missed Drake's running and receiving abilities greatly down the stretch when Alabama struggled to outlast rival Auburn 55-44 and then, after romping over Missouri in the SEC championship game, spit the bit in the College Football Playoff semifinal round with a 42-35 loss to eventual champion Ohio State in the Jan. 1 Sugar Bowl.
But now, Drake has recovered 100 percent from that season-ending injury and it's none too soon for Lane Kiffin's 'Bama offense, which returns just two starters from last year's 12-2 team. Drake is not only being counted on to assist junior Derrick Henry in the Tide running attack but to boost the Alabama receiving corps with his outstanding catching ability out of the backfield.
"I'm just up for being in the best position to help my team win, whether it be running back, wide receiver or special teams," said Drake, speaking Wednesday during SEC Media Days at the Winfrey Hotel here. "I try to take on a team player role. I just want to put myself in the best position where the coach can trust me to execute the plays that they want me to do. It doesn't really matter if it's at running back or receiver. As long as I'm helping the team win, that's all I'm concerned about."
"I think Kenyan Drake has tremendous diversity as a player," said Alabama head coach Nick Saban. "He has so many things that he does well. He has great speed. He has very good running skills and running instincts, but he's a fantastic receiver. In his position, it's a little bit easier to almost create mismatches for him to be able to use those skills as a receiver than it would be if we played him at receiver because I think, if we played him at receiver, he would be one of the better receivers on our team. And I think this is one of the assets that he's going to possess moving forward that's going to make him a very, very effective player in the future for us and as well as probably being a really good professional player. And we need playmaker types like him, especially this year when we've lost so many players who were playmakers for us. He was an outstanding playmaker last year, and I think Lane does a good job of featuring players like Kenyan Drake in our offense so that they can be very productive."
Someone asked Drake if he hadn't been injured against the Rebels, could he have possibly helped the Tide to remain unbeaten at that point?
"That's neither here nor there, obviously, because there's no way we can decide if I would have been the deciding factor, per se," Drake replied. "But I definitely wish I had been there to help my team in that dire situation because of the fact that we lost. I was hurt by that fact but I knew my teammates even in the next week, it was an important game because if we had lost against Arkansas, that would have put us out of the national championship hunt. So with that being said, that win they had there definitely solidified moving forward and that we would definitely have players to step up in positions that was lost by me going down and continue to more forward to our ultimate goal.
"In the situation I got hurt, there was nothing for me to do but grow physically and mentally and with that being said, especially coming back from an injury and going back to when I first got here on campus there's a noticeable growth personally that I see and other people have told me they see and I'm just going to continue to try to grow as an individual both on and off the field."
Drake said he's learned that maturity, whether it be in college football or any other area of life, comes with age and experience.
"When I first got to campus, I was just a snotty-nosed little freshman who thought he knew everything but then you have to realize you have people in front of you who's been there, done that, coaches who try to put you in the best position to succeed and you have to concede to experience and understand everything happens for a reason," he said. "So with my injury the playing time I could have or could not have gotten, everything happens for a reason and it only improves and continues to help when you understand that when your time comes, you have to grab it by the horn and take advantage of it."
Drake said his rehab process from the broken leg wasn't an easy one.
"It was definitely very difficult," he related. "It took a lot initially to overcome that because I had never been injured to such an extent, but we have the best coaching staff, the best rehab staff, the best players to help with that type of situation in the country in my opinion and they definitely helped me get through the toughest time of my injury because of the way they help prepare you mentally to overcome such an injury."
Drake says he's not worried about the Crimson Tide's mindset after the bitter loss to the Buckeyes in the national semifinal game. He knows Alabama will be ready to bounce back strongly in 2015, starting with the Sept. 5 season opener against Wisconsin in Arlington, Tex.
"It's always just finish, finish, finish, that's our whole motto, and we haven't done that the last two years with Auburn, Oklahoma and now Ohio State," Drake said. "Each team was a formidable team and they did their job and beat us and we accept that. We always know there were things we did that helped us lose those games, too, but now we're just looking forward to this season and trying to accomplish what we always do, try to get to the SEC Championship and the National Championship."