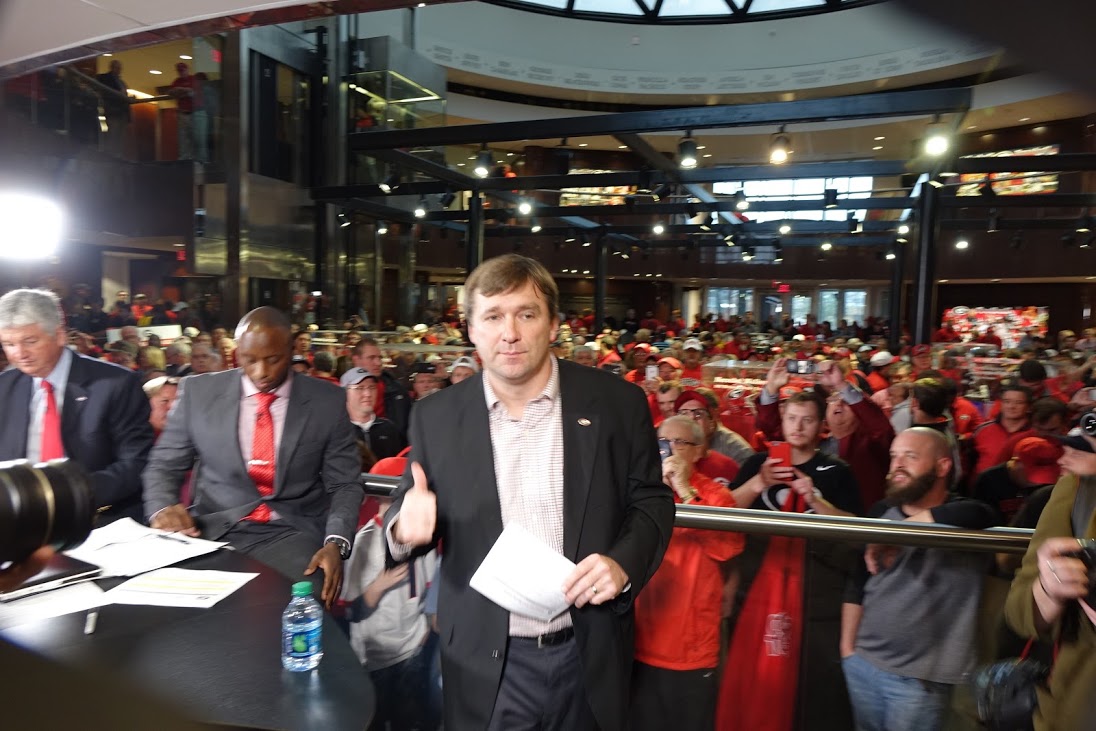 The University of Georgia put a cherry on top of its 2020 recruiting class signing six on National Signing Day on Wednesday and finishing with the top recruiting class per 247Sports' and Rivals' team rankings.
The Bulldogs started off the day with lineman Cameron Kinnie out of Collins Hill High School in Suwannee, GA. Kinnie announcing his decision to commit to UGA before the clock struck 8 a.m. in an interview with UGASports.com's Jake Reuse and had turned in his signed National Letter of Intent (LOI) just a little over an hour later. Colquitt County running back Daijun Edwards was the first of Georgia's unsigned commits to turn in his signed LOI just before 9:00 a.m. ET. Edwards committed to the Bulldogs last Thursday on January 30th.
North Murray High School wide receiver Ladd McConkey was next up to the plate. The talented athlete announced his commitment to Georgia just over the weekend on Sunday and didn't wait long on Wednesday to sign his LOI and turn it in, doing so before 10:00 a.m.
But Edwards, Kinnie, and McConkey were just getting things warmed up as five-star offensive lineman Broderick Jones and the No. 1 center in the country, Sedrick Van Pran, were scheduled to finalize their decision and sign in ceremonies at 10:00 a.m. and 11:00 a.m. respectively. Both Jones and Van Pran had been committed to UGA for several months, in the case of Jones since April of 2018, but after offensive line coach Sam Pittman left to take the head coaching job at Arkansas the day after the SEC Championship Game in December, there were some questions as to whether or not they would stick with their commitment, but both Broderick Jones and Sedrick Van Pran reaffirmed their commitments to the Bulldogs, signed, and turned in their LOIs before lunch.
For Kirby Smart and his staff to hang on to Jones and Van Pran while rivals were losing a prospect here and there speaks volumes on their abilities as recruiters. In part, that had to do with UGA acting quickly and hired Matt Luke to replace Pittman and Kirby had nothing but praise for the job Luke has done in such a short period of time.
"One of the biggest areas was offensive line. With the guys we had leaving early and the transfers we've had, seniors, we knew and anticipated this being a large offensive line class," said Kirby during Wednesday's National Signing Day press conference. "I've been very pleased with the transition from Coach [Sam] Pittman to Coach [Matt] Luke in being able to recruit these kids and bring them to our place. They want to compete and play at a high level, so the offensive line unit — I am really proud of that."
"Coach Luke was a big part of that energy. Getting him on staff fast was probably one of the critical roles to that transition," added Kirby. "It wasn't a long time and a process where they had to sit in the unknown. Two, three days after Coach Pittman left these kids had somebody new to meet and [Coach Luke] getting to meet them before the middle dead period—the Christmas dead period—was critical to be able to communicate with them throughout that period and keep that relationship. He's got a lot of energy, and he's been a blessing for us—an addition that helps me from a head coach standpoint. It did help a lot with the offensive line."
Kirby and company were not quite done yet, however. It wouldn't be National Signing Day if Smart didn't flip the commitment of at least one prospect, and UGA did just that with Amite High Schol defensive back Daran Branch, who flipped his commitment from Ole Miss to Georgia just after 11:15 a.m. ET, signing with the Bulldogs.
Here is the full list of UGA football's 2020 recruiting class signees.
UGA FOOTBALL 2020 RECRUITING CLASS:
SIGNED (25)
Carson Beck | 4-star QB | 6-foot-4 | 225 lbs | Mandarin HS, FL
Austin Blaske | 3-star OL | 6-foot-5 | 278 lbs | South Effingham HS, GA
Daran Branch | 3-star DB | 6-foot-2 | 178 lbs | Amite HS, LA
Warren Brinson | 4-star DT | 6-foot-4 | 305 lbs | IMG Academy, FL
Major Burns | 4-star S | 6-foot-2 | 175 lbs | Madison Prep Academy, LA
Jermaine Burton | 4-star WR | 6-foot-1 | 190 lbs | Calabasas HS, CA
Jalen Carter | 4-star DT | 6-foot-4 | 305 lbs | Apopka HS, FL
Daijun Edwards | 4-star RB | 5-foot-10 | 201 lbs | Colquitt County HS, GA
Broderick Jones | 5-star OL | 6-foot-5 | 275 lbs | Lithonia HS, GA
Jalen Kimber | 4-star CB | 6-foot-0 | 170 lbs | Mansfield Timberview HS, TX
Cameron Kinnie | 3-star DL | 6-foot-3 | 265 lbs | Collins Hill HS, GA |
Chad Lindberg | 4-star OL | 6-foot-6 | 315 lbs | Clear Creek HS, TX
Ladd McConkey | 3-star WR | 6-foot-0 | 175 lbs | North Murray HS, GA
Kendall Milton | 5-star RB | 6-foot-1 | 220 lbs | Buchanan HS, CA
Tate Ratledge | 4-star OL | 6-foot-6 | 322 lbs | Darlington School, GA
Kelee Ringo | 5-star DB | 6-foot-2 | 205 lbs | Sanguaro HS, AZ
Justin Robinson | 4-star WR | 6-foot-4 | 205 lbs | ELCA, Mcdonough, GA
Marcus Rosemy | 4-star WR | 6-foot-3 | 195 lbs |St. Thomas Aquinas HS, FL
Mekhail Sherman | 5-star OLB | 6-foot-2 | 235 lbs | St. John's College HS, Washington D.C.
Arian Smith | 4-star WR | 6-foot-2 | 180 lbs | Lakeland HS, FL
Nazir Stackhouse | 4-star DT | 6-foot-3 | 305 lbs | Columbia, HS, GA
Sedrick Van Pran | 4-star OL | 6-foot-4 | 305 lbs |Warren Easton HS, LA
Darnell Washington | 5-star ATH | 6-foot-7 | 260 lbs | Desert Pines HS, NV
David Willock | 3-star OL | 6-foot-7 | 330 lbs | Paramus Catholic HS, NJ
Jared Zirkle | 3-star K |6-foot-3 | 190 lbs |Tivy High School, TX
TRANSFERS (2)
Tre' McKitty | TE | 6-foot-5 | 245 lbs | Transfer from Florida State
Jamie Newman | QB | 6-foot-4 | 230 lbs | Transfer from Wake Forest
2020 PREFERRED WALK-ONS (10)
Cade Brock | DL | 6-foot-0 | 250 lbs | Darlington School, GA
Chris Brown | OL | 6-foot-5 | 300 lbs | Islands HS, GA
Jehlen Cannady | ATH | 6-foot-0 | 170 lbs | Westside HS, Macon, GA
Miles Johnson | OL | 6-foot-5 | 300 lbs | Fannin County HS, GA
Austin Kirksey | QB | 6-foot-3 | 205 lbs | Transfer from Nevada
Kurt Knisely | ATH | 6-foot-0 | 190 lbs | Athens Academy, GA
Braxton Lee Hicks | WR | 6-foot-2 | 195 lbs | Rabun County HS, GA
Jackson Muschamp | 3-star QB | 6-foot-1 | 185 lbs | Hammond School, SC
Patrick Taylor | DB | 6-foot-0 | 175 lbs | Johns Creek HS, GA
Weston Lee Wallace | 3-star OL | 6-foot-5 | 330 lbs | Gatewood HS, GA