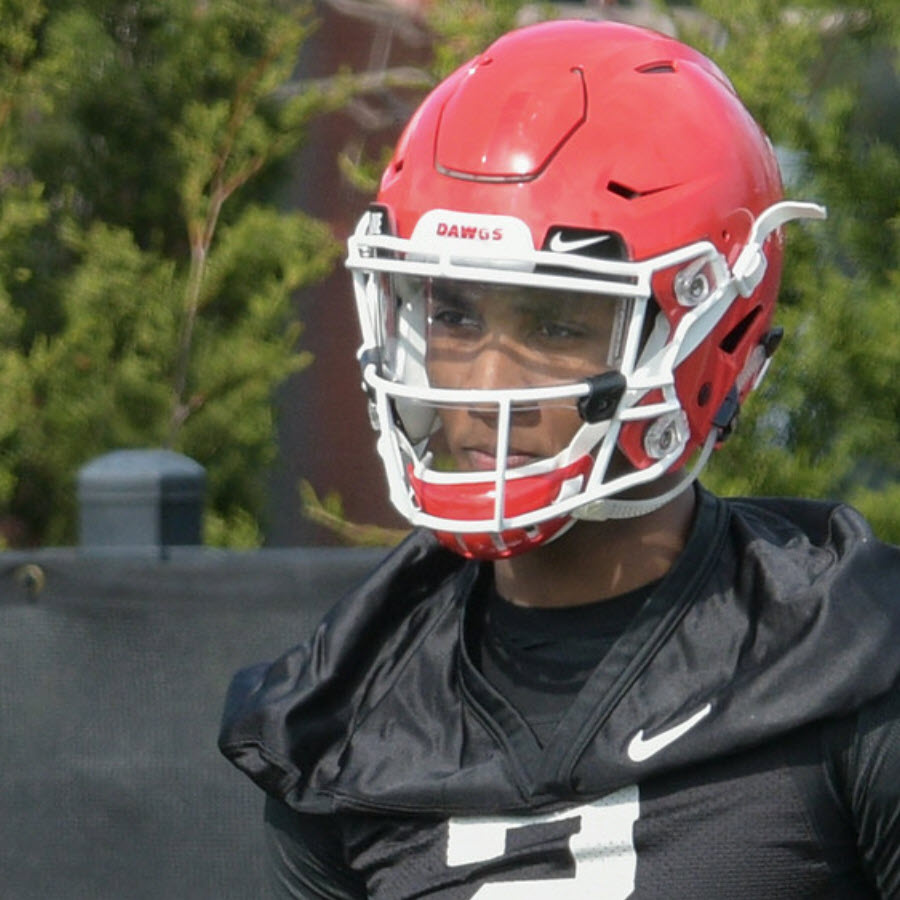 Georgia freshman quarterback D'Wan Mathis hasn't been fully cleared to play but has received some positive news per Kirby Smart at his post-practice Tuesday press conference.
Back in May, the freshman had cranial surgery to remove a cyst from his brain after dealing with severe migraines. He was confined to limited participation during spring camp, preseason workouts, and for most of this season, but received some great news a couple of weeks ago.
"He's been cleared to do more," Smart said Tuesday. "He's been cleared to practice, not take hits so that prevents him from being able to play. But he's been able to do more in practice."
Last year on Early Signing Day, Mathis flipped to Georgia after being committed to Ohio State for exactly one year. Mathis' flip to Georgia was huge because after Justin Fields decided to transfer to Ohio State, the Bulldogs only had one quarterback on scholarship.
Mathis enrolled early last January and has been learning the offense ever since. Before his surgery in May, he competed in the team's spring game in April threw for 113 yards and caught a 39-yard touchdown pass from wide receiver Matt Landers.
From practice observations this year, Mathis has been taking a lot of reps with the 2s and 3s. Smart commented that he has played a vital role in preparing the starting defense for games.
"He's been the scout-team quarterback the last couple of weeks now and has done a tremendous job," said Smart. "He helped with the Bo Nix scout-team stuff. He helped even last week with the scout-team stuff. He's able to simulate some of these guys we've played so that has been a big bonus for us. But as far as when he's going to be completely cleared, I'm no sure. It was a step up in clearance when he could go 11-on-11 and throw the ball and give us a look."
Mathis is a great pro-style quarterback and has a lot of size to him. He is a 6-foot-5, 190-pound athletic guy who can sling the rock downfield but can also scramble outside the pocket. Coming out of high school he was a four-star prospect out of Oak Park High School in Belleville, Michigan. He was the nation's No. 311 rated prospect, and the No. 11 pro-style quarterback.
This season, Mathis is learning the offense and will be redshirted. Next season, if Jake Fromm decides to forgo his senior season for the NFL, he will be competing against Stetson Bennett IV and incoming freshman quarterback Carson Beck. But if not, there will be a tight race for that second spot on the depth chart.
Smart also said Tuesday that Mathis has some of the best doctors in the country looking out for his health.
"It's a deal where they don't want to scan him a lot because of the radiation," Smart said. "They have benchmarks and points to hit and do in time which they've done. They want to see the recovery and healing. They're three or four medical experts that Ron and his staff have called on all from different departments, one of them is an NFL representative, one of them is a Harvard doctor. They got three or four guys that are nationally renowned for this craniotomy surgery and pool together to decide what is best."