For the past several years, Dawg fans would close one eye and hold their collective breath whenever the Bulldogs would have to punt and in general when it came to special teams' plays. This was especially true last season, but in Georgia's home opener for 2017 on Saturday versus Appalachian State, the play of the special teams was just what the heart doctor ordered.


Last year, punting was an adventure, to say the least for the Dogs. Freshman Marshall Long won the job to start the 2016 season but struggled with consistency before suffering a season-ending dislocated knee cap in November during the week of practice before Georgia's home game versus Auburn. The coaching staff would call upon senior quarterback Brice Ramsey who also did double duty as a punter, but he would also struggle. Between Long and Ramsey, Georgia averaged just 37.54 yards per punt in 2016, which was last in the SEC and 121st out of 128 teams nationally.


While kickoffs were not quite the adventure that punts were for the Bulldogs, fans still wondered why Georgia kickers had trouble getting the ball into the endzone for touchbacks. Both preferred walk-on redshirt freshman Rodrigo Blankenship and walk-on redshirt sophomore William Ham shared kickoff duties through the first three games before Blankenship completely took over kickoff responsibilities. Ham would also kickoff in the Bulldogs last regular season game versus Tech and attempted one kickoff versus TCU in the Liberty Bowl. Of Ham's 12 kickoffs on the year, four were touchbacks and he averaged 59.83 yards per kickoff. Of Rodrigo's 55 kickoffs, 20 were touchbacks, and he averaged 62.22 yards per kickoff. As a team, Georgia averaged 61.79 yards per kickoff and out of 67 kickoffs, 24 or 35.82% were touchbacks. That put the Dogs 8th out of 14 SEC teams and 65th out of 128 teams nationally on touchbacks for 2016.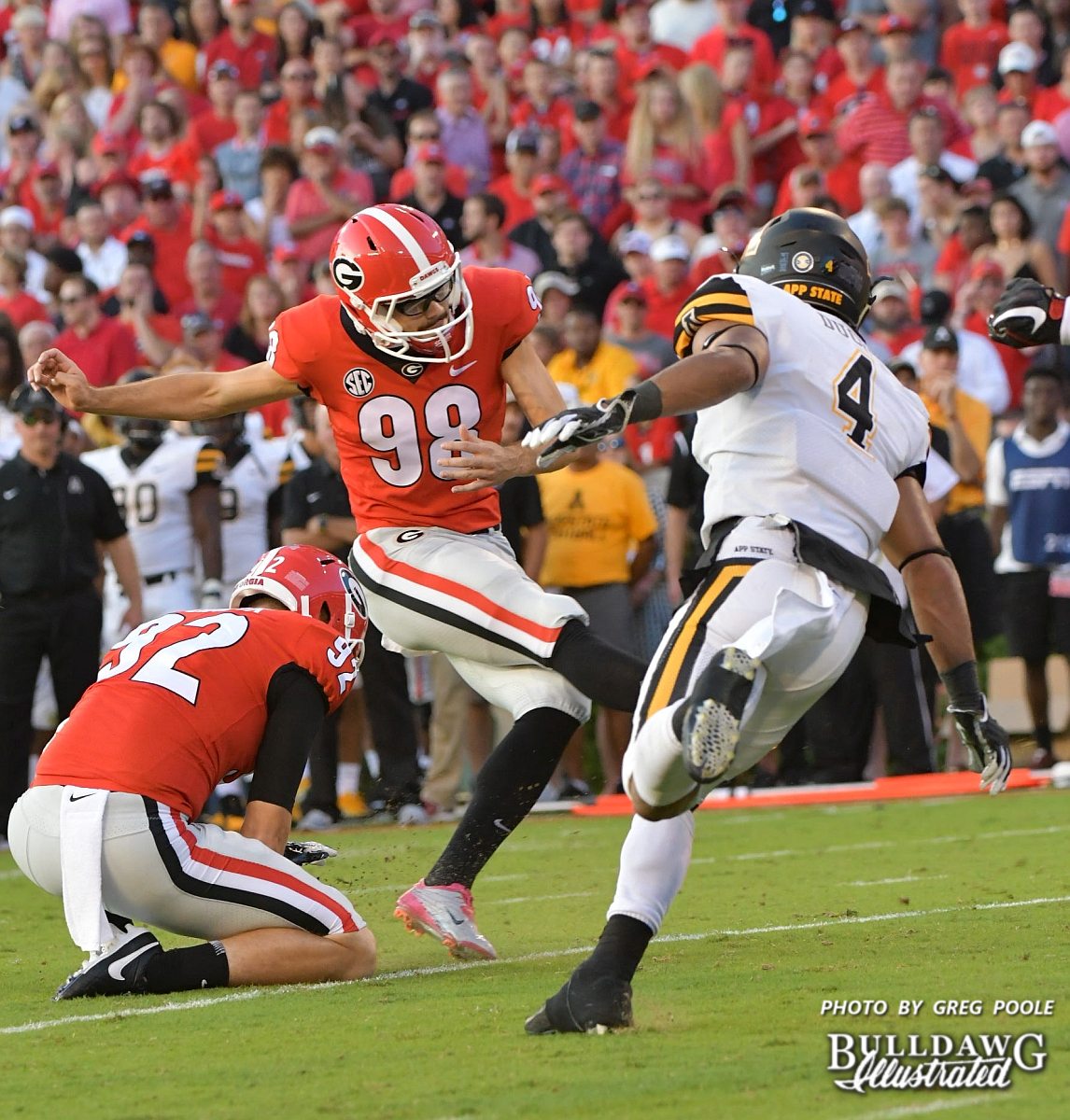 So far, at least through game one, what a night and day difference punting and kickoffs are in 2017 for the Dogs compared to last year. Cameron Nizialek, a 2017 graduate transfer from Columbia University, was booming punts a-la Drew Butler on Saturday. He punted the ball 5 times for 219 yards, averaging 43.8 yards per punt, two of which were downed inside the 20, and a long punt of 53 yards. His hang time was so good it defied the laws of space and time allowing Georgia defenders to get down the field so that Appalachian was not able to return a single punt.


And what about the kickoffs? Rodrigo Blankenship beat out David Marvin, a 2017 graduate transfer from Wofford, for kickoffs and place kicking duties this fall. The redshirt sophomore showed off why on Saturday launching 6 kickoffs for 390 yards (averaging 65 yards) for 5 touchbacks. All six of Rodrigo's kicks went into the endzone, and the one that the Mountaineer returner dared to return, he did so from several yards deep in his own endzone and got 15 yards for his trouble.


If Georgia can continue to flip the field when they need to when the offense stalls, and if the opponent has very few chances to return a kickoff, it could mean the difference between winning or losing in several games this year. It was last year. At the very least, it might save a few television sets and remotes, and Dawg fans can put away the defibrillators.


---
Recent Articles by Bob Miller


[pt_view id="83405b425p"]