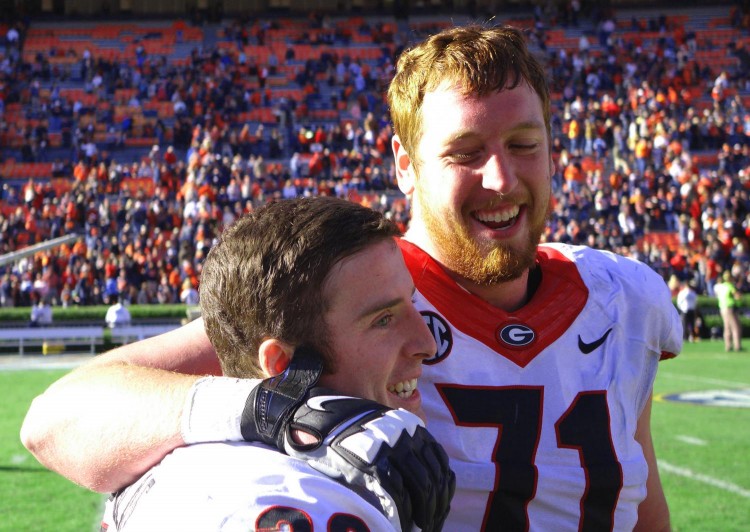 [su_spacer size="20″] Georgia vs. Auburn is a serious rivalry. Although the Dawgs have several rivals, Auburn is near the top of the list.
[su_spacer size="40″] Perhaps it is the longevity. When teams have played each other 119 times. Here tends to be a bit extra in riding on the contest. Throw in the fact that Auburn has traditionally recruited Georgia, and many of her alums reside inside the Peach State and you have the makings of a special game.
[su_spacer size="40″] Here are some game highlights:
[su_spacer size="40″]
Edge In Series History To The Bulldogs:
With today's 20-13 Bulldog win, Georgia takes its first lead in the Deep South's oldest rivalry for the first time since 1986. Today marked the 119th all-time meeting, and Georgia now is up 56-55-8 as the squads first met in 1892 in Atlanta's Piedmont Park. After Georgia's win in 1986, it held a 42-41-7 advantage. The all-time point total differential is just as tight with the Bulldogs up 1,940 to 1,834. Under Mark Richt, the Bulldogs are now 48-16 in an opponent's stadium including 5-3 at Auburn.
[su_spacer size="40″]
McKenzie Ties School Record:
With 5th Return TD: Sophomore Isaiah McKenzie tied a pair of school records with his 53-yard punt return for a TD to put Georgia in front 17-10 in the 4th quarter. It was his fifth career return for a TD, tying him with Brandon Boykin (2008-11) as McKenzie now has four punt return TDs and one kickoff return TD in his career. His four punt return TDs ties him with Buzy Rosenberg (1970-72). McKenzie accounted for Georgia's other TD today, his first offensive score of his career, coming on a four-yard rush.
[su_spacer size="10″] Auburn had not allowed a punt return for a TD in 10 years (LSU's Skyler Green in 2005 for 66 yards). Also this year, the Tigers had allowed just 31 punt return yards on four coming in today, and that ranked fourth nationally. Georgia now has scored 24 special teams TDs in the Richt era.
[su_spacer size="40″]
Defense and Leading Tacklers:
Senior Jake Ganus led all tacklers with 11 stops while junior Leonard Floyd and senior Jordan Jenkins had six apiece. In the first half, Auburn ran 30 plays for 185 yards and held a 10-3 edge on the scoreboard. In the second half, the Tigers were limited to only three points on 34 plays for just 90 yards. Jenkins had a sack and a tackle for a loss (TFL). Jenkins has 39 career TFL, which is 4th in school history.
[su_spacer size="40″]
Morgan Moves Up In SEC Scoring History:
Georgia's first half scoring came from a 40-yard field goal by senior PK Marshall Morgan. He added a 38-yarder in the 2nd half. He is now 60-for-78 in his career. Along with two PATs, Morgan now has 391 career points, and that ranks third in SEC history as he passed kicker Leigh Tiffin (Alabama) who had 385 from 2006-09. The only two ahead of Morgan now are former Bulldogs: Blair Walsh (412 points from 2008-11) and Billy Bennett (409 points from 2000-03).
[su_spacer size="40″]
Points Off Turnovers:
Georgia got 6 points off one interception (Malkom Parrish at the UGA 40) and two fumble recoveries (Jordan Jenkins at the AU 17) and (Aaron Davis at the UGA 1). The Bulldogs are now +1 in turnover margin and have scored 49 points off 17 turnovers. Georgia did not have any turnovers today. The Tigers were +10 in turnover margin in their last six games coming in today.
[su_spacer size="40″]
Dual-Threat Bulldogs:
Sophomore TB Sony Michel and sophomore WR Isaiah McKenzie carried the load for the Bulldog offense. Michel matched his career-high in carries with 26 today, and he had 77 yards rushing plus two catches for 13 yards. McKenzie had 96 all-purpose yards (53-PR, 26-rushing and 15-receiving). In the third quarter, McKenzie added a four-yard scamper for a TD to cap a 67-yard drive. It was his first career offensive TD to go with a school-record tying five on special teams. Junior Greyson Lambert started at QB and finished 12-for-17 for 97 yards.
[su_spacer size="40″]
For Starters:
Senior John Theus (RT) started his team-leading 30 consecutive game and 45th for his career. Junior Greg Pyke returned to the starting lineup at right guard after Dyshon Sims got the nod last week. Pyke has started at that spot in nine of 10 games this season. Sophomore Isaiah Wynn made his second straight start at LT. Pyke injured his left knee in the second half and did not return.
[su_spacer size="40″]
4th Down Attempts:
Georgia came into the game 2-for-6 on the year on 4th down, and in the first half went 1-for-2. On a 4th-and 4, Malcolm Mitchell caught a 5-yard pass from Greyson Lambert but later in the drive on 4th and one at the AU 2, Lambert's slant pass attempt to Mitchell was behind him and fell incomplete. Auburn had driven to the UGA 40 before sophomore Malkom Parrish stopped the drive with a leaping interception, the first of his career.
[su_spacer size="60″]