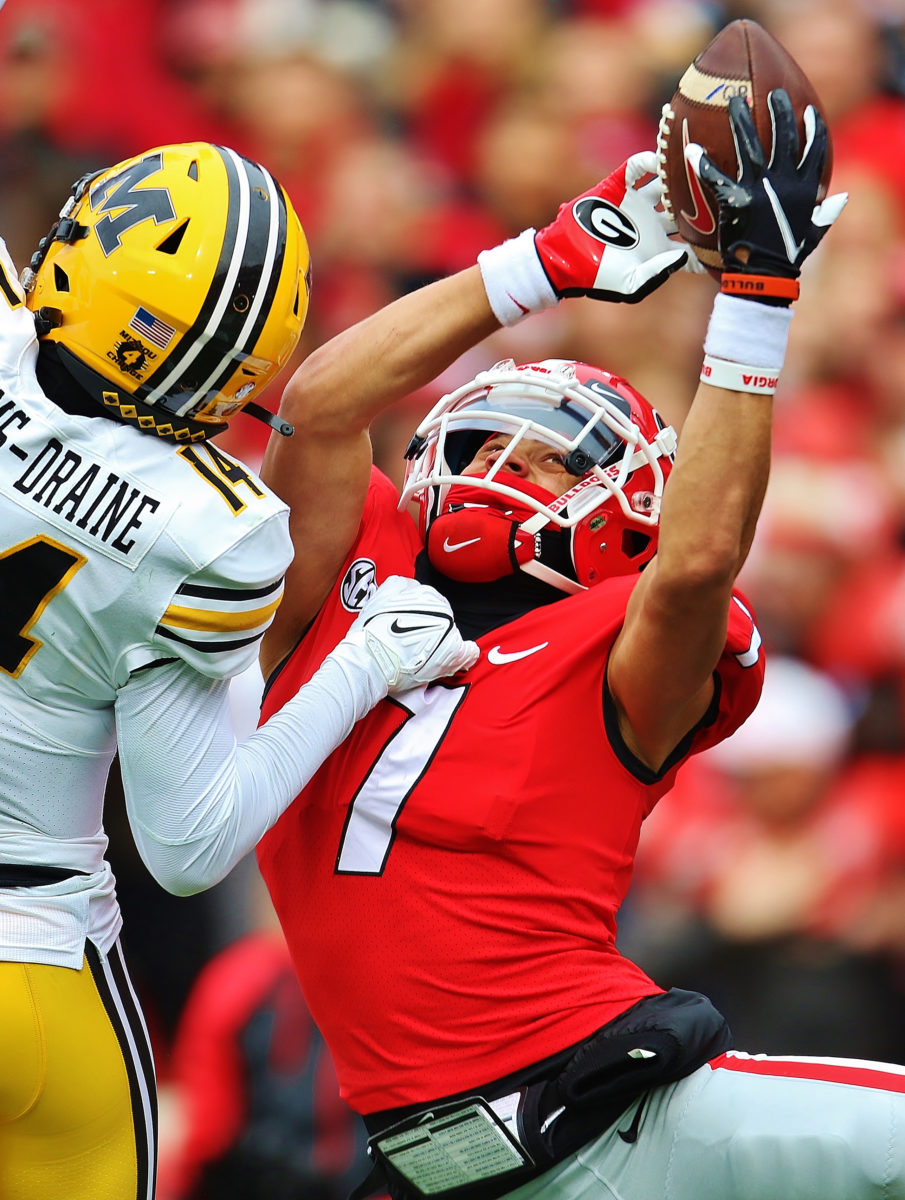 Top-ranked Georgia faces one of its toughest challenges of the season, tangling with resurgent Tennessee Saturday afternoon on Rocky Top. Kickoff from Neyland Stadium in Knoxville is set for 3:30 p.m.
Georgia heads into the game with a record of 9-0, 7-0 in Southeastern Conference play. The Bulldogs this past weekend defeated the Missouri Tigers 43-6 at Sanford Stadium. It was a sleepy start, with Georgia, a massive 39.5 point favorite, trailing 3-0 late in the first quarter. But the Bulldogs were sparked on a fourth down touchdown, as Stetson Bennett connected with Arian Smith for a 35-yard scoring strike with just 42 seconds to play in the opening period.
From there on, Georgia played outstanding complimentary football in all three phases, including a blocked punt for a safety and denying the Tigers a touchdown. .
Tennessee is 5-4, and 3-3 on the season. The Volunteers are coming off a thrilling 45-42 victory over Kentucky in Lexington. First year head coach Josh Heupel has guided the Volunteers to outstanding improvement this season. Going through a coaching change and losing over two dozen players to the transfer portal, Tennessee did not enter the season with high expectations. But these Volunteers have been a surprise. A 62-24 win at Missouri is one of the highlight performances. And though it was a loss, Tennessee led for much of the first half against Alabama in Tuscaloosa.
One of the keys to Tennessee's improvement has been the play of quarterback Hendon Hooker. A Virginia Tech transfer, Hooker has been sharp and given the Vols big play punch. Against the Wildcats, Hooker completed 15 of 20 passes for 316 yards and four touchdowns, while running for 41 yards.
Kirby Smart's Bulldogs have won four straight games in the series, including a 43-21 comeback win last season in Athens and a 43-14 victory in Knoxville the year before. Tennessee won back to back games over the Dogs in 2015 and 2016. The Volunteers came back from a 24-3 deficit to defeat Georgia 38-31 in 2015, and then hit the Hail Mary to down the Dogs 34-31 in 2016.
Prior to that, Georgia had won five in a row in this rivalry. So that makes for nine wins for the Bulldogs in the last 11 meetings with the Volunteers, and a 25-23-2 lead in the series … a series Tennessee once led 17-10-2 after winning nine straight from 1989-1999.
But this one carries so much weight.
Georgia is in the running for everything. Tennessee can ruin the Bulldogs perfect season and give Georgia's playoff hopes a huge blow, while delivering Heupel's Volunteers a signature victory.
This will also be just the second time the Bulldogs have faced a hostile crowd this season. The other was last month's 34-10 win at Auburn. Georgia's wins over Clemson and Florida came at neutral sites, and there was substantially more red than gold at Vanderbilt Stadium in Nashville.
Georgia last started a season 10-0 in 1982, when the Bulldogs had a perfect 11-0 regular season and won a third straight SEC championship.
The deeper the Bulldogs go, the more the pressure mounts. As Smart preaches, pressure is a privilege. And that wind is howling on Georgia's pursuit of the top of the mountain. So far, Georgia has responded in extremely impressive fashion, but the Bulldogs will be in for a huge test against the Vols on Saturday.