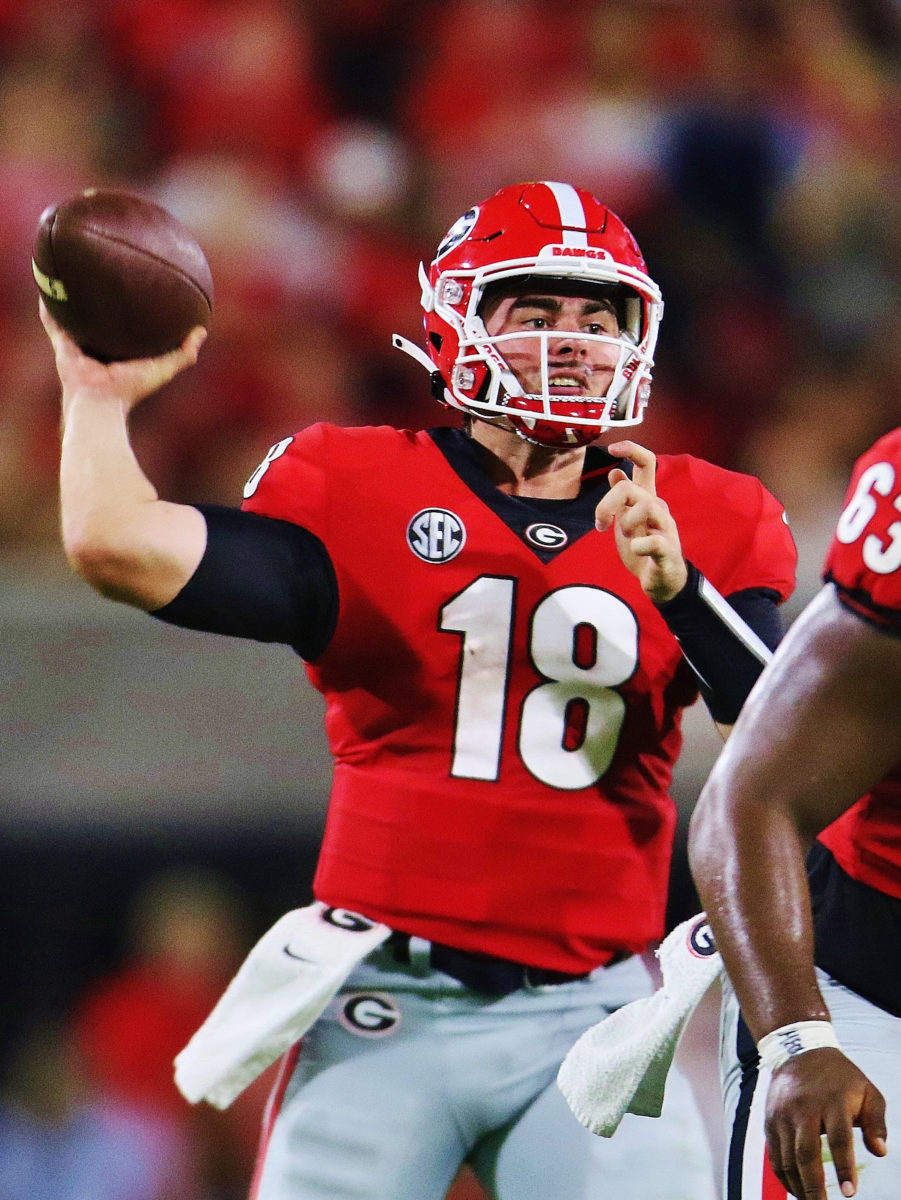 It's a Southeastern Conference showdown, as the Georgia Bulldogs play the Vanderbilt Commodores on Saturday in Nashville, with kickoff set for 11a.m. Central, Noon Eastern. The Bulldogs head in with a record of 3-0 and 1-0 in Southeastern Conference play after beating South Carolina 40-13 last week. Vanderbilt lost 41-23 to Stanford this past Saturday, falling to 1-2 on the year. This will be their SEC opener.
Vanderbilt has a new head coach in Clark Rea, who came to Nashville from Notre Dame, where he was defensive coordinator for the Fighting Irish. It was a difficult start for the Commodores, as they fell to East Tennessee State 23-3 in the season opener. But Vanderbilt bounced back in Week Two, beating Colorado State 24-21 in Fort Collins. In the Commodores loss to the Cardinal, they got a big boost from running back Rocko Griffin, who carried 19 times for 107 yards. Re'Mahn Davis, a transfer from Temple, carried 12 times for 76 yards and a touchdown.
Georgia opened the season with a 10-3 victory over Clemson in a battle of two top five teams in Charlotte. The Bulldogs backed that up with a 56-7 win over defending Conference USA champion UAB. Against the Gamecocks, J. Daniels was 23 of 31 for 303 yards and three touchdowns, with one interception. Georgia averaged 5.9 yards per carry. Defensively, Georgia recorded a safety on South Carolina's final possession of the first half, which led to a field goal. The Bulldogs then chalked up turnovers on the Gamecocks first two possessions of the second half.
Last season, Georgia and Vanderbilt did not play. Twice.
The Bulldogs lead the all-time series 58-20-2. Vandy beat Georgia 17-16 in 2016 and knocked off Georgia 31-27 in Nashville in 2013. In the last three meetings, Kirby Smart's Dogs won 45-14 in Nashville in 2017, 41-13 Between the Hedges a year later and then 30-6 to open the 2019 campaign.
This Georgia team has championship dreams, and the focus must be there to avoid the upset trap. Things can be a little sleepy with the morning kickoff in Nashville, though there is a good chance that a majority of the fans will be wearing red. The last two weeks, the Bulldogs have come in heavily favored and struck, scoring touchdowns on the first two possessions against both UAB and South Carolina.
Kirby Smart's Dogs, in the aforementioned 2017 victory over Vandy in Nashville en route to the SEC title, raced to a 21-0 lead.
It's the second of eight straight SEC games for the Bulldogs, and in college football, if you are not ready, we all know, anything can happen.