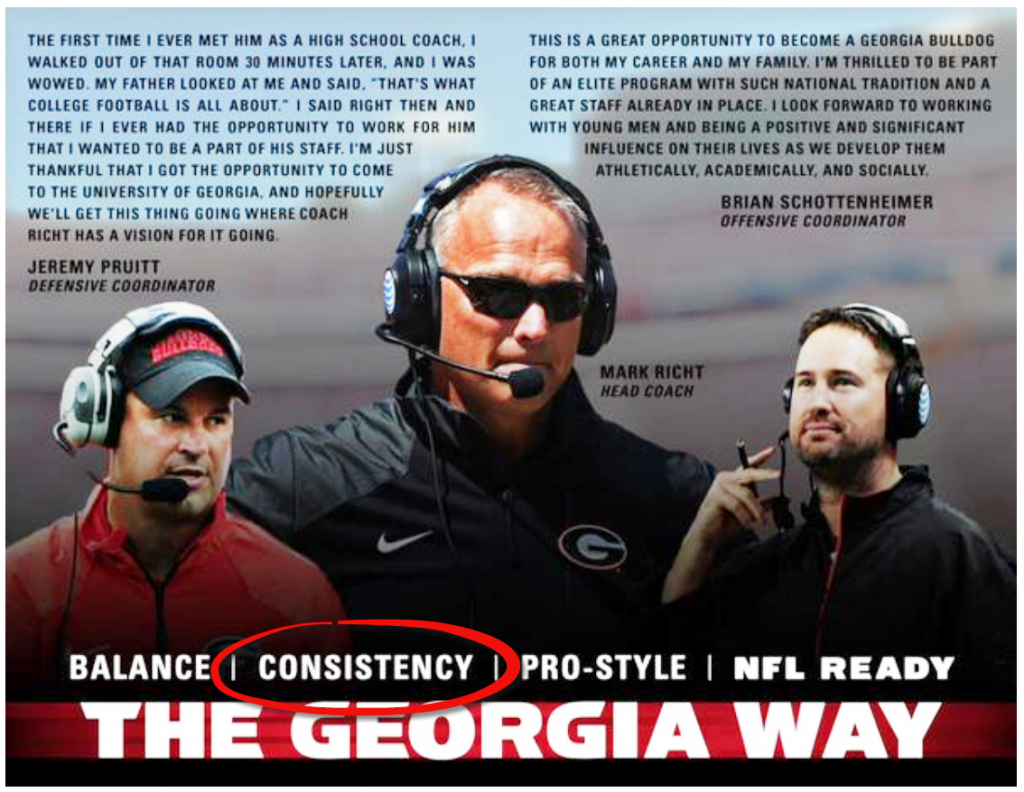 [break] Yesterday, I introduced my blog post series on exploring the Georgia Way by talking about Balance.  Today, we take a look at consistency.  If there is one attribute that I would assume all our coaching staff hangs their hat on most, it would be this one.
[break] [break] UGA teams under Mark Richt and his staff consistently have proven they can stay on the field with the best teams in the SEC and the country. And if you're a top high school football talent, that means everything because at such a vaulted level, you are used to winning.  Mark Richt has a winning percentage that speaks for itself and that is highly marketable.
[break] [break] Beyond the wins, Richt is a firm believer in continuity amongst his staff. And this is certainly huge for young men coming to Georgia to play football. These players and their parents want to know that the coaches that have recruited them will be there during their playing days.
[break] [break] Another constant under Mark Richt is the fact that most of his players perform well academically while at Georgia. This is certainly commendable when you consider the demands put on student athletes. And as anyone who attended UGA can attest to, making decent grades is easier said than done with all the adventures that Athens offers.
[break] [break] Mark Richt is also a man that is consistent in his faith and walks the walk in how he leads his program. This is most certainly why he ranked tied at the top of ESPN's Brett McMurphy's survey that asked coaches nationwide who they would want their sons playing for.
[break] [break] Now the naysayers when asked about the consistency of the Georgia Way will certainly lean on the fact that Mark Richt is still searching for a national championship. Yes, he has plenty of wins. Yes, he is good to his coaching staff. Yes, his players perform well in the classroom. And yes, his faith guides him. But despite all of those great attributes, it hasn't translated to a title.
[break] [break] I can certainly relate to those who are frustrated. Those who think we are reactive versus proactive. Those who believe we consistently make the same mistakes in games, time and time again. And to a large part, a lot of these beliefs are true.
[break] [break] My question to those folks and everyone in the Bulldog Nation is do you think with the addition of Jeremy Pruitt things are now trending in the best direction in many years under Mark Richt? And if you agree, shouldn't you believe that this season's new batch of coaches is going to enhance the momentum even more?
[break] [break] Where do you fall on the consistency of the Georgia Way? And do you have some other elements of Mark Richt/Georgia's consistency that are worth noting?
---
Part 1   The Georgia Way – Balance