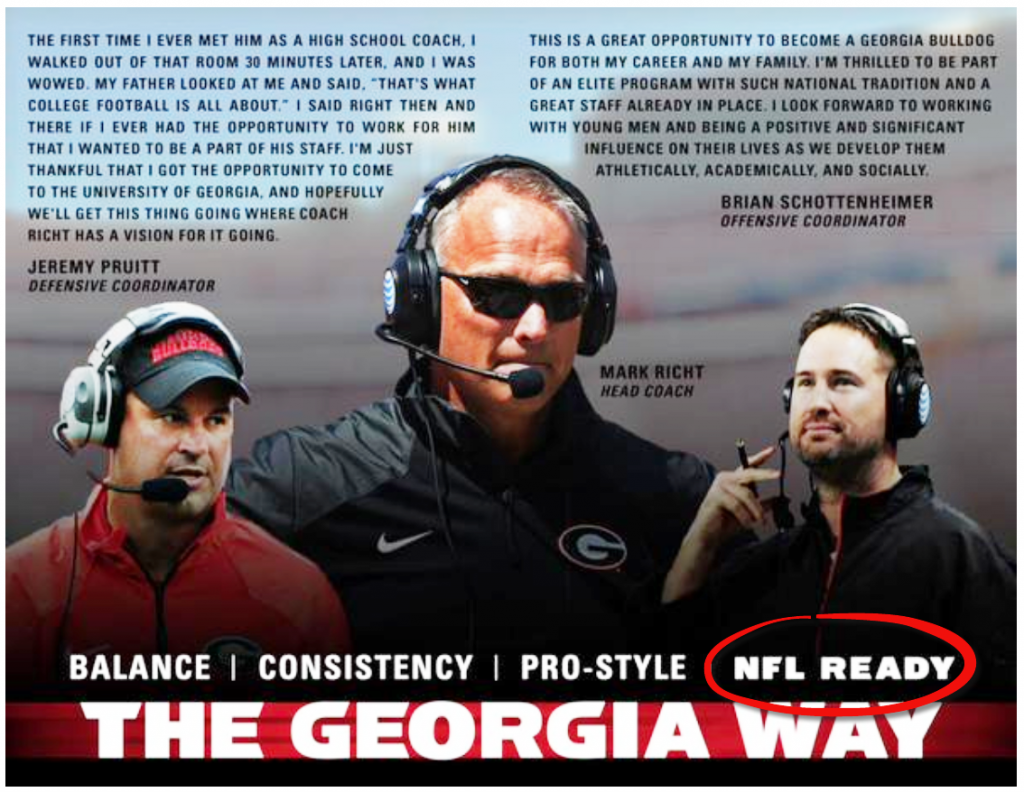 [break] Today, in my last installment of exploring the Georgia Way, we take a look at the mantra NFL Ready. Let's face it, when you are an athlete with the talents to play football at a top Division 1 team, the ultimate goal is making it to "The League," so it stands to reason that your chances increase by attending a college that has sent a slew of players to the NFL.

[break] [break] Without question, Georgia qualifies with flying colors. Just take a look at the top seven colleges that have produced the most active NFL players …
[break] Which 7 Colleges Have Produced the Most Active NFL Players?

[break] While the high marks are certainly something to boast about on the competitive recruiting trail, it's also the number one complaint of the rabid UGA fanbase who wonders how all that talent has never equated to a national championship for Richt's Bulldogs.
[break] [break] And the critics will also argue that it seems many of Georgia's top players see the most improvement once moving on to the next level.
[break] [break] To me, this is where Mark Richt and company does in fact have room for improvement. Yes, they have proven they can get many of the best players in the land, but now it's time for them to take that talent to the College Football Playoff. Like it not, Georgia has earned the label of being that upper echelon team that somehow loses a couple games a year to prevent them from the ultimate pinnacle of college football.
[break] [break] However, as I've stated over the last few days, I'm extremely optimistic. After each of the last two seasons, Mark Richt was challenged with replacing both his defensive and offensive coordinators. After one season with Jeremy Pruitt, I think everyone in the Bulldog Nation is quite satisfied with Richt's hire. And the hire of Brian Schottenheimer certainly was met with praise from astute, football pundits like Kirk Herbstreit. And Schotty's NFL resume certainly plays right into the NFL Ready mantra of the Georgia Way.
[break]
An absolutely GREAT hire by Mark Richt. Outside the box thinking. Schotty not only a great coach but a better person. Love it! Congrats UGA.

— Kirk Herbstreit (@KirkHerbstreit) January 7, 2015

[break] So where do you stand on Georgia Football touting its program as NFL ready? With a list like below, it's hard to argue. Also, do you think Coach Richt finally has all the ingredients to get the monkey off his back?
[break] NFL Players by College – G – National Football League – ESPN

[break] It's been a pleasure exploring the Georgia Way (Balance, Consistency, Pro-Style and NFL Ready) this week. It's my sincere hope that Coach Richt, his staff and most importantly his players are fully committed to making the Georgia Way the very best it can be in 2015. It's high time to add a fifth element to it … National Champions!!!