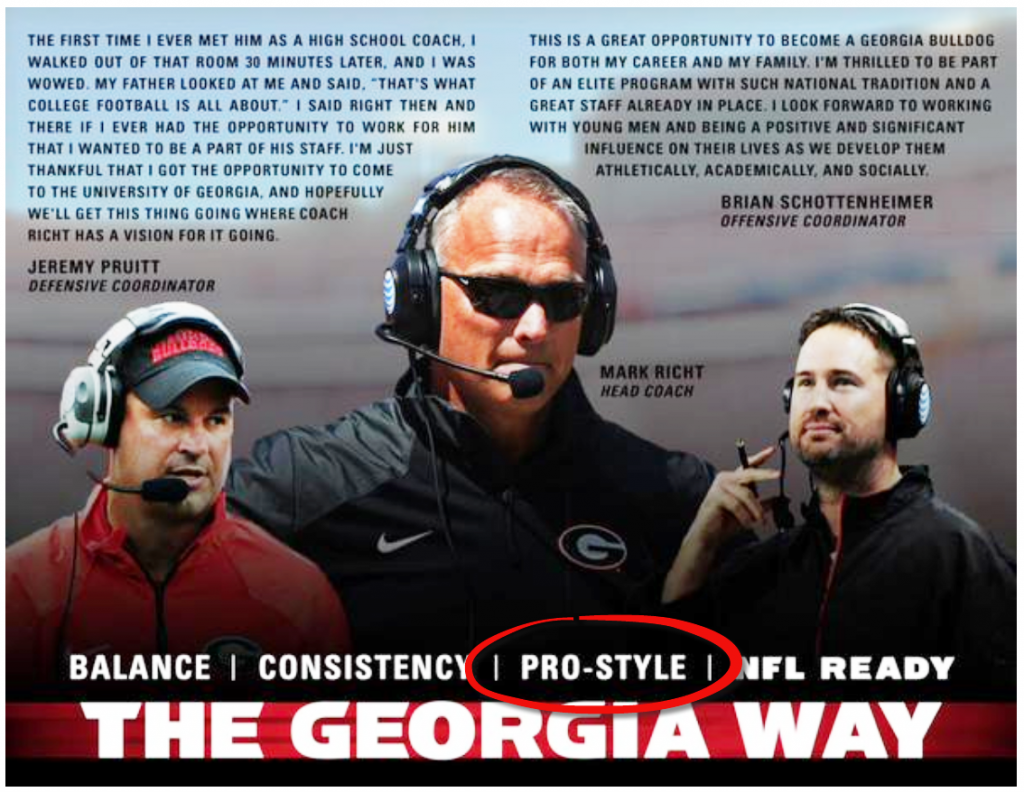 [break] In the previous two days, I've looked at both balance and consistency pertaining to the Georgia way. Today, we take a look at the Pro-Style offense within the Georgia Way.
Yesterday, BI commenter, DSW61 made a great case that the Pro-Style attribute is what the Georgia football brass should be exclusively promoting to recruits. In his opinion, the fact that UGA is one of the few collegiate teams running the system that most NFL teams implement. Thus the common logic is if top recruits come to Georgia, they are getting the best possible training for the next level. You certainly can't argue that fact and as I've discussed over the last two days Georgia's offense has and always will be efficient, so why not toot your horn?
So what makes the Pro-Style offense different and a huge bonus to understand in The League?
First, on the offensive line, players are required to master both running and pass blocking. If a player excels at both without question his chances of making at the next level increases greatly.
And the same run and pass blocking is demanded from running backs in the Pro-Style. Yes, it's important to hit the holes between the tackles and take toss sweeps to the house when given the ball. However, it is just as important that running backs can offer the proper pass protection for the quarterback in play-action situations.
This reminds me of what cynics joke about when saying, "do you remember what kind of blocker Herschel Walker was?" A fair enough beef, when, throughout the years, Coach Richt has held back younger running backs because of their inability to grasp blocking assignments. Case in point, the redshirting of Knowshon Moreno, which Richt has acknowledged was a mistake. However, can we all agree that Knowshon made his best strides in the NFL, when Peyton Manning arrived to Denver because he became a diligent pass protector for the future hall-of-famer?
The Pro-Style offense also relies heavily on receivers, tight ends and fullbacks. And yet again, their ability to block is just as important as making plays when the ball comes their way.
Finally, there is the quarterback position and that is where running a Pro-Style offense is most appealing in my opinion. Everything runs through the quarterback, who must have the ability to read defensive fronts and decide whether a run or pass makes the most sense for each play. And that is where the multiple formations of the Pro-Style are so beneficial.
Beyond that, a Pro-Style quarterback is expected to be able to make all the throws. Again, basic logic applies here … a quarterback that can throw a 20-yard-out, hit TEs across the middle and dump off to a running back in a screen play with extreme efficiency has the best chance for a long NFL career.
As I wrap this one up, I find myself loving the Pro-Style even more. What's not to like about an offense that showcases every position on the offensive side of the ball? And to Georgia's credit, they have studs at the next level at every position to back this up.
However, I will end by reiterating something I brought up in my installment about balance within the Georgia Way and that is my concern that trying to be good in every aspect of the Pro-Style (establishing balance) sometimes prevents our offense from having a true identity. I'm a firm believer in finding out what works against a defense and running the play over and over again until the other team proves they can stop it. Unfortunately, that doesn't always happen when coaches are committed to the Pro-Style and the balance that it demands. Like I said a couple of days ago, I have my fingers crossed that Coach Schottenheimer is going to roll with what's working, even if some balance is lost.
What's your take on the Pro-Style offense? Anything in particular, you would like to see our coaching staff tweak with it in 2015? More moving pockets under Schotty certainly is music to my ears …