Georgia's offense morale was back to normal on Wednesday as the team started day three of Kentucky week. The Bulldog's offense got to work but also joked around during the two periods the media got to see the team. Each position group had a job to do during the two periods we watched, and it seemed like they hit the goals they wanted to. Here are my three takeaways from Wednesday's afternoon practice. 

Quarterbacks Jive with Each Other
Jake Fromm, Jacob Eason, and Brice Ramsey joked around and made a game out of the drills they ran. Each pass Fromm threw, he yelled, "Boom!" Well, he did it enough for Eason and Ramsey to pretend to hold a gun up and say "boom" when Fromm threw it. The three joked around with it, and all seemed to have a great relationship with each other. Both Eason and Fromm made crisp throws and looked impressive. I didn't see any wild passes or underthrown passes from the two which I liked a lot.
Despite both quarterbacks throwing well, the wideouts had a few drops. Riley Ridley and Jeremiah Hollomon both dropped passes that hit them in the hands. James Coley vocalized a good bit during the two periods but kept his one-liners to a minimum. He wanted the wideouts to go faster so he yelled a few times, "Come on! Speed!!!" After he demanded speed, guys like Terry Godwin and Ahkil Crumpton kicked it up a notch and just flew during the drills. It's evident these players like to please their coaches.

Future Star and New Starter on the O-line?
While I watched the offensive line, I saw them do the usual. The unit started out with the chute drill, where the players work on exploding their hips out of their stance. Pittman labeled Wednesday as "Bloody Wednesday" where he yelled at the players after each rep.
However, it wasn't the whole o-line that impressed on Wednesday, but one player in particular. I mentioned on Monday that Isaiah Wilson looked different than when he first arrived. As I was watching him, I overheard one of the other journalists compliment Wilson. They said,"he's a d—- beast!"   Wilson's lost weight and looks like a different football player since fall camp. Something to note was when he took a rep there was an assistant there to tell him what he did right and wrong. I believe this is a huge thing to note because it seems they look to mold him into the next great lineman at Georgia.
Another thing that stood out with the offensive line was that Ben Cleveland took first-team reps at right guard over Solomon Kindley. He made these reps during the fourth period, and I will note Kindley didn't appear to be hurt. There seems to be some movement on the line, so it will be interesting to see how this plays out. Cleveland's appeared in all 10 games this season during various schemes but hasn't recorded a start. Kindley has started the last seven of eight games so the change is notable.

Rest of Offense Continues Fundamental Work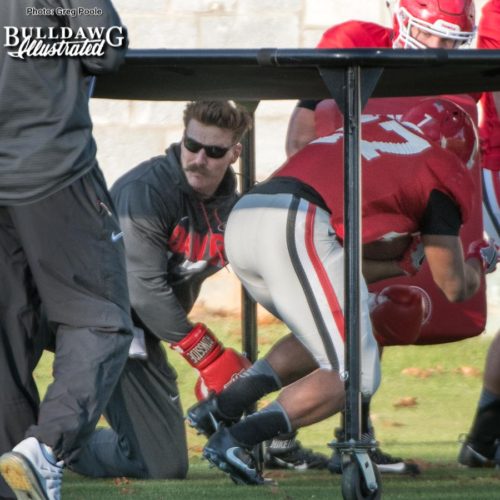 Georgia's running backs and tight ends both hit on fundamentals like they've done all week. Dell McGee had the backs worked on ball security. They ran a drill involving a chute, where strength coach Aaron Feld wore two boxing gloves and tried to strip the ball. The drill forced the backs to stay low and make sure they protected the ball. As for the tight ends, they hit on blocking during the two media periods.
Recent Articles by Savannah Leigh Richardson


[pt_view id="8722077nva"]