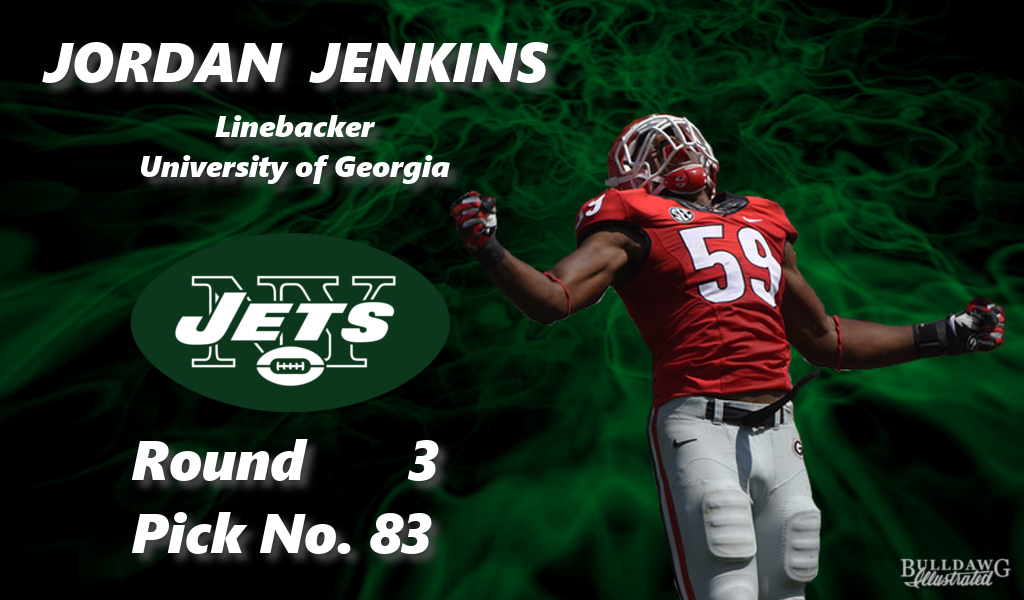 The Bulldogs had one player selected on day two of the 2016 NFL Draft as Georgia linebacker Jordan Jenkins was selected 83rd overall in the third round by the New York Jets on Friday night.




The senior linebacker was the second Georgia Bulldog to be selected in this year's Draft following fellow linebacker Leonard Floyd, who was selected in round one with the 9th pick by the Chicago Bears on Thursday night. Jenkins becomes the 10th UGA player to be drafted by the New Yorks Jets in the history of the franchise.


Who was the first? Defensive back Phil Sullivan was the first Bulldog to be drafted by the Jets in 1972 in round fifteen at pick number 374. Sullivan played for Georgia from 1969-1971 for legendary Head Coach Vince Dooley and Defensive Coordinator Erk Russell. The last Bulldog to be taken by the Jets prior to Jenkins was cornerback Jamie Henderson in the fourth round at pick number 101. Henderson played for Georgia from 1999-2000 for Coach Jim Donnan where he plucked 8 interceptions from the air during his collegiate career returning two for touchdowns.


Jordan Jenkins hails from Hamilton, GA where he played varsity high school football at Harris County for Coach Tommy Parks. A five-star rated prospect at DE coming out of high school, Jenkins was a member of the 2012 recruiting class for the Bulldogs. He played in 52 games for Georgia and started 42 over his four year career between the hedges. Number 59 racked up 205 total tackles, 40 of which were tackles for loss. He also put the quarterback into the ground 19 times with 82 pressures and forced six fumbles while also recovering five.


This year's NFL Draft will conclude on Saturday with rounds four through seven. Selections will begin at 12 Noon ET and coverage of the draft will be televised live on ESPN and the NFL Network. You can also follow coverage of the draft online at NFL.com and via WATCH ESPN.


---
CLICK HERE
TO WATCH
2016 NFL DRAFT AT NFL.com
---