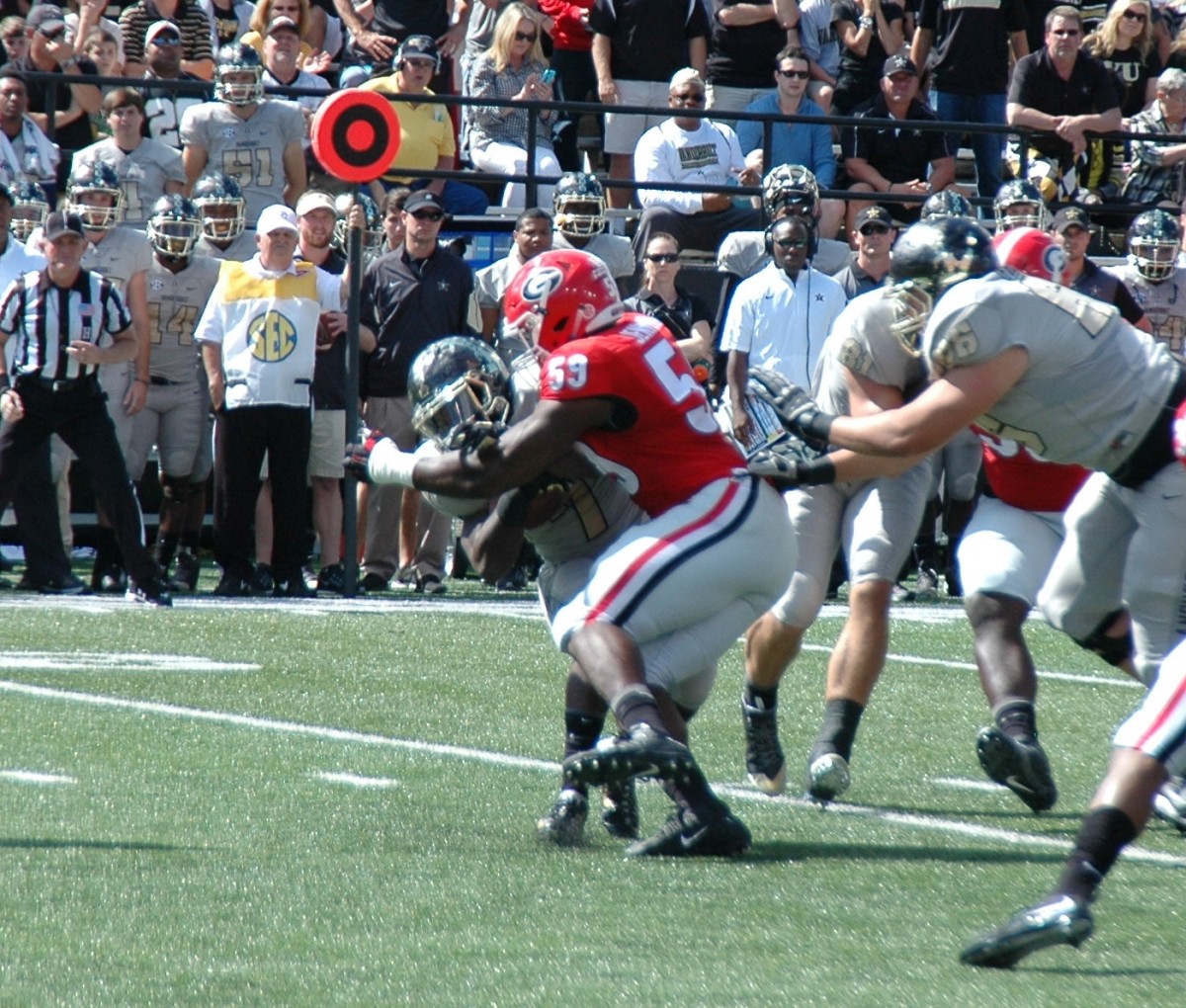 [su_spacer size="20″] UGA senior outside linebacker Jordan Jenkins talks to the media after Georgia's 31-14 win over the Commodores on Saturday.
[su_spacer size="20″]
With a big smile from ear to ear, number 59 says that the win versus Vanderbilt has to be one of his favorite games.
[su_spacer size="40″]
Yeah. That definitely is one of my favorite games, and definitely one that I feel the effects of that game. My body is sore. I'm excited to get back and get in that cold tub, cause my body's tired.
[su_spacer size="40″] If his quote is indicative of the rest of the players on defense, he and his teammates played their hearts out. Jenkins was especially disruptive, seemingly to live in the Commodore's back field. He finished the game with 11 total tackles, 5.5 tackles for loss, and 2 quarterback sacks. The defense was very focused and a mean machine on a mission.
[su_spacer size="40″]
I just did what my coaches told me to do. I stuck to the game plan. I didn't try to focus on making plays. I did my job and the plays came to me . . . Just really focusing in during practice and getting mentally ready.
[su_spacer size="40″] Jordan also eloquently chimed in about the targeting foul called on his sophomore teammate and outside linebacker Lorenzo Carter in the first quarter of the game that caused number 7 to be disqualified for the rest of game.
[su_spacer size="40″]
I didn't think it was targeting . . . It's the same thing that happened to us two years ago . . . That kid just wants to play football. He's not going to sit there and go at somebody's head. He's just trying to make a play because he is a great athlete.
[su_spacer size="40″] Jordan said he and the rest of the defense got "amped" up after that call and learned that Lorenzo wasn't going to get to finish the game with them.
[su_spacer size="40″]
It made us even more hungry.
[su_spacer size="40″] Why was Jordan Jenkins so effective Saturday?
[su_spacer size="40″] In addition to his great individual effort and athleticism, he was disciplined. When the defensive linemen controlled the gaps and there was pressure from the opposite side, Jenkins was where he was supposed to be and was able to make a play on the ball carrier or effect the flow of the play.
[su_spacer size="40″] Jenkins is off to a great start in his first two games and is on pace to rack up 18 quarterback sacks which would break the school record for sacks in a season that was set by Jarvis Jones during the 2012 season for the Dawgs. David Pollack is second on the school record list with 14 sacks in a season in 2002.
[su_spacer size="40″] Currently, Jenkins since tied for 9th in school history with Josh Mallard for 18 total sacks in his career, and he is fifth all time in school history for tackles for loss currently with 36.
[su_spacer size="40″]
Jordan Jenkins post game interview – Vanderbilt
[su_spacer size="80″]