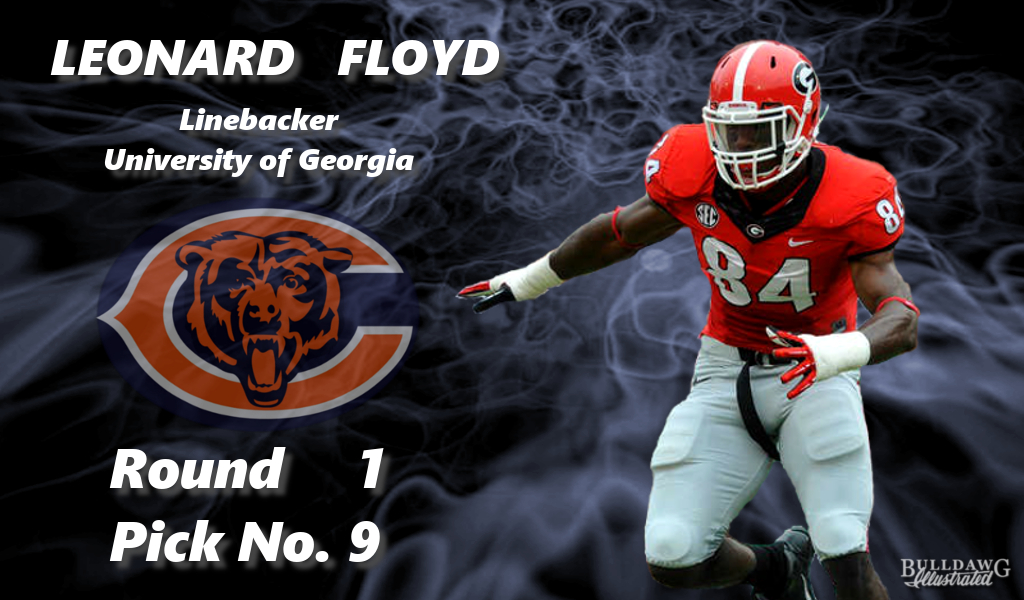 Last night, under pomp and circumstance and great fanfare, the NFL held the first round of the 2016 Draft at the Auditorium Theatre in Chicago, Illinois, and players from across the country waited for their name to be called. Georgia's Leonard Floyd did not have to wait long as he was selected by the Chicago Bears with the 9th overall pick, and he was also the first player from the SEC taken.




The linebacker out of Eastman, GA, where he played varsity high school football for Dodge County High School and Rex Hodges, decided to declare for the NFL Draft after the completion of the Bulldog's 2015 college football season, his third at UGA. Over his career at Georgia, Leonard Floyd amassed 184 tackles including 28.5 tackles for a loss. He also had 17 quarterback sacks and forced five fumbles, including three fumble recoveries. His 17 sacks place him 11th all-time in school history at UGA and his 28.5 tackles for loss ranks him 9th all-time.


Floyd becomes the thirty-first University of Georgia player selected in the first round of the NFL Draft and the fifteenth player to be drafted in the top 10. The first player from UGA taken in the first round was Frank Sinkwich in 1943, where the legendary All-American and Heisman trophy winner was selected 1st overall by Detroit. In last year's NFL Draft, Georgia running back Todd Gurley was the first of five Bulldogs to be drafted and was selected 10th overall by the St. Louis Rams in the first round. Along with Gurley, wide receiver Chris Conley, linebacker Ramik Wilson, defensive back Damian Swann, and linebacker Amarlo Herrera were also drafted.


Floyd will join a former defensive lineman from Georgia in Chicago, Cornelius Washington played for the Bulldogs from 2009 – 2012. Washington was selected by the Bears in the 2013 NFL Draft in the sixth round as the 188th overall pick. Chicago has drafted a total of 18 University of Georgia players over their franchise history.


The Draft will resume on Friday night at 7 PM ET with second and third round selections, and it will conclude on Saturday with the fourth through the seventh round selections. To watch the remainder of the draft you can tune into ESPN or the NFL Network, which will carry live televised coverage and commentary. Defensive end Sterling Bailey, offensive tackle Kolton Houston, linebacker Jordan Jenkins, running back Keith Marshall, nose guard Chris Mayes, wide receiver Malcolm Mitchell, and offensive tackle John Theus each have a chance to be selected in the remaining the rounds.


---
CLICK HERE
TO WATCH
2016 NFL DRAFT AT NFL.com
---