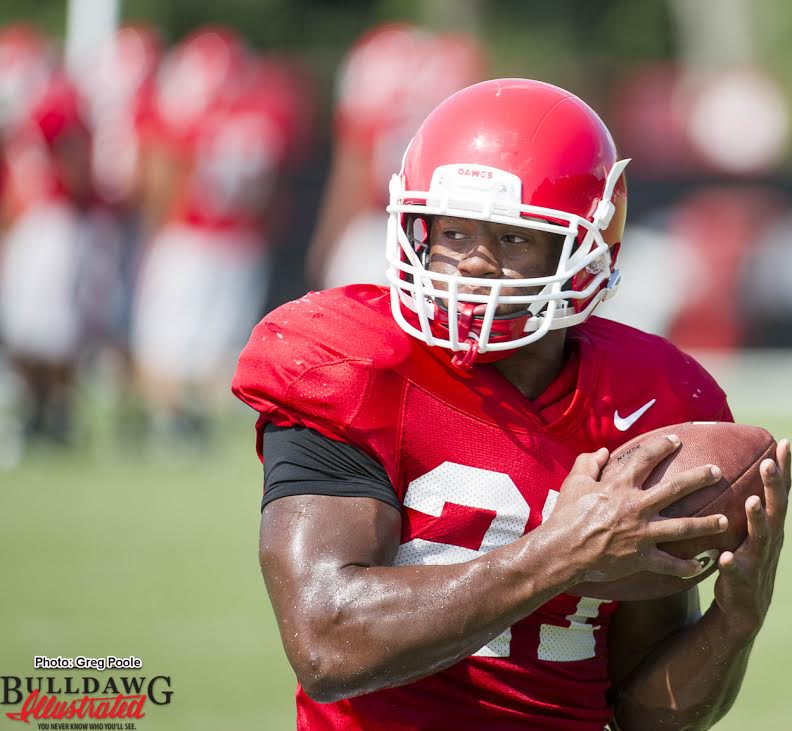 Michael Pope has been in the thick of it down on the practice fields through fall camp with the Bulldogs, and he has an idea of who we could see starting on Saturday versus the Tarheels with a run down of Georgia's projected starters.
OFFENSE
QUARTERBACK – JACOB EASON, #10
NOTE: Michael wrote this piece last week before the University of Georgia announced the starting QB as Greyson Lambert for the UNC game on Thursday.
This is a coin toss between Greyson Lambert and Eason in my eyes and I believe Kirby will roll the dice and give Eason a shot first.
RUNNING BACK – NICK CHUBB, #27
Kirby seems to have accidently made it known that Chubb will get carries in game one and if that is true, I believe he starts.
FULLBACK – CHRISTIAN PAYNE, #47
I have not heard much concerning the fullback position but Glenn Welch or Payne would not surprise me
WIDE RECEIVER 1 – TERRY GODWIN, #5
Godwin should be one of the Bulldogs big time playmakers this year and should lead the receiving corps.
WIDE RECEIVER 2 – MICHAEL CHIGBU, #82
Chigbu has been consistently taking reps alongside Godwin, so I fully expect him to start game one.
SLOT WIDE RECEIVER – ISAIAH MCKENZIE, #16
McKenzie may be the obvious choice for the slot, but Reggie Davis has received a lot of praise from Coach Smart, so it would not surprise me to see him get snaps too.
TIGHT END – JEB BLAZEVICH, #83
This is the Bulldogs strongest position group and they have plenty of talent here, so I think Blazevich, who has the most experience, will start.
LEFT TACKLE – TYLER CATALINA, #72
Isaiah Wynn seemed to have been slated to start here at the start of fall camp, but near the end Catalina got more reps at left tackle and Wynn manned left guard more.
LEFT GUARD – ISAIAH WYNN, #77
Wynn spent more time at left guard near the end of fall camp and it's a position that he has played before, so it should not be a huge surprise for him to start here.
CENTER – BRANDON KUBLANOW, #54
Kublanow was a consistent regular at center during fall camp and he is a lock to get the start at center in game one, barring any injuries.
RIGHT GUARD – LAMONT GAILLARD, #53
Right Guard is a tossup between Gaillard and Dyshon Sims, but I believe the fact that Gaillard has practiced at this spot all of fall camp gives him the edge over Sims.
RIGHT TACKLE – GREG PYKE, ##73
Pyke is just about as much of a sure thing to start as Brandon Kublanow and I fully expect Pyke to start at right tackle against North Carolina.
DEFENSE
DEFENSIVE END – TRENTON THOMPSON, #78
Thompson is poised to have a huge year and could breakout as a defensive star in college football this season.
DEFENSIVE END – DAQUAN HAWKINS, #96
Hawkins should be able to beat out the freshmen at this spot for the first game, but whenever Jonathan Ledbetter returns it will be interesting to see that battle unfold.
NOSE TACKLE – JOHN ATKINS, #97
Atkins is the most experienced veteran on the defense and should start, but I would not be surprised to see freshman Julian Rochester get some snaps as well.
OUTSIDE LINEBACKER – LORENZO CARTER, #7
Outside linebacker is in good hands for the Bulldogs and I expect Carter to pick up where players like Jordan Jenkins and Leonard Floyd left the position.
OUTSIDE LINEBACKER – DAVIN BELLAMY, #17
I believe Bellamy is going to turn some heads this season, and I think he may be undervalued by national pundits, but could have a huge year.
INSIDE LINEBACKER – NATREZ PATRICK, #6
Patrick has constantly received praise from Coach Smart and almost every practice has spent his time with the 1's so I fully expect him to start.
INSIDE LINEBACKER – ROQUAN SMITH, #3
Smith and Reggie Carter will continue to battle for the other starting inside linebacker spot, but I'm giving Smith the edge due to his amazing athleticism.
CORNERBACK – MALKOM PARRISH, #14
Parrish has been a staple at cornerback during all of fall camp and I do not see that changing the week before the North Carolina game.
CORNERBACK – JUWUAN BRISCOE, #12
Briscoe seems to be back at 100% after battling a lingering injury and should start, but Aaron Davis and freshmen Mecole Hardman may get some time as well.
FREE SAFETY – QUINCY MAUGER, #20
Mauger is the most experienced player in the secondary and should not see his playing time take a hit this season
STRONG SAFETY – DOMINICK SANDERS, #24
Sanders is a preseason second team All-SEC defensive back, and I believe Kirby will not let Sanders talents go to waste.
NICKELBACK – RICO MCGRAW, #36
The McGraw and Maurice Smith battle should continue throughout the season, but I believe McGraw gets the start in game one with Smith seeing some time.
SPECIAL TEAMS
KICKER – RODRIGO BLANKENSHIP, #98
Kirby has not revealed much concerning special teams, but I believe Blankenship could get the start. Blankenship also had a solid G-day this year.
PUNTER – MARSHALL LONG, #95
Smart said in a post practice presser that Long had done the best so far with the position and I expect that to hold true all the way up to game one.
KICK RETURNER – REGGIE DAVIS, #81
I would not be surprised to see Isaiah McKenzie at both of the return roles but Smart has given praise to Davis for his special teams work as well.
PUNT RETURNER – ISAIAH MCKENZIE, #16
Punt returns are McKenzie's bread and butter, and he is one of the most explosive returners in the country.
LONG SNAPPER – TRENT FRIX, #69
Frix has experience being the long snapper and that should continue into this season as well.