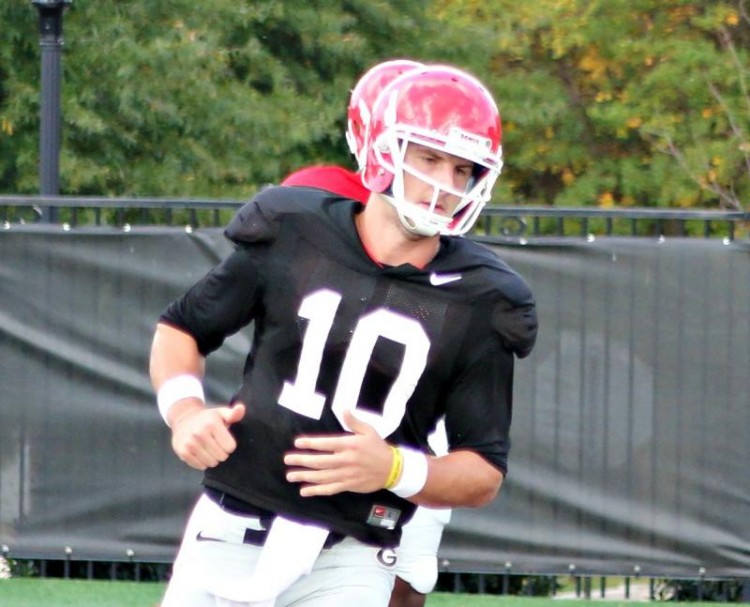 [su_spacer size="20″] There have been rumblings since last week that there may be a change at quarterback for the Flordia game. Rumors started to surface this week on internet discussion boards and sites including at Bulldawg Illustrated. Yesterday, Coach Richt was asked directly about the chances of seeing a quarterback other than Lambert in Jacksonville.
[su_spacer size="40″] Mark Richt has been coaching for many years; he is very comfortable speaking to reporters with cameras recording his thoughts. Richt is also concerned about tipping opponents to his plans, rightfully so.
[su_spacer size="40″] Let's take a look at how the quarterback narrative has changed over the past several weeks.
[su_spacer size="40″] After Wednesday's practice during South Carolina Week, coach Brian Schottenheimer was asked if there would be a quarterback rotation during the upcoming game. Schotty left zero doubt about the choice of starting quarterback.
His answer begins at the 26-second mark.
[su_spacer size="40″]
Brian Schottenheimer on rotating the quarterbacks
[su_spacer size="40″] Then there was the this statement – "Greyson starts all the games…" – prior to the Tennessee game.
[su_spacer size="40″]
Brian Schottenheimer: quarterback decisions vs. Tennessee
[su_spacer size="40″] The next opportunity to answer questions about quarterbacks came on Thursday of the bye week. Coach Richt, when asked about quarterback performance, discussed everything about the offense other than quarterbacks. Was the change in the air last week?
[su_spacer size="40″]
Mark Richt – Quarterback Question
[su_spacer size="40″] Yesterday, the head coach was asked directly about playing a quarterback other than Greyson Lambert against Florida. You can decide what his answer means, however, one thing is certain. The narrative has changed since Schottenheimer was asked a very similar question before South Carolina.
[su_spacer size="40″]
Mark Richt on Playing Another QB Against Florida
[su_spacer size="60″]