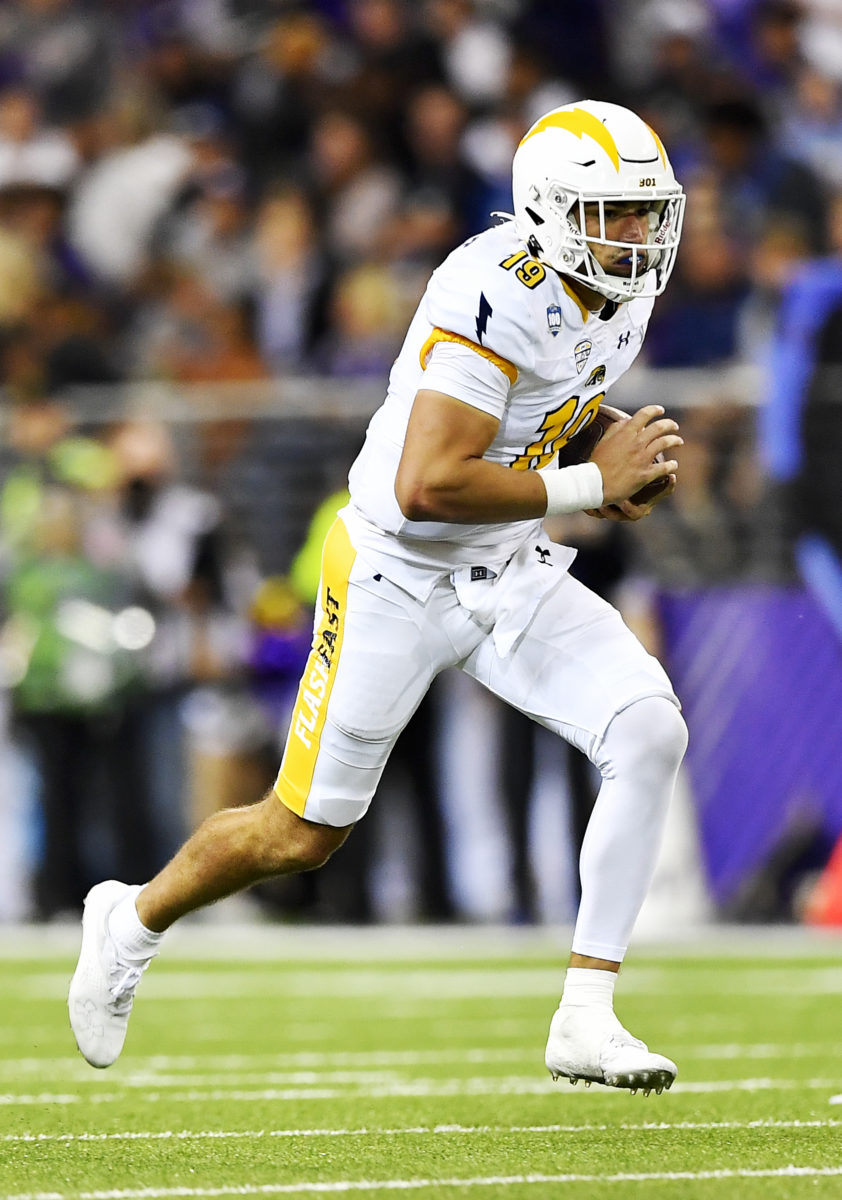 Collin Schlee (QB #19) – A lot of quarterbacks nowadays are expected to be mobile and have the ability to escape a collapsing pocket, but Schlee is intentionally used as a rushing threat. Until their Week 3 match up, he led the team in passing and rushing yards, averaging over five yards per carry. He's a slippery runner who needs more than just an arm tackle to be brought down.
Marquez Cooper (RB #1) – At 5'7 Cooper is definitely a smaller back, but he didn't let that stop him last year. Coming off an extremely productive 2021 season, rushing 297 times for 1487 yards, he'll be trying his best to prove that last season wasn't a fluke. He's off to a rough start only averaging 3.5 yards per carry, but he's bound to find his groove with the way they lean on him; through three games he's had 51 rush attempts.
Dante Cephas (WR #14) – Cephas earned First Team All-MAC honors last year catching 82 passes for 1,240 yards and 12 touchdowns. This season he's caught 14 passes for 244 yards, averaging 17.4 yards per reception, but regardless of the efficiency, that's probably a bit slower than he'd like. Adjusting to a new quarterback and having two of their first three games against Power Five opponents hasn't put him on pace to get totals like last year, but he's a proven receiving threat that will demand his fair share of respect come gameday.
Nico Bolden (S #24) – A fifth-year who only started to get major snaps last season, Bolden is establishing a presence on this team. He's a bigger guy at the safety position. Coming in at 6'3, he attracts physicality and his stats show for that. He leads the team in tackles with 27 total. With a knack for flying to the ball, it shouldn't be too surprising to see him give the Dawgs some trouble.
Khalib Johns (LB #32) – Originally a transfer, Johns has now earned a role as the field general of this defense. Stats don't lie, and the stats say he's a force to be reckoned with in the intermediate area. Four sacks, two pass deflections, and 15 total tackles doesn't sound too shabby. Kent State may look to get him involved in blitz packages when they're in need of a play on D.
JoJo Evans (S #23) – Evans looks like a playmaker back there in the Golden Flashes' secondary. In just three games this season, Evans has amassed two pass deflections and a forced fumble, clearly displaying the ability to disrupt offensive play. Similarly to Johns, he's managed to earn himself a larger role this season and you can see it in his numbers.