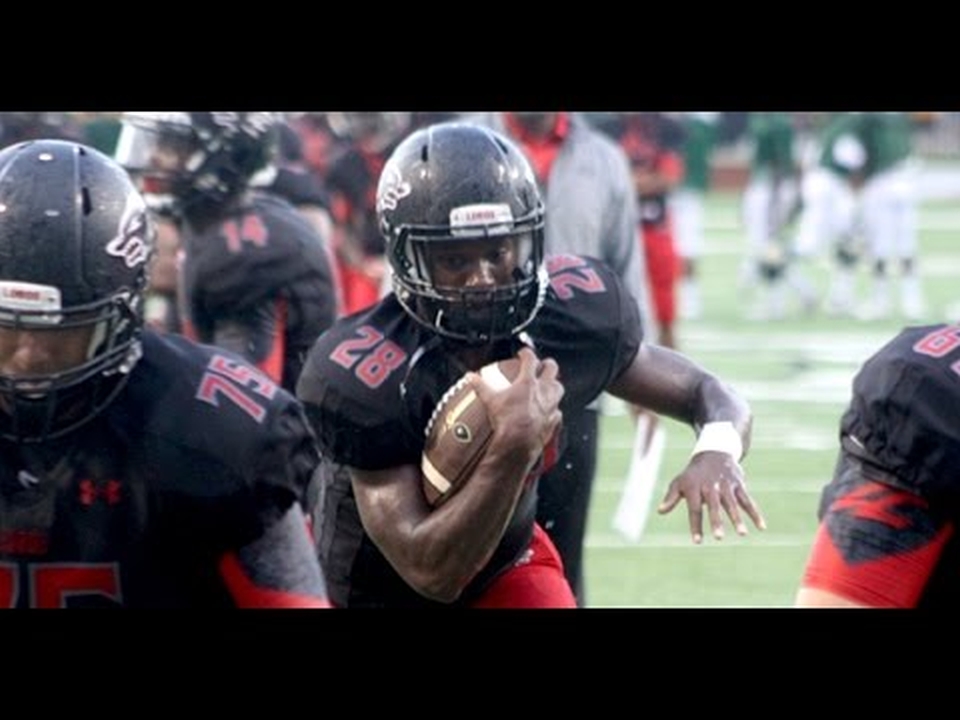 How good is class of 2017 running back Toneil Carter? The Langham Creek High School back is pretty darn good, and if you ask him that question, he won't shy away from answering it.


I'm just tryna be the best at what I was created to . 💯💪🏾🏈🍴

— Toneil Carter (@CarterToneil) April 4, 2016


Carter told the AJC's Jeff Sentell that he thinks he could be better than a number of UGA's recent tailbacks, and he wasn't afraid to name names either:


"I'm going to be better," Carter said. "I'm going to be better than all of them." Does that include Herschel 'The Goal Line Stalker" Walker himself? "Ehhh," Carter said while laughing. "I'll give you that one. Herschel was one of the greatest to ever do it." But better than Gurley? "Yes," he said. "Most definitely. I say that because of the work ethic I have. I'm not looking to be the same as Gurley. I want to be better than what he was at Georgia. I'm going to push myself to be better."


You have to like the young man's confidence, and why not set a lofty goal to be better than Todd Gurley, Nick Chubb and Sony Michel? While Toneil's comments may raise a number of eyebrows from the Georgia faithful, and he has to back those words up on the field of play, I say go for it.


And he definitely has the potential to be great running back at the next level. Carter rushed for 1,216 yards and 18 touchdowns as a junior for the Langham Creek Lobos. Not only that, when you watch him play, Carter has certain traits that define the great running backs.


1. Vision – Carter has very good vision to see running lanes and openings. Sometimes it is almost as if he has a sixth sense on where a gap or lane will be. Now, some of that is practice, knowing the play, and knowing which gaps to hit based off the play and what the defense does, but some of it is pure instinct and intuition, especially, when the blocking isn't there or a play breaks down.


2. No Fear, No Hesitation – What I mean by no fear, no hesitation is exactly that. Carter has no fear and does not hesitate to accelerate like a rocket when he gets the ball into the breach. There is no dancing around in the backfield. No second guessing. This is something that Carter shares with the likes of Todd Gurley and Nick Chubb.


3. Balance – A running back can have all the speed or power, all the athletic ability in the world, but if he cannot stay on his feet, that speed and power will not do him much good. Fans know how frustrating it is to see a back with speed to burn seemingly get tripped up by a blade of grass, a finger nail tackle or a shoe string with nothing but open, green field in front of him. And then there are those running backs that keep moving forward while being battered and bounced around like a pin ball leaving defenders and defensive coordinators wondering how they are supposed to put a stop to that kind of running.


4. Heart and Desire – Yes. It's cliche, but it's also true. Call it heart, desire, work ethic, or just plain wanting to not give up and go down. To beat the guy between you and the first down marker or the goal line. All the great ones have it. Herschel Walker most certainly had it. Garrison Hearst had it. Todd Gurley has it. And Nick Chubb and Sony Michel definitely have it.


Toneil Carter possesses all of these traits to go along with world class speed. He posted a blistering 10.87 second 100 meter track time in the Texas High School District 17-6A Championships last spring, which seems to back up an unofficial 4.30 forty time. And with that speed there is also power to finish off runs, lowering his shoulder to run through and over defenders to get into the end zone for the score or to gain the first down. So, the 5 foot 11 and 205 lbs Carter definitely has the talent and potential to be a great collegiate running back in the SEC and at Georgia


Ah, but the question is just that. If you are going to come out and say you are going to work to be better than the Gurley's and Chubb's and the Michel's of the world, all of whom have played or are currently playing at Georgia, then doesn't that mean you should do so at the same school?


It's definitely a nice thought, and Carter would be big time commitment and signee for the Dawgs for the class of 2017; but, as I like to say, it's a long way till National Signing Day. Plus, he has plans to visit LSU on April 16th and has made plans to also attend Texas A&M's spring football game this coming weekend. We actually won't have to wait till NSD as Carter plans to announce his commitment on his birthday on October 3rd, and he plans to be an early enrollee as well.


Georgia does have the fact that they are known as "Tailback U" and has been and should continue to be a draw for top rated high school running backs to come to Athens to test their mettle. Hopefully, Toneil Carter can be one of the next great ones to do so at UGA.


---
---