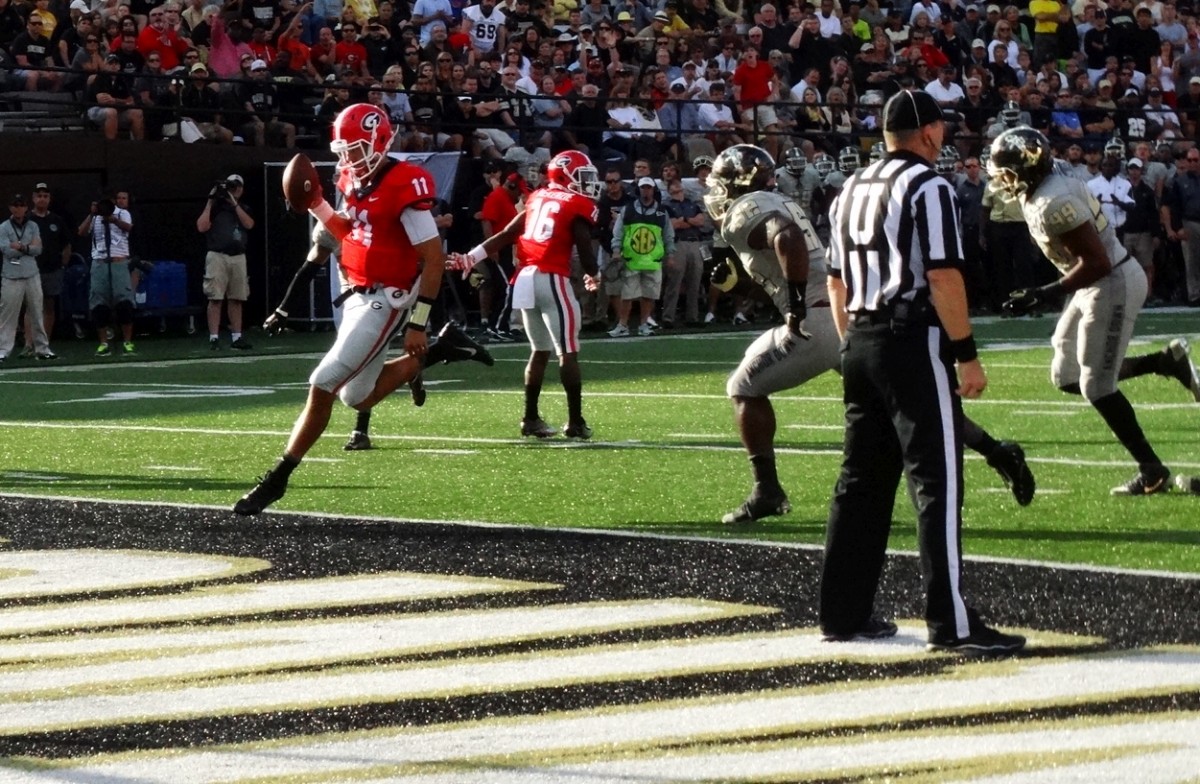 [su_spacer size="20"] The Bulldogs passing game was not the most effective against the Vanderbilt Commodores and UGA starting quarterback Greyson Lambert was quick to take the blame for it. Lambert looks to continue to progress as he strives to become a more efficient passer in this new look offense.
[su_spacer size="20"]
The Bulldogs had a very strong rushing game against the Commodores which made the passing game almost obsolete to begin with, but was the game continued to progress, they turned to the passing game more and more and had little results. Greyson Lambert, who started the second straight game for the Bulldogs, took responsibility for the Bulldogs lack of passing game.
[su_spacer size="40"]
Our run game kept us in it. Our defense played a heck of a ball game. Which allowed us to kind of find that rhythm a little bit late, but we can't do that in the future. It can't be until the third quarter for me to have a completion. We gotta get the ball rolling and a lot of that is on me, and I take full responsibility for that.
[su_spacer size="40"] Lambert was asked about Sony Michel's versatility and he basically said it's nice to have someone like Sony, who they can line up anywhere and trust him to make big plays. Lambert was then questioned about the drive where he ran the ball in for the touchdown and how relieving it was and he had this to say:
[su_spacer size="40"]
Yeah, it was definitely exciting to kinda finish that off with a touchdown, whether i scored it or not i didn't really care. There was several points in time where we had to settle for field goals and as an offense we want seven every drive and for us to get down there and finally punch it in there  in the second half was big for our offense and our team.
[su_spacer size="40"] Greyson Lambert was again questioned in his interview about what kind of mindset he has when he is struggling to get the offense going in the passing game and Lambert had this to say:
[su_spacer size="40"]
Honestly, it's just keep playing. That's the only thing you can do in that scenario, is to keep playing, keep trusting in yourself and the players around you to get it done.
[su_spacer size="40"] Lambert seems to understand that he has to get the passing game going and that for the Bulldogs to have an effective offense that they must be more balanced than they have been in the past two weeks. Lambert mentions that he will continue to work on getting a rhythm going earlier, so that the Bulldogs can use the running game and passing game as compliments to one another and keep the offense balanced.
[su_spacer size="40"] [su_youtube_advanced url="https://www.youtube.com/watch?v=xigyKiVzcPc" autohide="no"] [su_spacer size="80"]