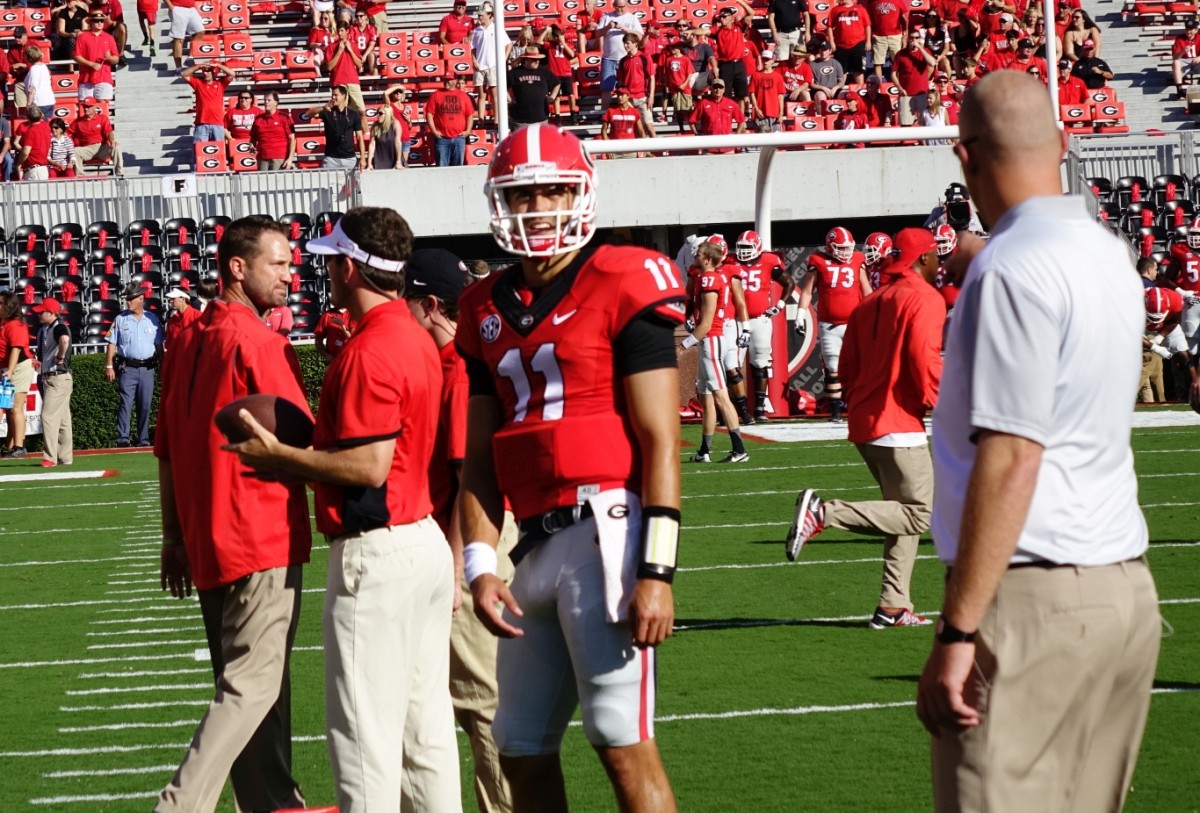 [su_spacer size="20"] Greyson Lambert is coming off a record breaking performance and for the time being has secured his spot as the Georgia Bulldogs starting quarterback. However, other quarterbacks in the SEC have lost their starting job and will be watching their team's games from the bench; Greyson can sympathize with these quarterbacks since he has been benched in the past.
[su_spacer size="20"]
Gresyon Lambert had one of the most impressive performances for a collegiate quarterback, this past Saturday, against the South Carolina Gamecocks. He finished his day 24 for 25 with 330 yards and 3 touchdowns. Lambert made plenty of plays this past Saturday but he credits the rest of his offense for the success he had against the Gamecocks.
[su_spacer size="40"]
Like Coach Richt's been saying, I mean  for the O-line to do their job the way they did it and kinda dominate the line scrimmage and for there not to be just a drop, a lot of stuff has to happen. This isn't like I did something spectacular; The whole offense did something spectacular.
[su_spacer size="40"] One play that was highlighted in Lambert's interview was freshman wide receiver Michael Chigbu's catch the kept Lambert's consecutive completed passes streak going. Although Lambert had a near perfect day, He still was upset about that play because he underthrew Chigbu.
[su_spacer size="40"]
I was upset because I missed him and i felt like if i would've hit him in stride he would've been able to run and get at least four more yards for the first down… I was definitely upset with myself over that one.
[su_spacer size="40"] Lambert was also made aware that South Carolina and Auburn decided to change their starting quarterback for their next game and he mentioned how it was a position he has been in before.
[su_spacer size="40"]
It's happen to me. I've been through it. The everyday grind to hold that spot and you're fighting for your job everyday no matter what kind of game you have, it all can change in a heartbeat. You gotta take every day one day at a time.
[su_spacer size="40"] Lambert mentioned that the way he keeps focus on holding his starting job is by having a competition with himself every day and trying to better himself from the previous day. Lambert has reinforced himself as the starting quarterback position and if he keeps playing at the same caliber as he did against South Carolina, then he will not only have a secure spot as Georgia's quarterback but may be one of the best quarterbacks in the country.
[su_spacer size="40"] [su_youtube_advanced url="https://www.youtube.com/watch?v=YSpSFYkpw7w" autohide="no"] [su_spacer size="80"]