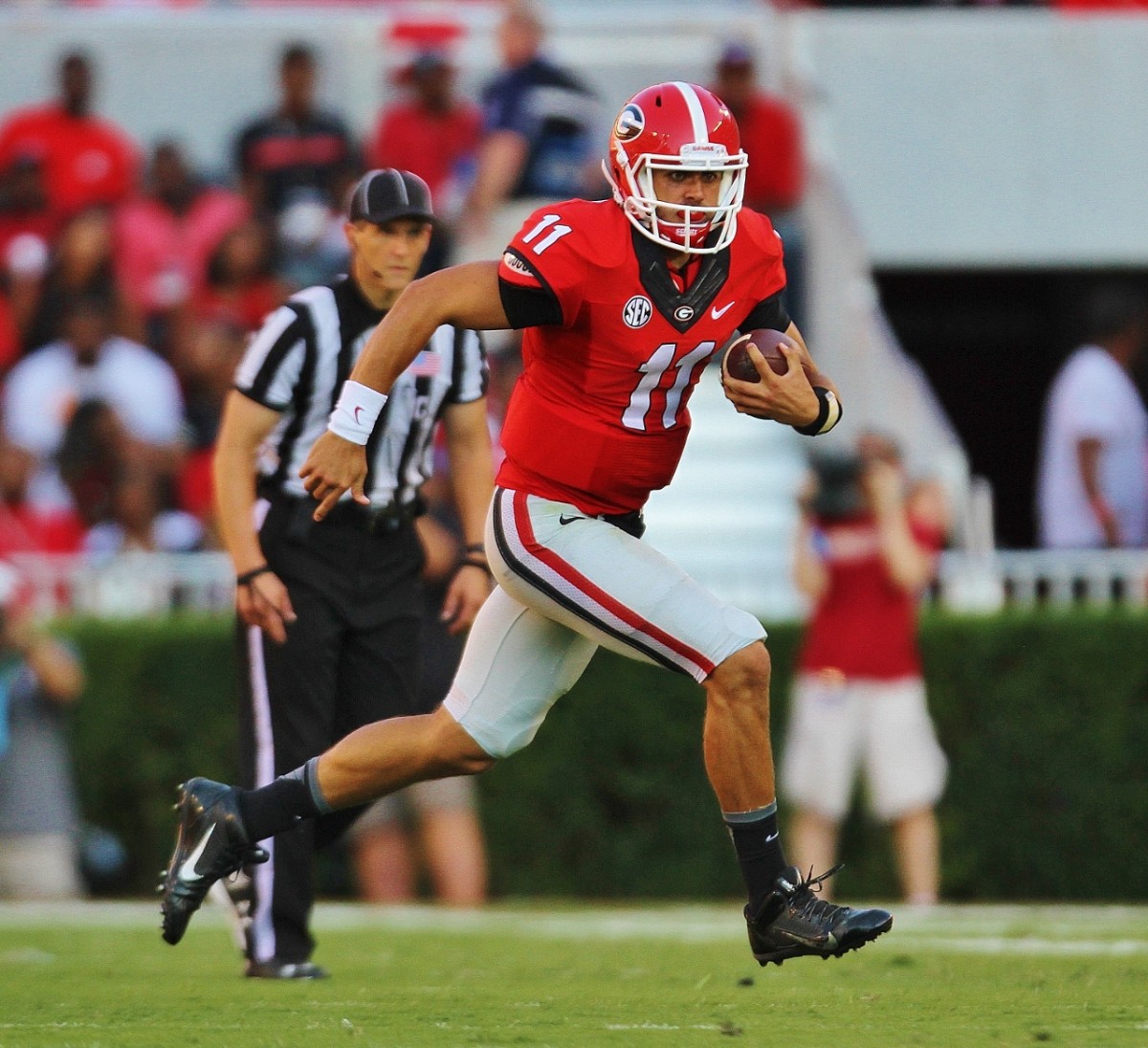 [su_spacer size="20"] Greyson Lambert is growing more and more comfortable in the Bulldogs' offense with each snap he takes. Lambert's comfort level was at an all-time high this past weekend as he had a record-breaking performance against the South Carolina Gamecocks.
[su_spacer size="20"]
Greyson Lambert had an amazing performance this past weekend and hopes to continue to improve and build on his success. One area Lambert hopes to improve on, is his ability to run the offense at a quicker pace. Lambert mentions how offensive practice has continued to increase on speed and that the team hopes to continue to increase their tempo in running it.
[su_spacer size="40"]
We've had a great two days worth of practice this week. Moving a lot faster, The tempo is still increasing and that's what we want, so it's been a good week.
[su_spacer size="40"] The Bulldogs offense already is pretty high paced and Lambert was asked how much faster can this offense really go? Lambert responded with this:
[su_spacer size="40"]
We're trying to go at breakneck speed, as fast as we can. As the knowledge progresses and we get a little bit more comfortable each and every week with the offense, the faster we can go and make our calls. Hopefully we'll be going faster every week.
[su_spacer size="40"] Lambert was again questioned about how the tempo increases with each practice and if he could feel the tempo of the practice increasing. When asked about this he had this to say:
[su_spacer size="40"]
Yeah, definitely. Today, I think Coach Richt even said at one point that we were eight minutes ahead of schedule, which just means that we're moving at a very fast pace and that's what we want because it kinda puts the defense in a bind a little bit.
[su_spacer size="40"] The Bulldogs offense was very dangerous on Saturday against the Gamecocks and if they are able to keep their production up and increase their tempo, then they will have an even more productive offense as the season progresses.
[su_spacer size="40"] [su_youtube_advanced url="https://www.youtube.com/watch?v=3KWLC33NiXA" autohide="no"] [su_spacer size="80"]