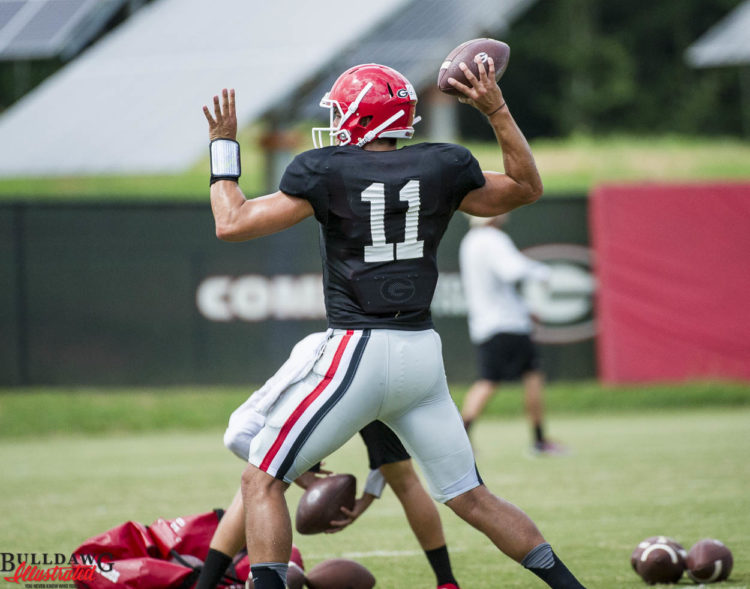 In my opinion, Greyson Lambert will start the game against North Carolina Saturday.
I think at some point, maybe as soon as the Missouri game, Jacob Eason will be the starter.  But I think the Dawgs will go with Lambert in this first game.  If Chubb is healthy and 100%, Lambert can manage the game and be effective, and put the offense in the right spots.
If Chubb isn't 100%, you need someone out there who knows what the hell they are doing.  We've seen what a Lambert-led offense looks like without Nick Chubb, and it isn't pretty.  But against a quality opponent, it is a better alternative to a true freshman in their first ever college game.
Last week, Eason was getting a bulk of first team snaps in practice (from what we've been told).  Kirby said, though, that he wanted to have Eason play catch up with the first team unit.  This week, game week, it appears that Lambert is now taking the majority of first-team snaps.
But don't take my word for it.  Kirby Smart said the same thing last week in an interview with 960 The Ref's Dave Johnson at the Athens Touchdown Club.  Click here to listen and find the podcast from 8/23.
About the 7:10 mark, near the end, Kirby says that playing in these neutral site games is easier when you have a quarterback like Greyson Lambert who has experience in big games and knows what to do.
 It helps when you've got a guy that's coming back, who's been your quarterback for a while. You're sitting there with Greyson who's played for us, and been very valuable.  You want to have experience in that position to help with these games.  
So that makes me think my hypothesis is going to be true.  Lambert will "start" against UNC, but by season's end, he won't be the starter.