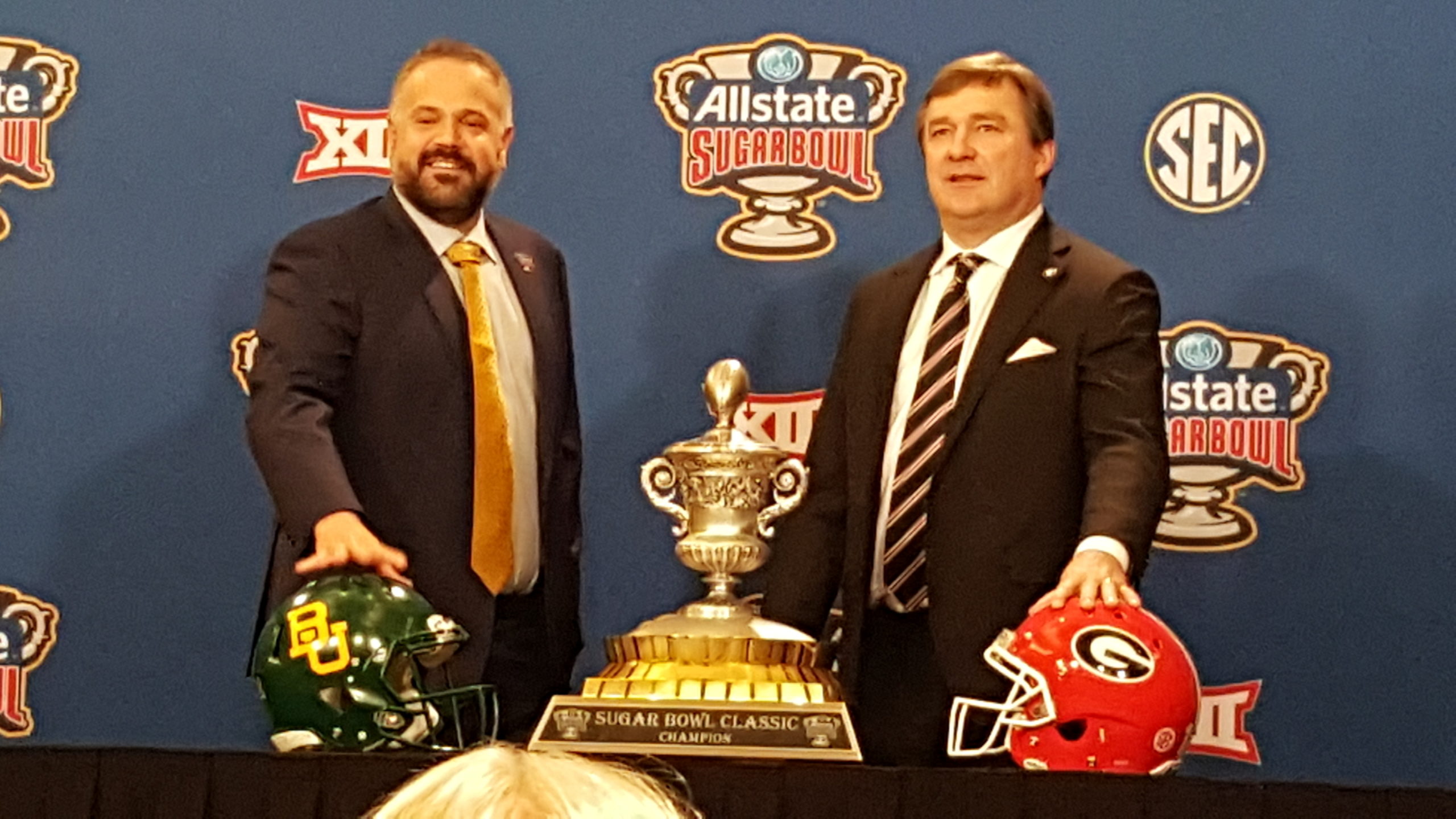 NEW ORLEANS, La. — Head coaches Kirby Smart and Matt Rhule offered their final thoughts Tuesday morning prior to Wednesday night's 8:45 p.m. kickoff of the 86th Sugar Bowl at the Mercedes-Benz Superdome.
Both Smart's 5th-ranked Georgia Bulldogs and Rhule's 7th-ranked Baylor Bears will enter the game with 11-2 season records with the New Year's Night winner likely looking at a Top Five national finish.
Smart, despite the fact his team will be without some six of its regular-season starters and also six backup players due to academic ineligibility, injury and other unspecified reasons, said the Bulldogs have staged intense practices in Athens and New Orleans and he's excited to see how they will play against a Baylor team that, like Georgia, boasts one of the nation's top defensive units … a defense that is led by All-America and Big 12 Defensive Player of the Year, James Lynch.
"We've got a great challenge tomorrow night playing Baylor," said Smart. "They have done an unbelievable job. Coach Rhule and his staff, the turnaround they've been able to do is nothing short of incredible. When you turn the tape on, it really jumps out at you how well they're coached, how hard they play. They played in several close games this year in which they outfought, they out-competed the other team.
"I know when you look at them defensively, they're very different than anything we see in our conference, and they're really good at what they do. Offensively, they spread you out and do a really good job and have an athletic quarterback (Charlie Brewer).
"So the challenge is there for our team," said Smart. "I'm excited to see our team go out and play. It's been a while since both teams have played. And as you can see in these other bowl games, sometimes you don't know what you're going to get when you go out there and haven't played in this long, this much time off. So conditioning will be important. Playing under control and with composure will be important. But I'm excited to let our guys go out there and play and play in one of the best atmospheres in all the bowl games."
Smart was asked by Bulldawg Illustrated if his team had maybe shown more intensity in practices leading up to this year's Sugar Bowl game. He had earlier commented that last year's Bulldogs also practiced well going into the matchup with the Texas Longhorns. Of course, that wasn't reflected in the 2019 Sugar Bowl as Georgia, coming off a bitter defeat to Alabama in the SEC Championship Game and missing the College Football Playoffs, staged a lackluster performance in a 28-21 loss to Texas that wasn't as close as that final score indicates.
"Yeah, I don't know that I've ever went into a game that I didn't feel like our guys didn't practice well," Smart replied. "That wouldn't be a good situation to go into. Turning the ball over last year really hurt us early and didn't help us in that game. That probably ‑‑ anytime you have turnovers, it's going to be one of the greatest indicators, that and explosive plays. We had those last year. The punt early shook us when we took a knee on the punt. It's hard to overcome once you start losing the momentum in the turnover battle.
"But this group has been great," said Smart. "Have had really great practices. The best part has been with a little bit lack of depth, we've gone against each other more. One of the luxuries of having depth is you're able to get a lot of reps against the opponent in what we call scout work. But we call it quality scout work when you have enough O‑linemen to have two or three units and you can put a really quality scout team in there. We haven't had that luxury.
"What we have had to do is be really smart, practice more against each other and do high‑competitive environments, high‑competitive reps, which the players have liked," he said. "They practice harder when they are lining up across from a guy they know is a starter. So you get good competition and practice a little bit shorter with that in mind, too, because the same guys are taking most of the reps."
Smart was asked if it was troubling to him, what with all the Georgia players who, for one reason or another, are sitting out for what still ranks as one of college football's most prestigious bowl games.
"It's not troubling, not at all," he said. "Each one is different. some of these guys are injured. Some academically didn't do what they needed to do. That's part of college football. It's part of dealing with the things you have, the cards you're dealt.
"The NFL environment we have, if we continue to recruit at a high level, which we've done, this is probably going to be an annual deal where guys decide that I'm not going to play in the game based on certain reasons or whatever they choose. And that's the choice they have. I respect that.
"When we go recruit kids, we sell the fact you can get an unbelievable education," Smart said. "We also sell the fact you have an opportunity at the NFL. When you recruit at a really high level, you're going to have kids with an opportunity to go in the first round that are going to make, quote‑unquote, business decisions for them. I don't always agree with all of them, but I support them 100 percent. And that's what we're going to continue to do."
Smart said he's still not sure if the Bulldogs' leading rusher, All-SEC tailback D'Andre Swift, will be able to play in Wednesday night's game. Swift saw limited action in the SEC Championship Game due to an ailing shoulder.
"As far as D'Andre, I don't know," Smart said. "We're going to wait and see. He's competed. He's done everything we've asked him to do. I keep repeating that because he has. Certainly, if he feels like he's able to go and go at 100 percent, we're going to use him. He's done more this last week in practice than he did before the SEC championship game, that's for certain. So excited to see where he goes."
But the Georgia coach has liked the way his young tailbacks — Zamir White, James Cook, and Kenny McIntosh — have stepped up in the Sugar Bowl preparation.
"When you think about it, Zamir and James have had a lot of work and I would probably say Kenny is one of those guys, too," Smart said. "Kenny didn't get as much work in practices until now. He's gotten a tremendous amount of (bowl practice) work and done a really good job.
"It will depend on how the game goes," Smart pointed out. "Depending on how much Swift plays will decide how much Kenny's going to get play. Kenny's done a really good job. He's grown up and played a lot more. Really, every other position, I don't know that you're seeing ‑‑ you're seeing two offensive tackles (Cade Mays and Jamaree Salyer filling in for NFL bound Andrew Thomas and Isaiah Wilson). That's the biggest difference, those guys. And then Warren Ericson (at guard) is a guy that has stepped up and had to play a lot more. Outside those guys, it's mainly depth more than it is a new guy."
Rhule Heaps Praise on the Bulldogs
Baylor coach Rhule also pronounced his Bears ready to take on a "great Georgia team."
"We're very excited most importantly by the chance to play a great Georgia team," said Rhule. "We look forward to representing our team with the way that we play to the best of our abilities. Everyone for us will play, we're excited to play, and it should be a great game.
"Now, as I told our team, our last game we played the number five team in the country again (Oklahoma in the Big 12 championship game) and we just lost, right?" said Rhule. "Well, here, we have a chance to play the number five team in the country again. And if we're competitors, if we're tough, if we're the team that we want to be, then we have to go out there and fight them and understand this will probably come down to one play. And we have got to make one more play yet again."
The Bears are led defensively by First Team All-America defensive end, James Lynch, who enters the Sugar Bowl with 12.5 sacks and 18.5 tackles-for-loss.
"I think one of the things about James is he's tremendously athletic for a big man," said Rhule. "He's 300 pounds but he runs a shuttle like a secondary player. And so it's really his quickness that's allowed him to have the production that he's had. And he's a relentless player, really smart player.
"I want to make sure I say this: He's a really, really good athlete, too. Most of his sacks come out of a three‑man front where he gets double‑teamed. He has a tremendous ability to change his body angles, and he just finds a way to get to the quarterback."
Rhule called the Bulldogs "by far, the best defense we've played this season."
"They play so many different guys on defense," he said "They have different packages. They rotate in and out. I told our guys, our coaches, when they are game planning and taking notes, I said, guys, 'you have no idea what they're going to do until the first snap of the game because they do something different every game.' Certainly, one of the best defenses. They have got great, great players. They play hard. They play a lot of guys. It should be a really fun game. I think it's really cool to see the different styles. And we'll see what happens."
Rhule also dished out praise for Georgia quarterback Jake Fromm, who has admittedly taken some heat this season after not performing — statistical-wise — up to his freshman and sophomore seasons.
"I think in terms of Jake, you see a player who's extremely intelligent, gets them in the right play," declared Rhule. "We face a lot of offenses where they look to the sideline and go back. He's a pro‑style quarterback. When I say 'pro style,' you get him in the right protection, get him in the right play, that makes it difficult on defense because you have to disguise. You have to try to show them different looks.
"And he's got a big, powerful arm," said Rhule. "He's pushed the ball down the field and made big plays. He's also athletic within the pocket, gets outside the pocket, keeps his eyes down the field. He's a threat in a lot of ways. He's certainly one of the best quarterbacks we've faced this year."
So the stage is all set for the first Sugar Bowl game of the new decade. And in the case of the Georgia Bulldogs, it will be a golden opportunity to put the cap on a sterling 12-2 finish, enable the team's seniors to match the best-ever career record for a UGA senior class while, at the same time, avoid finishing the season with consecutive losses for a second straight year.