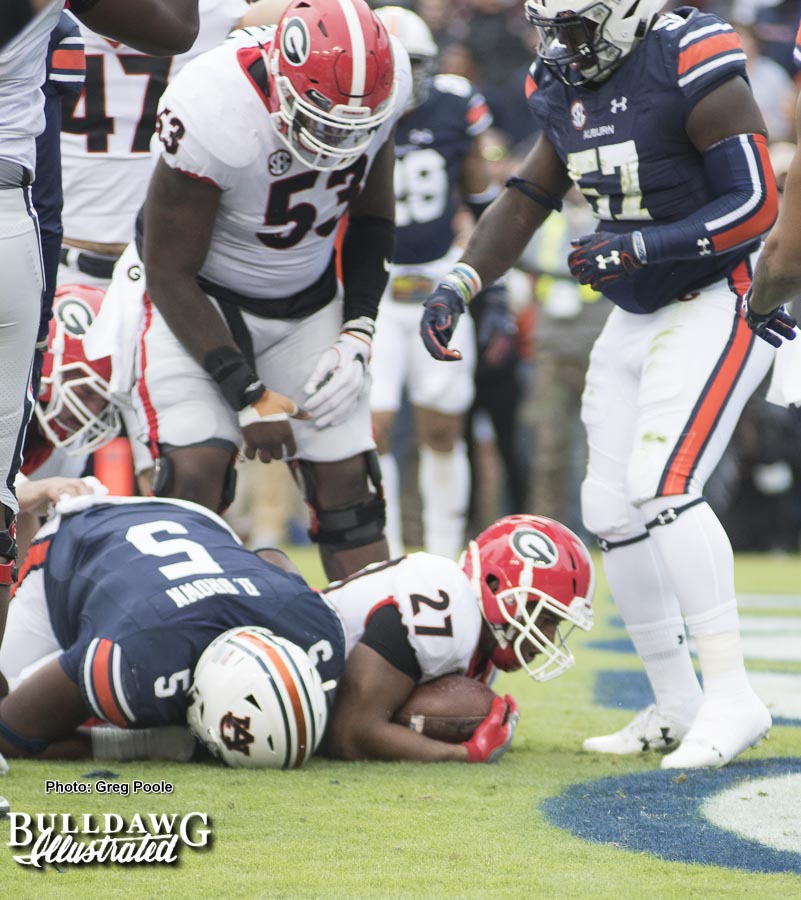 Are the 10-2 Auburn Tigers a 23-point better team than the 11-1 Georgia Bulldogs?
I don't think so.
But, most certainly, Auburn was 23 points better than Georgia back on Nov. 11 at Jordan-Hare Stadium when the Tigers played lights out and the then No. 1-ranked and unbeaten Bulldogs played like they were in the dark for all four quarters en route to a 40-17 beatdown by Auburn.
Now, SEC East champion Georgia gets another crack at the Tigers, champs of the West Division after their 26-14 takedown of No. 1 Alabama this past Saturday in Auburn. And the stakes couldn't be any higher as the Deep South's oldest rivals collide on Saturday for the 2017 SEC Championship in Atlanta's new Mercedes-Benz Stadium.
With a berth in the College Football Playoffs hanging in the balance – and the semifinal match-ups will be contested in Pasadena's Rose Bowl and New Orleans' Sugar Bowl – I'm thinking this is the biggest football game for the University of Georgia since the Jan. 1, 1983 Sugar Bowl game when the Herschel Walker-led Bulldogs were 11-0 and seeking their second national title in three years … only to be upended by Joe Paterno's Penn State Nittany Lions by 27-23 in the Superdome.
But of course, it's a No. 2-ranked (in CFP) Auburn team that carries the same playoff aspirations into the championship game this coming Saturday and it's a Tiger team that simply whipped the Bulldogs on both sides of the line of scrimmage in this season's regular-season meeting on the east Alabama plains. That day, it just seemed like the perfect storm for Gus Malzahn's Tigers. Auburn could do little wrong and, as you know, the Bulldogs could do little right. Not only could Georgia not stop the Tigers' prolific 1-2 offensive punch of tailback Kerryon Johnson and quarterback Jarrett Stidham but the Bulldogs couldn't run (Nick Chubb 27 yards, Sony Michel 21 yards) the football or pass it well either against Auburn's smothering defensive front. And Georgia further fueled the Tigers' dominance by committing seven penalties, which included four personal fouls. Then there was a muffed punt, a missed field goal … and so on and so on.
So one would think that just by showing up Saturday for the 4 p.m. kickoff at Mercedes-Benz, the 6th-ranked Bulldogs are bound to show improvement over that earlier debacle they staged against Auburn. But, question is, can Georgia make up that three-touchdown margin it lost by to the Tigers in the first meeting?
Auburn will surely enter the title game ultra-confident after rolling over both top-ranked UGA and 'Bama down this season's stretch, which arguably makes the Tigers the hottest team in the country as they bus across the Alabama line into Georgia.
To turn the tables on Auburn this time, it's pretty clear-cut what the Bulldogs must do as afternoon turns into night in metro Atlanta: Georgia must find a way to block the Tigers and spring Chubb and Michel for big running games – something that didn't happen at Auburn – and Georgia must get a good passing performance from freshman Jake Fromm so as to help open up the ground attack. And defensively, the Bulldogs simply must clamp down on both Johnson's runs and Stidham's passing; Georgia simply can't let those two go off and have the offensive showings they put up on the plains. Good special teams play will also be key for the Bulldogs enjoying success on Saturday. Rodrigo Blankenship must be perfect with his place-kicks, Cameron Nizialek will have to boom his punts high and deep, the Bulldogs' kick coverage teams must be on point and the kick return team must also sparkle as Mecole Hardman admittedly did in the first matchup at Auburn.
There's no question the Bulldogs, after the earlier embarrassment against this opponent and then also learning of Malzahn's ill-advised remark right after the game ("We beat the dog crap out of them, didn't we?"), will enter the championship game highly motivated and primed to extract revenge from the Tigers' hide. And with the Bulldawg Nation fandom rocking Atlanta's new facility in support of their team, I'm looking for these Bulldogs to do just that.
Georgia performs Saturday evening like it did in 11 of its 12 outings this fall and that will be sufficient enough to take down the Tigers and deliver the Bulldogs their first SEC crown since 2005, along with Georgia's first excursion into the CFP.
Make it 28-24 … Dawgs on top!
---
Recent Articles by Murray Poole


[pt_view id="2fb799183g"]