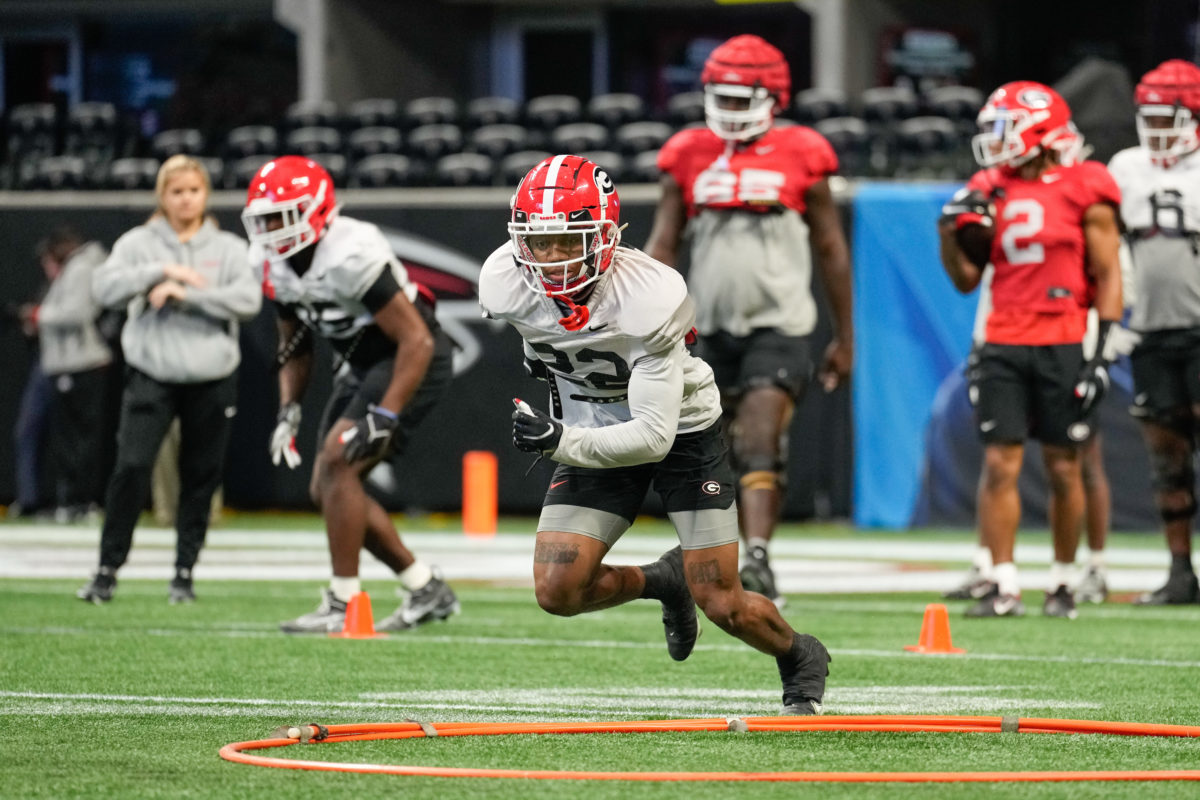 At the media day on Thursday, Ohio State offensive coordinator Kevin Wilson was asked how he was going to gameplan around a very physical and deep Georgia defense. "Well, you're not going to work around it," Wilson said. "You got to go at them."
You have to fight physicality with physicality. But it's hard trying to beat Georgia at its own game. Every team says that they're physical, but no one really lives up to it the way Georgia does. The Dawgs are hungry for and go out of their way to seek physicality. It's an ingrained part of their identity. It's why they put so much emphasis on the counter run game and recruiting in the trenches.
I was able to talk to someone that really embodies that intense, aggressive and physical identity the other day. It wasn't 6'3 300 pound defensive tackle Jalen Carter, and it wasn't 6'7 280 pound tight end Darnell Washington. It was actually 5'11 180 pound defensive back Javon Bullard.
Now Bullard isn't small by any means. Amongst civilians, Javon Bullard would probably be considered a tall guy, but that isn't the case in the Georgia locker room. The Middle Georgia native realizes he's considered a bit smaller out on the field. When asked about how he's dealt with his size he said, "I'll be like, dang, do I really look that small on T.V.!?" But immediately followed up saying, "But yea, you got to learn to embrace that, man."
He explained that everyone has different gifts and that "unfortunately" he didn't get size, but sometimes that leads to people taking on certain mentalities. So since he can't be a 6'3 200 pound defensive back, Bullard has instead taken on the mentality of one and really made an effort to embrace a strong, physical mindset.
The position he plays really calls for it too. Playing STAR at the University of Georgia means that Bullard has to be a linebacker/ cornerback/ safety hybrid. He is more than ready to be ready to "showcase physicality" making tackles in the box during run defense, and he's really carved out a role in this defense because of his ability to do so.
If you haven't heard of him already, Javon Bullard is really one of the unsung heroes of this defense. His physicality facilitates his versatility, so he's doing anything and everything on the field. He's a leading tackler on this team and has multiple sacks from the defensive back position.
Bullard hasn't let his size get in the way of anything because he seeks physicality. Fact of the matter is so does everyone else on this team. Ohio State can only do so much to prepare for what Georgia has in store, but it'll all be dealt with in a matter of hours when the two teams face off in the Benz later today.
Bulldawgs and Buckeyes. Who ya got?