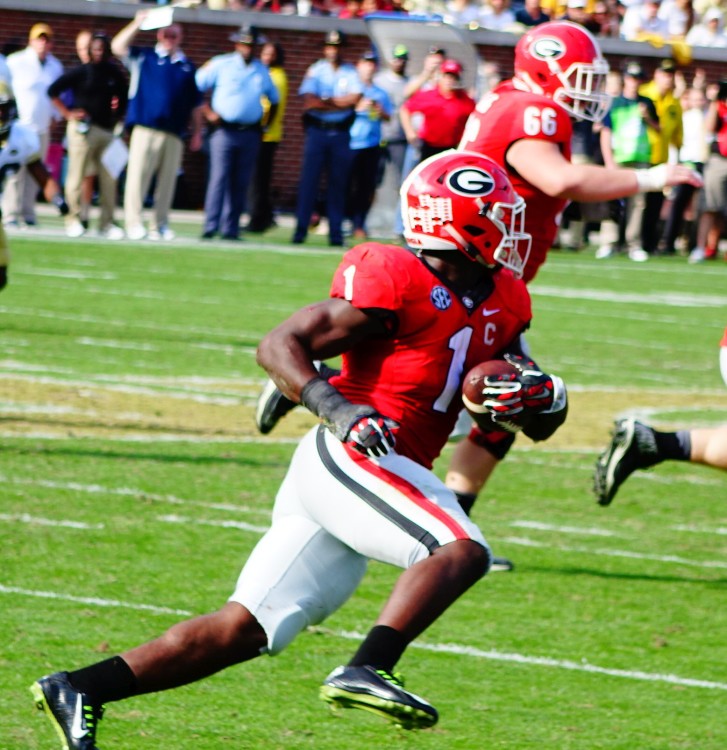 Jacob Eason was No. 9 on the list and at No. 8 comes in someone who is going to be one of his best friends if he earns the starting job.


No. 8 on the list is Sony Michel.  In his two years in Athens, Sony has proven himself as one of the best pure football players on the Georgia football team.  No matter what he is asked to do he has the god given ability to do it at a very high level. 


During the 2016 season he will be more important to the Bulldogs than ever.  Early in the season his importance will be as a tailback.  While Nick Chubb is in the process of making a remarkable recovery, according to most accounts, Sony is going to be leaned on early and he is going to have to be productive while carrying an increased workload.  As Chubb improves his confidence, Sony is then going to be able to transition to the role where he is at his best and can make a massive impact on the team – the jack of all trades.


Sony is at his best when he can get between 15-20 touches per game from multiple positions designed to get him the ball in space.  While his versatility is what makes him special, his greatest talent is his ability to make people miss in the open field.  Sony has the "Reggie Bush like" ability to cut at full speed and stop on a dime.  When you combine that with his ability to power through arm tackles, that makes him hell to deal with.  Add to his skill special set Jim Chaney at offensive coordinator, who is known for devising creative ways to get the ball into his playmakers hands, and that means Sony is poised for a tremendous season.


His ability to be a dynamic, big play threat regardless of where he is lined up on the field is what earns him the No. 8 spot on this list.