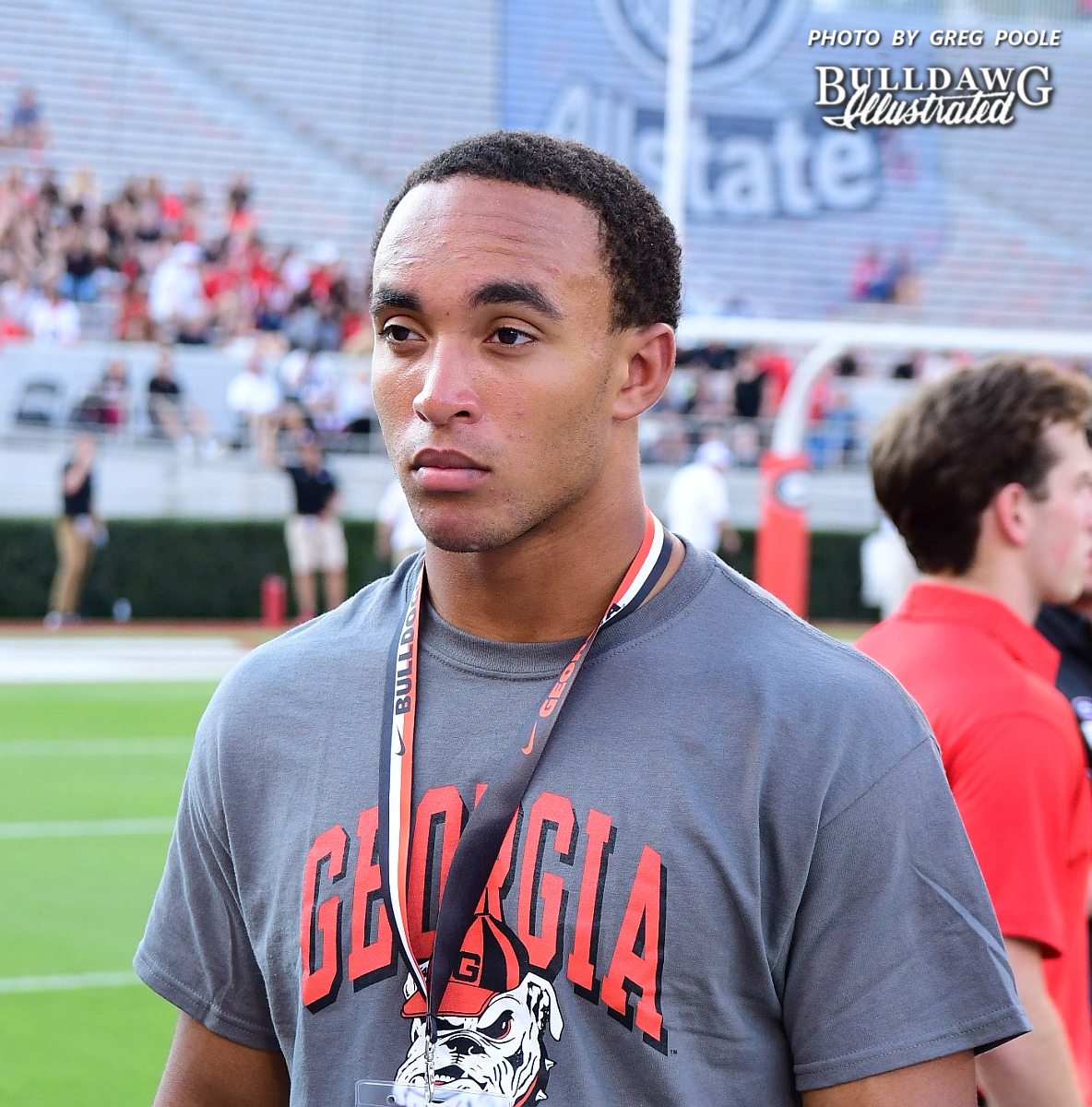 On March 28, 2017, when the Dawgs were sitting with only two commits and ranked with the 40th ranked the nation (10th in the SEC) I wrote an article saying there was no reason to panic.  The main reason I gave was that the slow start was because the Dawgs loaded up on talent in the Class of 2017 and if they showed progress on the field things would take care of themselves.  With the Dawgs off to a fantastic start in 2017, I began re-evaluating the Dawgs recruiting and have put together my annual Way-Too-Early projection for the Dawgs recruiting class.  ENJOY!!


PART 5:  DEFENSIVE BACKS & KICKERS
CORNERBACK:

Tyson Campbell
6'3 180 – 5 Star – American Heritage HS – Ft. Lauderdale, FL

Did you think me predicting Robert Cooper to the be a part of the Class of 2018 was my bold prediction for this class?  Think again.  Tyson Campbell chooses the good guys and keeps the annual tradition of American Heritage HS football players in Athens alive.  A major focus in this class along with the defensive line is bringing in pure cover corners to Athens.  That is the skill set that Campbell would bring to Athens and he is quickly becoming a priority in this class for the Dawgs.  He is a long, rangy corner with elite track speed.  James Coley took a special trip to visit him this summer and the UGA coaching staff has made it clear that he is the number cornerback on their board.  Campbell took an unofficial to Athens for the Mississippi State game and left very impressed.  There is no doubt he will be back for an official visit and the Dawgs will have the opportunity to convince him to make Athens his home for the next 3 years.


Jaycee Horn
6'0 180 – 4 Star – Alpharetta HS – Alpharetta, GA

The current Tennessee commit was in Athens for the Mississippi State game and once again watched the Dawgs when he was on a visit to Knoxville last weekend.  Talk about two dominant games to witness in person.  With the Dawgs focusing on adding true cover corners in this class Horn has recently become a priority for the UGA.  Combine that with the inevitable complete turnover with the Volunteer coaching staff and Georgia native appears to be a prime target to flip.  Horn is another corner with great length and excellent man-to-man coverage ability.


Chris Smith
5'11 170 – 4 Star – Hapeville Charter – Atlanta, GA

Of the current commits to Georgia, Smith flies under the radar way too much.  Smith is a flat out football player that can do absolutely everything on the football field.  He can lock down the opposing receiver and has no fear of flying downhill and laying the wood to a running back.  You need players that bring his type of swag in the defensive backfield.  He had the hit of the year in Georgia HS football in the season opener against Fitzgerald that showed a glimpse of what he brings to Athens.

STAR:

Rachad Wildgoose, Jr.
5'11 and 190 lbs – 3 Star – Northwestern HS – Miami, FL

Many people have talked about Wildgoose as one of those players who may get squeezed out of this class as Georgia's success leads to more interest in the Dawgs.  I think Wildgoose sticks in this class and arrives in Athens as a prime candidate for the STAR position.  Not only does he have a great name he also has great football instincts.  He plays a very physical brand of football and explodes through ball carriers.  While not the caliber of athlete of other defensive backs in this class he is one of those guys that will get every ounce out of what God has given him.

SAFETY:

Aaron Brule
6'1 and 205 lbs – 3 Star – Archbishop Rummel – Metairie, LA

Aaron Brule was a great camp evaluation by Kirby Smart and company.  He showed up in Athens for the Kirby Smart camp and put on a show.  He showed the ability to flip his hips and run in coverage to go along with his film that shows him bringing the hit stick every possible opportunity.  Brule will bring back the big, physical safety in the mold of a Thomas Davis and Greg Blue.  He is one to watch in the rankings as he will be one of the bigger risers based on his performance thus far.

K/P:

Jake Camarda
6'2 and 175 lbs – 3 Star – Norcross HS – Norcross, GA

The importance of special teams simply cannot be overstated.  Last season the Bulldogs couldn't get a kickoff to go through the endzone and the punting was the worst it has ever been.  This season the Dawgs are crushing it through the endzone and booming high, beautiful punts.  Jake Camarda brings the ability to do both in Athens.  His career will likely begin as a punter where he has the ability to uncork 60+ yard bombs.  After Rodrigo Blankenship moves on he will likely take on the kicking duties as well. The Dawgs kicking game is in very good hands in the future.




---
Recent Articles by I'mYourHuckleberry

[pt_view id="d18572ftik"]