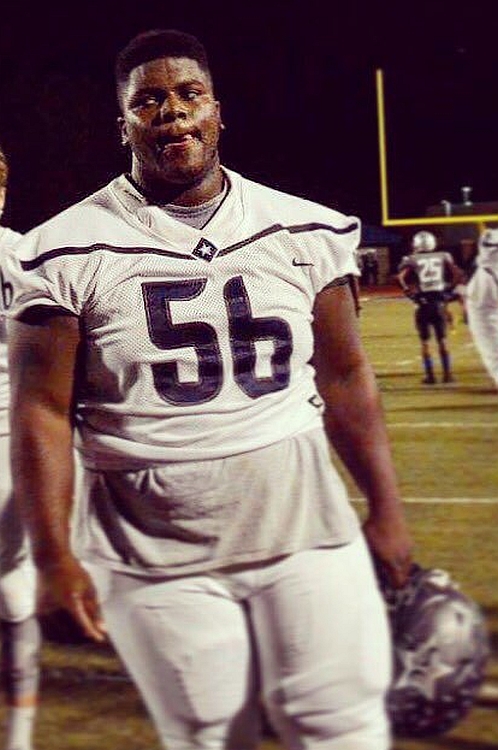 On March 28, 2017, when the Dawgs were sitting with only two commits and ranked with the 40th ranked the nation (10th in the SEC) I wrote an article saying there was no reason to panic.  The main reason I gave was that the slow start was because the Dawgs loaded up on talent in the Class of 2017 and if they showed progress on the field things would take care of themselves.  With the Dawgs off to a fantastic start in 2017 I began re-evaluating the Dawgs recruiting and have put together my annual Way-Too-Early projection for the Dawgs recruiting class.  ENJOY!!


PART 3:  DEFENSIVE LINEMAN
DEFENSIVE END:

Jaevon Becton
6'4 and 248 lbs – 3 Star – Ocean Lakes HS – Virginia Beach, VA

Becton is a player that many aren't familiar with due to him being located in Virginia but he is not a player to sleep on.  Becton is a very good athlete who plays all over the field for his high school team including quarterback, tight end and on the defensive line.  In Athens, his future is at defensive end playing the role currently occupied by Jonathan Ledbetter and David Marshall.  With Becton's frame and the Dawgs strength staff, he will end up carrying 275-285 pounds with ease.

DEFENSIVE TACKLE:

Devonte Wyatt
6'3 and 300 lbs – 4 Star – Hutchinson CC – Decatur, GA

The Dawgs were hoping to have Wyatt in Athens for the 2017 season however he had to take a tour to Hutchinson, KS to get his academics in order.  Wyatt has since re-committed to Athens and is expected to be in Athens in January.  If there is a favorite in this class to be Tim Tebow's Freak of the Week in the future this may be the guy.  The fact that at 6'4 285 pounds he ran 100-meters in under 12 seconds is incredible.  Arriving in Athens early with nine months to learn the scheme and get in the weight room Wyatt could be an immediate contributor in 2018.


Rick Sandidge
6'5 and 288 lbs – 4 Star – Concord HS – Concord, NC

With the way the Dawgs defensive front is playing in 2017 under first-year defensive line coach Trey Scott, the opportunity to come to Athens is too appealing for Sandidge to turn down.  The big man from Concord, NC has an outstanding first step and plays with great leverage.  Before the season started the Dawgs were in the race to land Sandidge but their success on the field will be too much for Sandidge to ignore.  This is the type of lineman the Dawgs need to consistently land to build a defensive that can dominate every week.


Tramel Walthour
6'4 and 277 lbs – 3 Star – Liberty County HS – Hinesville, GA

Another year, another player from Liberty County.  Walthour is a rangy defensive lineman whose best football is ahead of him.  As with most defensive lineman, he will benefit greatly from a college training table and strength and conditioning staff.  Walthour is another candidate in this class to redshirt but develops into a solid contributor.

NOSEGUARD:

Robert Cooper
6'2 and 370 lbs – 4 Star – South Gwinnett HS – Snellville, GA

Once again, another player who ends up in Athens in large part due to the success the Dawgs are having on the field this season.  Cooper is a mountain of a young man who is the ideal fit at nose guard for the Dawgs.  Frankly, he is a better fit in the UGA 3-4 defense than the Florida State 4-3 and his game fits better in the SEC.  The Bulldog pull in Snellville is strong and with the Dawgs stock trending up on the field and Florida State struggling Coach Smart, Tucker and Scott are going to lock in Cooper and flip him to the good guys.




---
Recent Articles by I'mYourHuckleberry

[pt_view id="d18572ftik"]