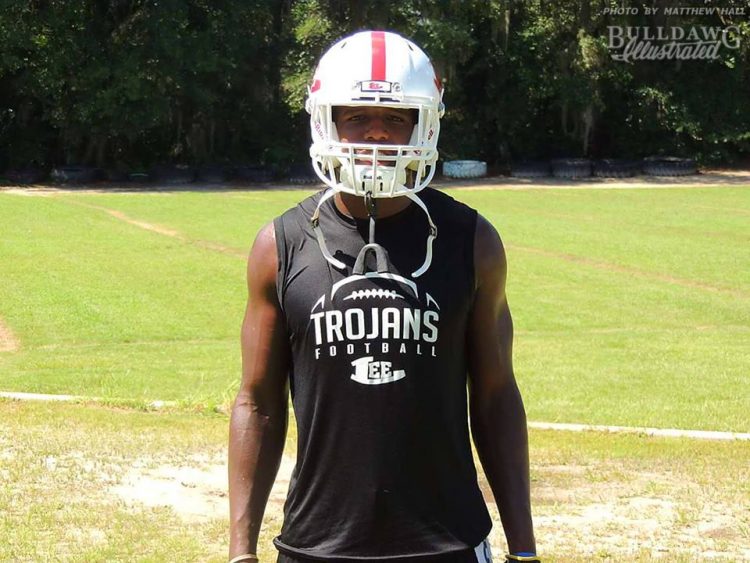 (Photo: Matthew Hall)


On March 28, 2017, when the Dawgs were sitting with only two commits and ranked with the 40th ranked the nation (10th in the SEC) I wrote an article saying there was no reason to panic.  The main reason I gave was that the slow start was because the Dawgs loaded up on talent in the Class of 2017 and if they showed progress on the field things would take care of themselves.  With the Dawgs off to a fantastic start in 2017, I began re-evaluating the Dawgs recruiting and have put together my annual Way-Too-Early projection for the Dawgs recruiting class. ENJOY!!


PART 4:  LINEBACKERS
INSIDE LINEBACKER:

Otis Reese
6'4 and 206 lbs – 4 Star – Lee County HS – Leesburg, GA

Reese is currently committed to Michigan but he has been in Athens quite a bit this season and appears to be trending toward staying home.  In Athens, his future would be at ILB where he would play a very similar role to what we are currently seeing from Roquan Smith.  His combination of size, speed and hitting ability is very similar to former Bulldog Alec Ogletree.  Reese is a natural football player brings great instincts and leadership to Athens.

OUTSIDE LINEBACKERS:

Azeez Ojulari
6'4 and 232 lbs – 4 Star – Marietta HS – Marietta, GA

Azeez is one of the most intriguing prospects in the Class of 2018 for the Dawgs.  He is still extremely raw as a football player but has outstanding measurables.  As he continues to grow as a football player the ceiling for him seems unlimited.  He has still has work to do on the finer points of playing outside linebacker but you can't teach his kind of size and athleticism.


Caleb Tannor
6'3 and 228 lbs – 4 Star – Miller Grove HS – Lithonia, GA

Without question the best pure pass rusher in this class and a young man with the potential to make an impact immediately in Athens.  He has an outstanding first step and does an outstanding job of converting speed into power.  On the offensive side of the ball in this recruiting class, I talked about Ericson and Salyer bringing a nasty attitude to the table – Tannor brings that to the defensive side of the ball in this recruiting class.


Adam Anderson
6'5 and 225 lbs – 4 Star – Rome HS – Rome, GA

Sometimes there are players that just want to get away from home that flirt with Georgia but you have a gut feeling that they won't end up in Athens no matter what.  Recent players that fall into that mold are Reuben Foster, Demetris Robertson, and Aubrey Solomon.  When Anderson committed to LSU I thought he may be one of those guys.  Then he de-commits from LSU and everything thinks he is a lock to the Dawgs but then Alabama enters the picture.  That gives the impression that he is one of those guys.  However, once Coach Smart and Tucker get him in the film room and show him how they are using Lorenzo Carter and how well he fits in the UGA scheme it makes too much sense for him to choose the Dawgs.  Anderson is a long rangy athlete that needs a year in the weight room to bulk up but with his athleticism and ability to play in space he is a perfect fit in Athens.




---
Recent Articles by I'mYourHuckleberry

[pt_view id="d18572ftik"]