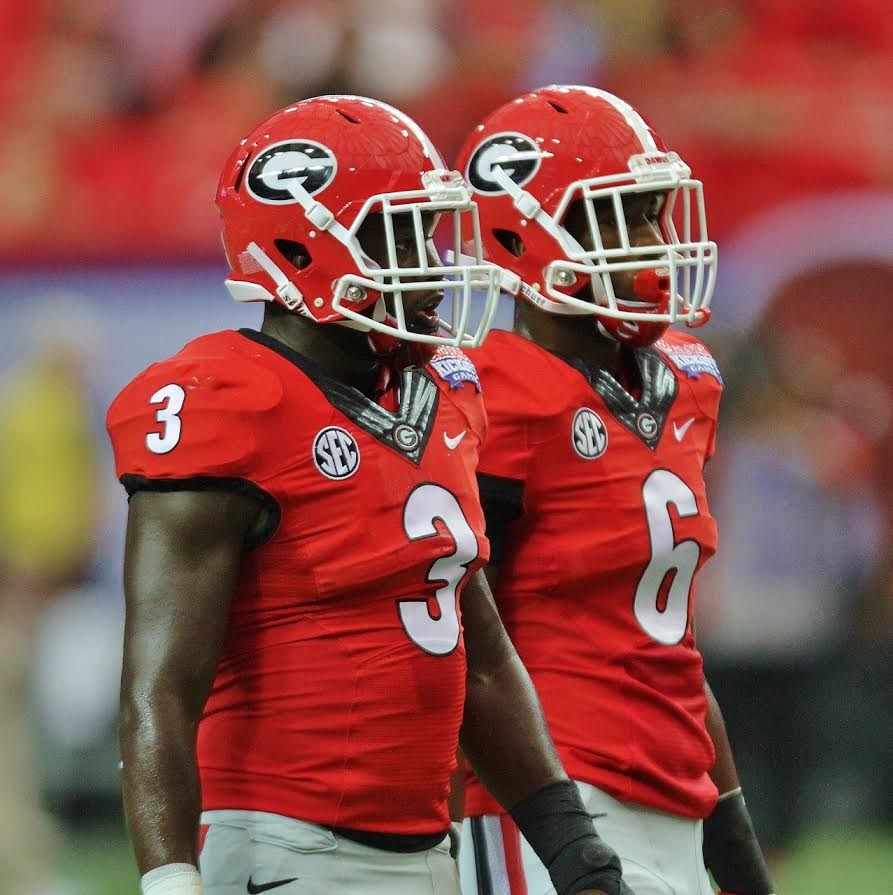 College football is back and there is a palpable sense of anticipation surrounding the Georgia Bulldog football program in 2017!  Here are eight reasons for optimism:


Team Leadership

In 2016 the Dawgs were one of the youngest teams in the nation, suddenly they are one of the most experienced in 2017.  The return of Nick Chubb, Sony Michel, Davin Bellamy, Lorenzo Carter and Dominick Sanders in addition to Isaiah Wynn and Malkom Parrish gives the Bulldogs their best group of senior leaders in recent memory.  Nick Chubb put it well when he said, "I didn't come back to be mediocre".  This group of seniors has demonstrated leadership throughout the offseason with none of their teammates making the typical offseason mistakes that have plagued Georgia in the past.  The leadership in the freshmen class should not be underestimated either.  Jake Fromm, Jeremiah Holloman, Isaiah Wilson and Richard Lecounte are Alpha's on the field with great work ethics off the field.


Running Back U

What can be said about the Dawgs stable of running backs that has not already been said?  The return of Nick Chubb and Sony Michel was Coach McGee's biggest recruiting coup of 2017.  In Chubb's second season removed from catastrophic injury, he appears to be in the best condition of his career.  Sony Michel provides the versatility to run between the tackles, run routes out of the backfield or line up in the slot and create matchup nightmares for opposing coordinators.  Chubb and Michel complement each other better than any other running back duo in the country.  If that wasn't enough, Brian Herrien is lightning in a bottle, Elijah Holyfield is a bruiser and DeAndre Swift is a wildcard.




Natural Progression of Jacob Eason

There is a reason that Jacob Eason was named a consensus five-star recruit, USA Today All-American and Gatorade National Player of the Year.  His physical ability is undeniable and as he gets more comfortable it is inevitable that his game will translate.  Going from high school football in Washington to playing at the SEC level requires a tremendous adjustment and the fact that he struggled as a true freshman should not be a surprise. Eason has worked hard to change his body this offseason.  As a true freshman when Eason arrived the UGA training staff bulked him up in a hurry adding an additional 30-pounds to his frame in a mere 9 months so that he could survive the physicality of the SEC.  He has replaced a lot of that bad weight with good weight and his mobility both inside and outside the pocket should improve.  Also, Coach Chaney has worked this offseason to adapt the offense to better fit Eason's skill set.  Eason will be better in 2017.


Dominant Defensive Line

On paper, the Dawgs defensive line checks every box for a dominant unit.  Coach Tucker's defense returns the entire 3-deep depth chart which tallied 212 tackles, 11.5 sacks, 21.5 tackles-for-loss and 24 quarterback pressures in 2016.  The line led the way for a defense that finished 36th in the nation in rush defense despite relying heavily upon 4 true freshmen.  The versatility of this unit is outstanding.  John Atkins and DaQuan Hawkins are two-down run stuffers that can play the 0, 1 or 3-technique.  Trenton Thompson, Julian Rochester, Michail Carter and Tyler Clark are three-down players who can play the 3 or 5-technique.  Jonathan Ledbetter, David Marshall, and Justin Young will mostly play 5-technique but in pass rushing situations can slide to the inside and play the 3-technique.  The goal in 2017 is simple for Coach Scott's defensive line – dominate at the point of attack and own the line of scrimmage.


Influx of Athleticism

The Class of 2017 provided the Dawgs with a tremendous influx of much-needed athleticism across the entire roster.  The moment Jeremiah Holloman stepped on campus he was immediately the most physically gifted receiver on the roster.  Andrew Thomas, Netori Johnson, and Isaiah Wilson are not only massive human beings but are also light on their feet.  On defense, the Dawgs add Nate McBride who may be the fastest middle linebacker in the country.  However, where the influx of athleticism is most evident and was most needed is in the secondary.  Ameer Speed, Tray Bishop, Eric Stokes, DeAngelo Gibbs and Richard Lecounte are terrific athletes and provide an element of speed and explosiveness that has been missing in the secondary.  Georgia is a team opponents want to catch early in the season because as these young athletes gain experience the Dawgs will be more explosive and dynamic.




Tight End Room

Once again the Dawgs are absolutely loaded at tight end and 2017 is the year where this unit's production should explode.  Jacob Eason and Isaac Nauta have shown outstanding chemistry and that will only improve in their second year on campus.  Jeb Blazevich and Jackson Harris are reliable pass catchers and excellent in-line blockers.  The wildcard in the room is Charlie Woerner a/k/a Baby Gronk.  At every bit of 6'5 256 pounds with exceptional physicality and wide receiver speed, there is not a linebacker or defensive back in the country who can defend him.  Woerner displayed glimpses in the spring game and if those glimpses turn into consistency he will be an unstoppable weapon in the redzone.


Coaching Continuity

In Kirby Smart's second season in Athens, the Dawgs return the entire coaching staff with the exception of defensive line coach Tracy Rocker.  For a first-time head coach, the most difficult part of the job is assembling a coaching staff that reflects your vision for the direction of the program and to be able to translate that vision to your players.  Coach Smart began to implement his vision for the program and continuity in year two is important for continued progress.  There are questions surrounding Coach Chaney's ability as an offensive coordinator and whether he is the right man for the job.  2017 will go a long way in answering that question but retaining him for another season was the correct decision


Roquan & Natrez

With Natrez Patrick and Roquan Smith manning the inside linebacker positions for Coach Tucker's defense the Dawgs are in great hands.  Similar to Nick Chubb and Sony Michel at the running back position Roquan and Natrez complement each other extremely well at linebacker.  Natrez brings a downhill thumper skillset while Roquan is a sideline-to-sideline heat seeking missile.  With a defensive line in front of them that can keep them clean their playmaking ability will shine through in a major way in 2017.


---
Recent Articles from I'mYourHuckleberry


[pt_view id="d18572ftik"]