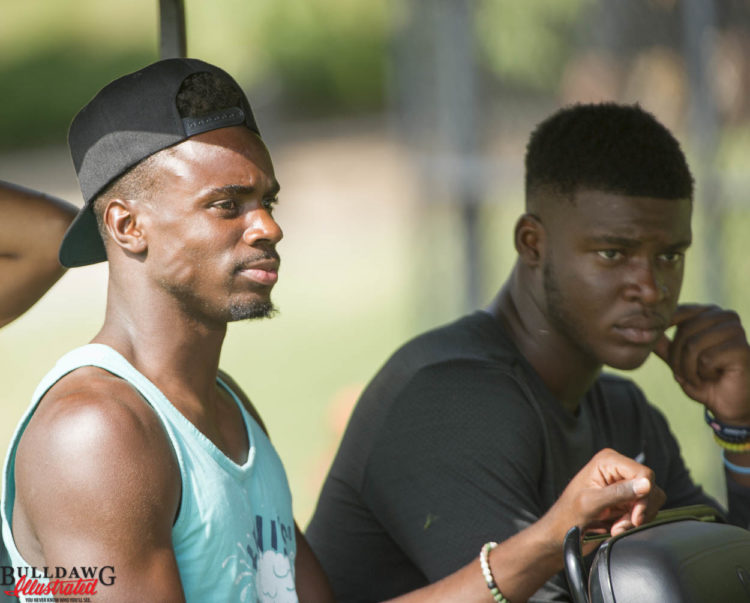 Who are the Top 10 Remaining Recruits on Huck's Big Board?  Find out inside!!
#1 – "A Franchise LT" – Whether it be Walker Little (6'8 305), Isaiah Wilson (6'7 350) or Badara Traore (6'8 315) the Bulldogs need a left tackle that can arrive on campus and be in impact player from Week 1.  The Bulldogs are desperate for a player of this caliber to protect Eason's blind side and whether the staff says so or not, it is likely their top priority.
#2 – De'Angelo Gibbs – CB/S – Gibbs is a special athlete that can play either CB or S in Coach Smart and Coach Tucker's defense.  The Bulldogs must continue to add an influx of talent in the secondary where they are still looking for players with shutdown skills.  Gibbs versatility makes him special and his best football is definitely ahead of him.
#3 – Jeremiah Holloman – WR – The most underrated player in the country that I have watched.  Holloman is definitely a bit raw when it comes to route running but in terms of his measurables, athletic ability and incredible catch radius he will flourish on the collegiate level.  I think he has the highest potential of any receiver in this class and has A.J. Green/Julio Jones type ability and given the fact he is an early enrollee that will go through spring practice and he will contribute from Day 1.  Put him with Eason and Fromm moving forward and you have an elite #1 WR.
#4 – Markaviest Bryant – OLB – Bryant reminds me a great deal of a young Leonard Floyd.  He is raw and more wiry than strong at this point in his development but he has an incredible first step and plays with a motor and intensity you just can't coach.  UGA desperately needs impact pass rushers on the edge and has one in Robert Beal, but that is not enough.
#5 – Nate McBride – ILB – McBride is a freak of nature at 6'2 230 pounds.  He is strong, physical, has great instincts and is lightning fast.  He has dealt with some injuries in his high school career but if he can remain healthy on the collegiate level he may have the most physical tools of any ILB in the country.  He is a high volume tackler and a potential big time playmaker on the collegiate level with his athletic ability.
#6 – Nico Collins – WR – The Bulldogs need to continue to add playmakers at the WR position and Collins is exactly that.  At 6'5 he is a mismatch nightmare and uses his body to create separation on a regular basis.  With Eason's strong arm he is an ideal target on back-shoulder fades and deep routes down the sideline.  He can contribute from Day 1.
#7 – Walter Grant – OLB – Grant looks like a Natrez Patrick clone but with the frame to carry a little bit more weight and thus end up at OLB.  He will likely play in the 250-260 pound range and will be one of those linebackers Coach Smart loves that plays physical and can consistently set the edge.  Not the most flashy player on this list but nonetheless very valuable.
#8 – Malik Herring – DE – For Kirby Smart's defense to reach it's true potential he needs more DE's in the 265-280 pound range and Herring is exactly that.  He is in the mold of  a Jonathan Ledbetter and/or David Marshall who are strong enough to set the edge but also quick enough to pursue laterally and rush the passer.
#9 – Aubrey Soloman – DL – The Bulldogs have a lot of young depth on the defensive line but you can never have too many big bodies.  Soloman is the best defensive tackle in the state of Georgia in the Class of 2016 and you don't want to miss out on that prospect.  He would likely redshirt as a true freshmen but has the potential to be an impact player down the line.
#10 – Pull Off An Upset or Two in the Secondary – Somehow, someway, somewhere Kirby Smart need's to steal a player the Dawgs aren't currently expected to land.  Be it a guy like Jeffrey Okudah (CB), Jacoby Stevens (S), Jamyest Williams (CB), Xavier McKinney (S) or A.J. Terrell (CB).  The Bulldogs must continue to add speed, athleticism and coverage ability in the secondary.  It would be huge for the Dawgs to land 1 or 2 of the names above.