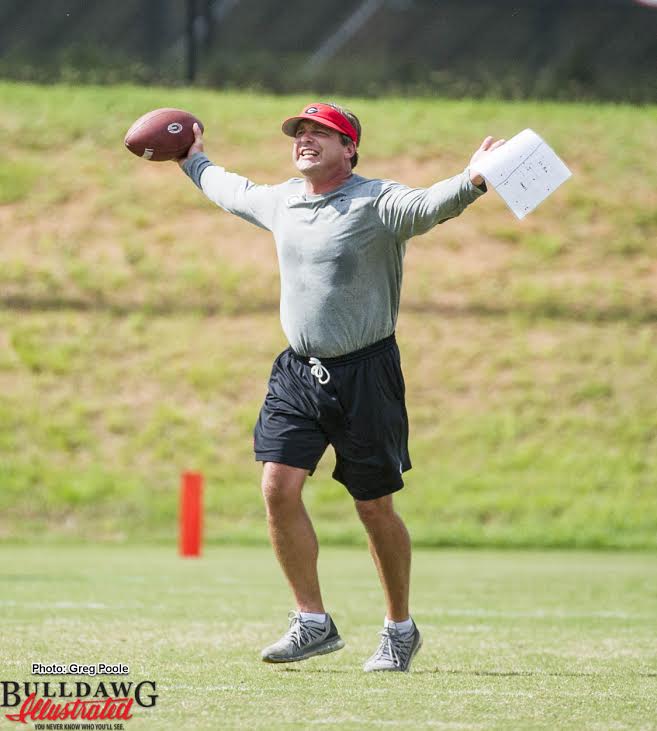 One of the major storylines in college football this year is Kirby Smart entering his first season as Head Coach for the Georgia Bulldogs.  Depending on which publication you read, radio program you listen to or TV show you watch, the expectations are all over the place for Coach Smart's first season.  So what should be the expectations?
Let's start with a look at recent history.  There are 10 head coaching jobs in college football that are considered elite, Georgia being one of them.  Each of these programs have the resources to be amongst the nation's elite programs year in and year out.  These programs also have hired highly respected coaches and their first year success has varied.  See below:
Alabama – Nick Saban – 7-6
Clemson – Dabo Swinney – 9-5
Florida – Jim McElwain – 10-4
Florida State – Jimbo Fisher – 10-4
Georgia – Kirby Smart – ?????
LSU – Les Miles – 11-2
Ohio State – Urban Meyer – 12-0
Oklahoma – Bob Stoops – 7-5
Southern Cal – Clay Helton – ?
Texas – Charlie Strong – 6-7
Nick Saban, Jim McElwain and Bob Stoops walked into a teams that had talent but were a complete mess in terms of discipline left by their predecessors.  Jimbo Fisher, Les Miles, Urban Meyer and Charlie Strong all replaced legends of their respective programs and had big shoes to fill.  Dabo Swinney took over a team lacking talent from a regime that never quite lived up to expectations.  These different situations led to a mixed bag of results and none of these situations are very similar to what Kirby Smart is facing.
Mark Richt left behind a roster with above average talent that had struggled to reach their potential during his tenure.  This is also his first time as a head coach.  Everyone on the list above with the exception of Dabo Swinney, Bob Stoops and Jimbo Fisher had been head coaches once before taking the reigns as head coach of their respective teams.    Also, Kirby Smart is a defensive coach joining Bob Stoops, Nick Saban and Charlie Strong as the only coaches with a defensive background to receive a head coaching position at one of the Top 10 programs.
The fact that Kirby Smart is a first time Head Coach at Top 10 program and the fact that he comes from a defensive background are considered disadvantages by many.  First,  as he is a first time head coach he is going to have to make a number of decisions he has never had to make before and is likely to make some mistakes.  Second, as a defensive coach, he has more a fiery demeanor on the sideline and can be quite emotional which is considered a liability in a head coach, especially when they are a first year coach having to make important decisions.  Too much emotion in one way or another could lead to bad decisions in key moments.
While it would seem everything is working against Kirby Smart, there are arguments to be made to the contrary.  Kirby Smart has been the apprentice for the best coach in college football history in Nick Saban and Smart has undoubtedly learned many lessons and soaked in a great deal.  Also, I would argue that only Urban Meyer and Les Miles inherited rosters with more talent than what Georgia returns for Coach Smarts first year.
So where does that leave Coach Smart?  It's still anyone's guess.  That said, I want to hear from you.  What are your expectations for Coach Smart's inaugural season?