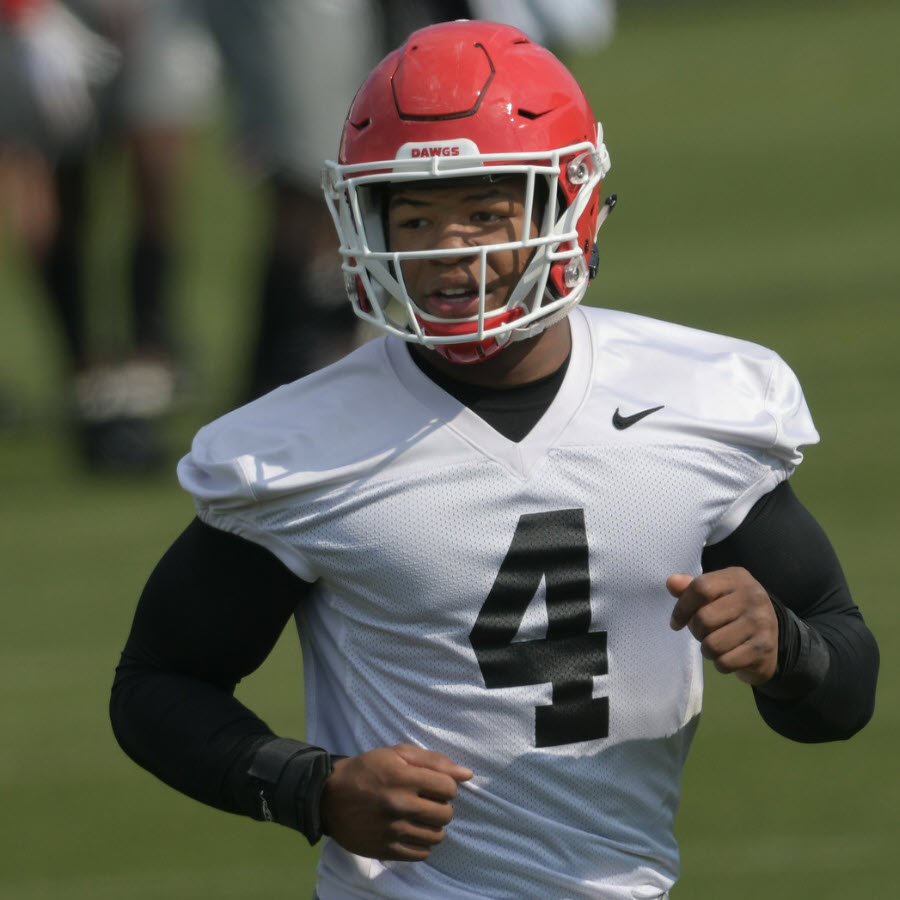 With spring practice moving full speed ahead this week with the Dawgs having donned full pads it Coach Smart has been very excited by the effort and intensity from his team. Even more exciting is the emergence of several players from whom major contributions are expected.
Brenton Cox – From photos it appears that Cox has slimmed down and it has helped his ability to bend the corner when rushing the passer. Regardless of the fact that he is likely carrying 5-10 pounds fewer than he was as a true freshmen his physicality at the line of scrimmage is still his biggest strength. Coach Smart has commented on his striking ability this spring.
Nolan Smith & Jermaine Johnson – When Coach Smart talks about these two he gets a big smile on his face. Both Smith and Johnson practice with attitude and play with a big chip on their shoulder. Johnson wants to prove that he can dominate at an elite level and Smith is on a mission to prove he was the #1 Recruit in the nation. Both are physical freaks that will flash in a major way during the spring game.
Demetris Robertson – When Robertson gained immediate eligibility he was expected to be an immediate contributor last season but that did not come to fruition. After an offseason conditioning program Robertson did not add much mass but he is in much better shape. There is a reason why he caught 50 passes for 767 yards as a true freshmen – he is immensely talented. However, last season it was clear his confidence was shaken. This spring their have been signs that he is getting his swagger back.
Jamaree Salyer & Ben Cleveland – After Ben Cleveland broke his leg last season it was incredibly difficult for him to bounce back. He lacked a great deal of confidence in his leg but after another stellar offseason in the weight room his confidence is back 100%. Salyer is also right behind him pushing him for every single rep. The light bulb is coming on for Salyer and he is starting to show why he was the consensus #1 offensive guard coming out of HS. This spring for the Dawgs there is no 1st String and 2nd String offensive line – it is 1A and 1B.
Richard LeCounte – Another player that you can see a major difference in the photos in LeCounte. It looks like he has easily put on 8-10 pounds of good weight and a majority of it coming in his upper body. It was one of the most notable transformations I have seen and should pay dividends in 2019. Last season it was clear that the biggest hole in LeCounte's game was his tackling and if he is able to remedy that issue he is an ALL-SEC caliber player. The added mass has certainly helped this spring.
Recruiting Ramblings
The recruiting rollercoaster is truly amazing this time of the year. A month ago if you asked most Bulldog fans what they though about the Class of 2020 many would have said we are going to sign the best class in the country. With news of Bresee and Murphy perhaps both leaning toward Clemson at the moment the sky is suddenly falling. My advice – RELAX! If there is one thing Coach Smart has proved during his tenure in Athens is that he can flat out recruit and he is a closer. When all is said and done the Dawgs will land another elite recruiting class. The key for the Dawgs once again is on the field – they need to get over the hump against Alabama and get back to the Playoffs. The rest will take care of itself.