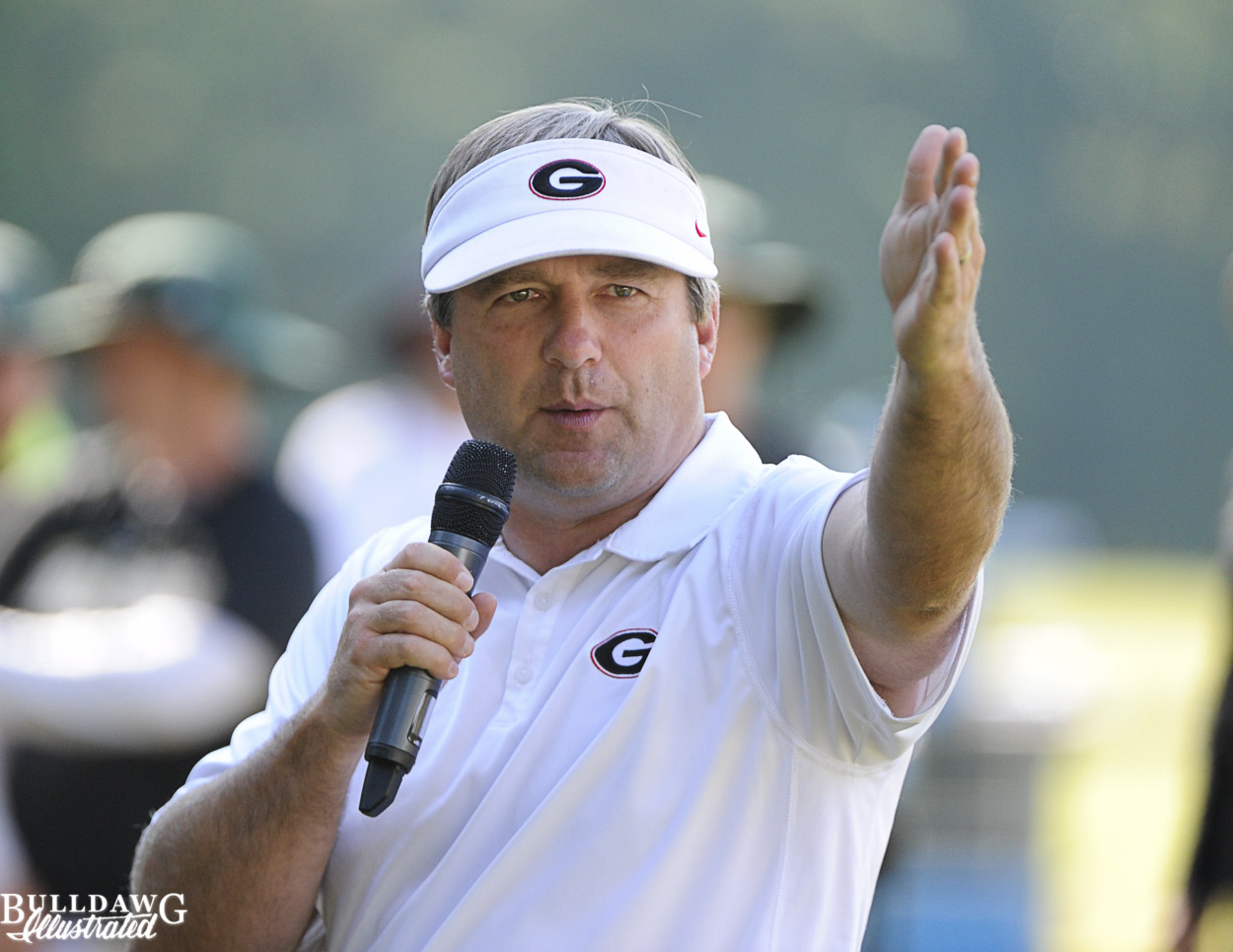 Today is a very special day for our country so today I put together an in-depth look at recruiting for your viewing pleasure:
Big Momentum Coming Dawgs Way?
July looks like it could be a massive month for the Bulldogs on the recruiting trail.  With The Opening coming up next week there are several players who could potentially Commit to the G.  It all starts along the offensive line with Andrew Thomas who has said he will commit at The Opening.  The 6'6 310 pound tackle is one of the Top 50 players in the country and Top 10 at his position.  Also, the possibility has emerged of Toneil Carter, the #5 RB in the Nation, committing at The Opening.  While not very well known by many in the state of Georgia, Carter has a ton of talent and would be a big time addition to the backfield in Athens.
Others who could make a decision in the next few weeks are:
Latavious Brini – The tall, lanky Florida CB who nobody is talking about would be a wonderful addition.  Brini could commit at any moment and would give the Dawgs some coveted size at the corner position. (Note: This article was posted prior to Brini's commitment)
Robert Beal – The former Georgia native, now residing at IMG Academy in Florida, has seen his recruitment swing big time in the direction of the Bulldogs.  Adding him to this class would be a bigtime boost and help keep the UGA pipeline at IMG Academy.
Jacob Stevens – The #1 Athlete in the country and in my opinion the #2 Safety in the country (only behind Richard Lecounte, III) is announcing in July and would be a massive addition for the Dawgs in the Class of 2017.  The Dawgs need to add talent and depth at the safety position in a major way and landing the two best safeties in the country will certainly do that.
Tray Bishop – One of the top athletes in the country who is being recruited to play many different positions by many different schools is likely to make a decision sooner or later.  It looks like it will be a decision between Auburn, Florida and Georgia and at this point it is truly anyone's guess where he lands.
As of right now I really like UGA's chances to add Thomas, Carter, Beal and Stevens in the next 30 -days.
The Importance of Trevor Lawrence
Obviously, the Bulldogs already have Jacob Eason on campus and Jake Fromm on the commitment list for the Class of 2016 but Lawrence is about as close to a "must get" as it comes.  Any time the #1 Prospect in the Nation is a native of your state you need to do everything in your control to land him.  Not only because of his talent, but also because of the talented in-state players who will want to play with him.  If Georgia is going to truly shut down the borders this commitment will go a long way to helping them do that in the Class of 2018.  Also, expect it to be a big part of the pitch to superstar 2018 tailback Zamir White.
Can UGA Really Land Isaiah Wilson?
The 6'7 350 pound offensive tackle from Brooklyn, NY doesn't seem like your typical UGA recruit.  That area of the country tends be a part of the Big 10/Big East footprint when it comes to recruiting but the Bulldogs have been able to get their foot in the door.  Not only have they been able to get their foot in the door, but they have also been able to get the big man down to Athens for a visit.  By all accounts the visit was exceptional and Wilson has said that UGA will definitely be one of his official visits.  As far as the Bulldogs chances to land Wilson, it is tough to say at this moment.  Wilson is the type of player who doesn't really care about the depth chart or other recruits coming in as a part of his Class.  He is a very confident young man who feels he has the talent to beat out anyone for a starting job.  Because of Sam Pittman, I would give UGA a little bit more than a punchers chance but I think Michigan will be tough to beat and think we may have to watch out for Southern Cal.
What's going on with WR Recruiting?
Among the fan base there has been a lot of concern about UGA's wide receiver recruiting? I understand the concern, UGA has missed out on some of the top in-state receivers recently and haven't been able to pull in a top out of state prospect like an A.J. Green recently.  That said, I strongly believe UGA that James Coley is an excellent judge of talent and is going to bring in some quality receivers.  A great example of that is Riley Ridley.  The Bulldogs weren't even recruiting him and in only a couple months he was able to get Riley to commit and he may have been one of the most underrated receiver prospects in the country.  Also, watching Matt Landers on film I have high expectations for his development.  He is a long strider that glides gracefully down the field and can really create separation vertically.  Last but not least, the more and more I watch of Jeremiah Holloman and see his development during the summer camps, I am becoming a bigtime believer.  I will be very interested to see what happens with him in the recruiting rankings when most release an update shortly after The Opening.  Taking a glance at the 247Sports Composite, he is the #219 player in the country.  Don't be surprised to see a meteoric rise into the Top 50 range sooner than later.
Mock Class 2.0
QB – Jake Fromm
RB – Deandre Swift
RB – Toneil Carter
WR – Trey Blount
WR – Jeremiah Holloman
WR – Matt Landers
WR – Xavier Jenkins
OT – D'Ante Demery
OT – Andrew Thomas
OT – Tony Gray
OG – Netori Johnson
OG – Justin Shaffer
DE – Malik Herring
DT – Aubrey Soloman
ILB – Nate McBride
ILB – Walter Grant
OLB – Jaden Hunter
OLB – Markaviest Bryant
OLB – Robert Beal
CB – William Poole III
CB – Latavious Brini
CB – DeAngelo Gibbs
CB – A.J. Terell
S – Jacoby Stevens
S – Richard LeCounte III
ATH – Breon Dixon
If UGA lands the class as listed above, I believe they are a lock for a Top 2 Class.  If they want to get to #1 I believe they are going to need to pull an upset and land a guy like Isaiah Wilson or Jaymest Williams.