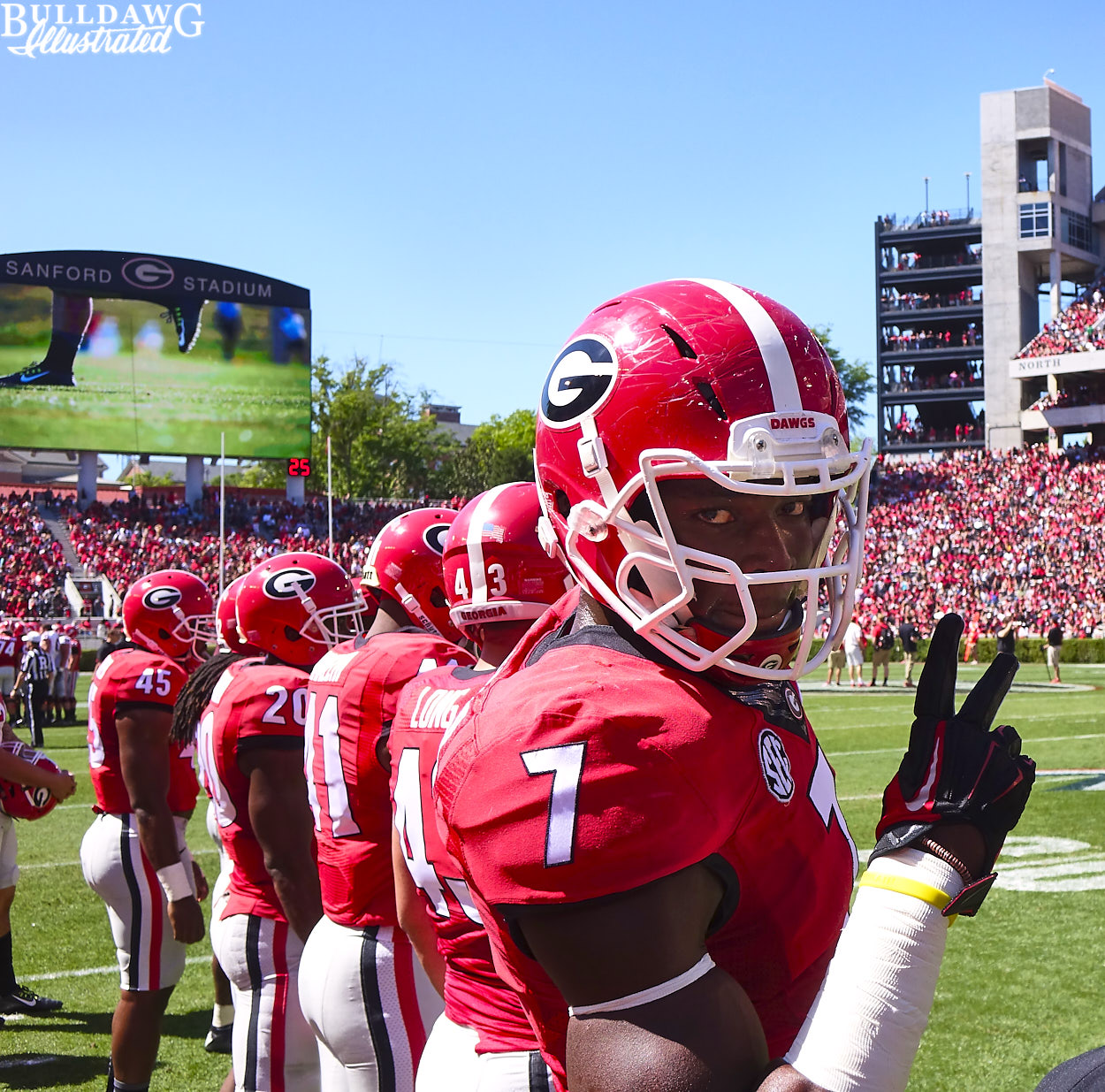 With Spring Practice and G-Day now in the books we take a stab at how the Bulldogs defensive depth chart will look when the Bulldogs open the season.


DEFENSIVE TACKLE:
#1 – Trenton Thompson – 6'4 307 – The Bulldogs most talented defensive lineman will be asked to play a major role both as a run stuffer and penetrating on the interior to create negative plays.
#2 – DaQuan Hawkins – 6'4 302 – A big surprise from the Class of 2015 that is incredibly strong at the point of attack and with a relentless motor.
#3 – Michail Carter – 6'4 302 – A true freshmen who will more than likely be asked to play significant snaps because of his college ready body.
#4 – Tyler Clark – 6'3 290 – Would normally redshirt but due to the Dawgs lack of depth along the defensive line he may get some spot play because of his frame.


DEFENSIVE END:
#1 – Michael Barnett – 6'4 286 – Barnett has the combination of length, strength and athleticism to both stop the run and rush the passer.
#2 – Jonathan Ledbetter – 6'4 268 – This will be a big summer for Ledbetter as he could develop into an elite level defensive lineman if he can put on 10 pounds more good weight.
#3 – Justin Young – 6'4 278 – Young quietly stood out in the spring game.  He plays with excellent pad level and a non-stop motor.
#4 – Chauncey Rivers – 6'3 272 – Facing a two-game suspension, Rivers could provide a pass rushing option from the end position upon his return.
#5 – David Marshall – 6'3 278 – Much like Tyler Clark, Marshall would normally red shirt but because of his frame and athleticism he may get a look due to lack of depth.


NOSE TACKLE:
#1 – John Atkins – 6'4 300 – I put Atkins on the list of most improved looking player in the spring.  He is country strong is very tough to move of the ball.
#2 – DaQuan Hawkins – 6'4 302 – When the Dawgs are in the 3-4 Hawkins will get looks at both end and at the nose due to his combination of strength at the point of attack and lateral pursuit.
#3 – Julian Rochester – 6'5 327 – An 19-year old that looks like a 26-year old and has the size and strength to play like one.


JACK:
Davin Bellamy – 6'5 251 – Bellamy stepped up in a big way with Lorenzo Carter struggling last season and proved he can be reliable setting the edge in the run game and effect the pocket against the pass.
Chuks Amaechi – 6'3 232 – An intriguing option for the Georgia defense with his athleticism and ability to play in space.
Chauncey Manac – 6'3 255 – The true freshmen has a chance to carve out a role during fall practice because of his raw size and strength that should allow him to play stout against the run.


MIKE:
Natrez Patrick – 6'3 248 – The key player for UGA's defense in 2016, Patrick has a lot of pressure to elevate his game to the level of an All-SEC middle linebacker.
Tim Kimbrough – 6'0 228 – Kimbrough is a downhill thumper that Kirby Smart is extremely fond of but he will be a two-down player in Smart's defense.
Ryne Rankin – 6'1 218 – Unlikely to see much of a role on defense but he is a special teams demon that goes 1000 mph.


MO:
Reggie Carter – 6'1 231 – Another key cog for UGA's defense, Reggie Carter looked in excellent form this spring coming off his shoulder injury.
Roquan Smith – 6'1 228 – While undersized compared to Coach Smart's typical middle linebacker he has the speed and striking ability perfect for UGA's sub/nickel packages where he should make a big impact.
Juwan Taylor – 6'1 216 – Another undersized outside linebacker who can really run but barring injury on the depth chart ahead of him he is destined for special teams.


WILL:
Lorenzo Carter – 6'6 248 – Looking to rebound after a disappointing season rumors are the light bulb is starting to come on for Carter and if it does he should have 10+ sacks.
D'Andre Walker – 6'3 229 – Remember Tim Williams from Alabama last season?  That's Walker, a pass rush specialist that is incredibly quick and ridiculously explosive off the edge.
Shaun McGee – 6'3 232 – Another Bulldog who has not made a big impact on the defensive side of the ball but he is a solid special teams contributor.


CB:
#1 – Juwuan Briscoe – 5'11 193 – From considering a transfer to becoming the Bulldogs best cover corner.  He has a unique combination of confidence and recovery speed to lock down receivers.
#2 – Malkom Parrish – 5'10 188 – Undersized but a fantastic tackler in the open field and he is a flat out gamer.
#3 – Deandre Baker – 5'11 174 – An extremely raw CB coming out of Miami but he has all the swagger in the world and a lot of natural ability to go with it.
#4 – Aaron Davis – 6'1 190 – Always overlooked because of his former walk-on status but he is a reliable cornerback who Smart and Tucker can lean on if any of the young guys are struggling.
#5 – Rico McGraw – 6'0 192 – McGraw's spring was a bit disappointing.  He didn't emerge at either CB positon as we expected and struggled with his tackling from the star position.
#6 – Mecole Hardman – 5'11 178 – It is hard to put Hardman any higher on this list because we don't know for certain if he will be on offense or defense but we all know he is a special athlete.
#7 – Reggie Wilkerson – 5'11 176 – Another veteran option at corner, the undersized Wilkerson is extremely quick and has shown a knack for sticking tight to opposing receivers.
#8 – Shattle Fenteng – 6'2 185 – A young man with a lot of physical talent but has struggled with the mental side of things since his arrival in Athens.


STAR:
#1 – Rico McGraw – 6'0 192 – As mentioned above McGraw's spring was only average at best.  However, he appears to be Smart's preference at the Star position.
#2 – Malkom Parrish – 5'10 188 – For those of us on the outside looking again Parrish has a fantastic skill set for star:  he is physical, fights off blocks and plays much bigger than his size indicates.
#3 – Jaleel Laguins – 6'2 215 – Because of his excellent speed and slight frame don't be surprised to see him get trained at Star while his body fills out into a linebacker.


FREE SAFETY:
#1 – Dominick Sanders – 6'0 189 – The ball hawking Sanders is going to be put in a position to play a lot of center field and create turnovers, his perfect role.
#2 – Jarvis Wilson – 6'2 190 – Wilson got a bunch of playing time as a true freshmen and provides a little more physicality than Sanders at the free safety position.
#3 – Chad Clay – 6'0 184 – The true freshmen faces a steep learning curve despite enrolling early and will likely be relegated to special teams barring injuries ahead of him.


STRONG SAFETY:
#1 – Quincy Mauger – 6'0 200 – The intimidator in the Bulldogs secondary, Mauger plays with the physicality to put fear into opposing receivers but just needs to be more consistent.
#2 – Rashad Roundtree – 6'1 205 – Another physical football player with a lot of raw talent but needs to develop as a football player – definitely has the smarts to become a major contributor.
#3 – Kirby Choates – 6'0 198 – Another weapon that is very important for the Bulldogs special teams as he flies down the field fearlessly and makes big hits on a regular basis.


---
CLICK HERE
TO LOOK AT
HUCK'S PROJECTED 2016 OFFENSIVE DEPTH CHART
---