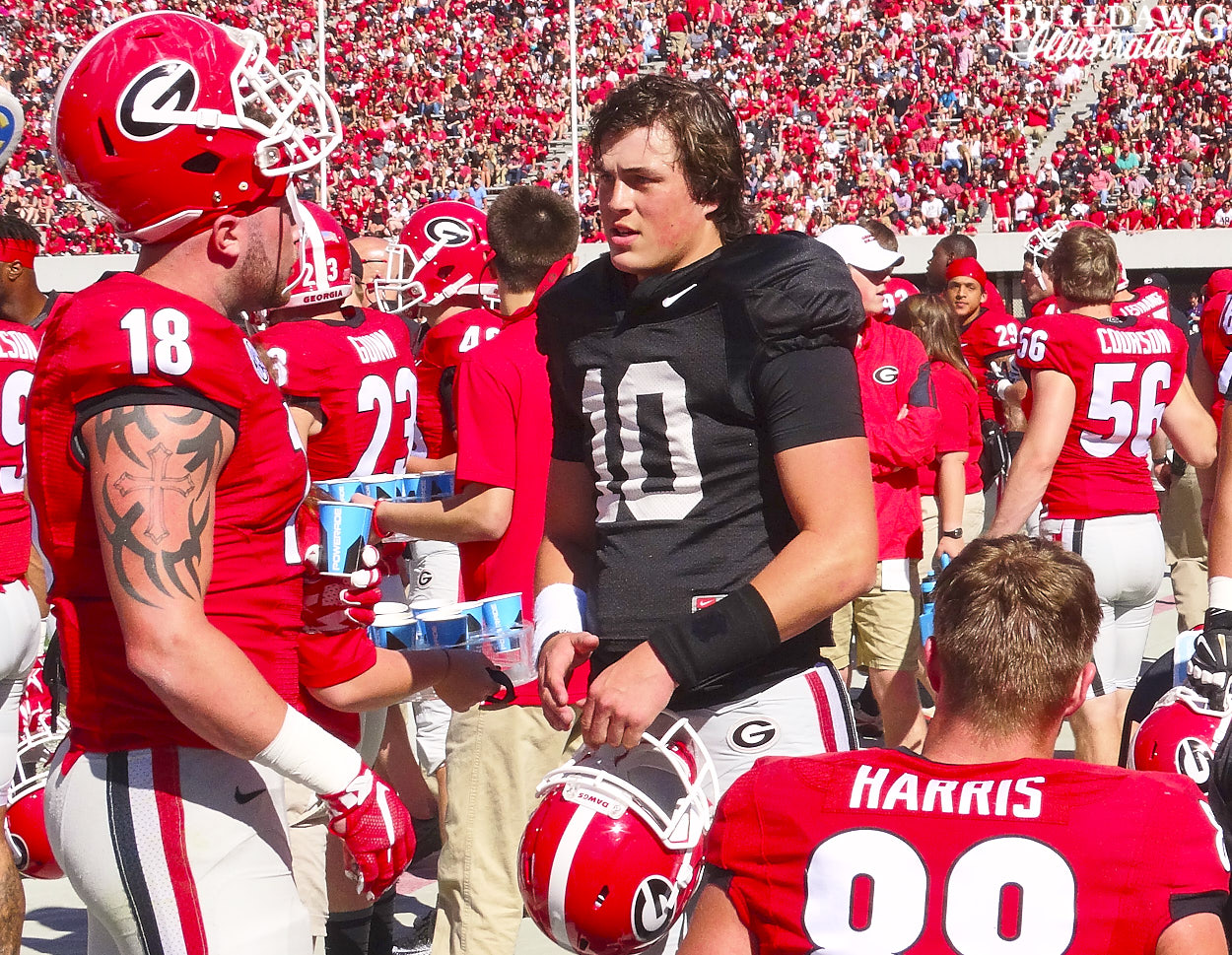 With Spring Practice and G-Day now in the books we take a stab at how the Bulldogs offensive depth chart will look when the Bulldogs open the season.


QUARTERBACK:
#1 – Jacob Eason – 6'6 228 – We all saw during the G-Day game that Eason is the most talented QB on the UGA roster.  Give him another 4 months before the opening game and that gap will only widen.
#2 – Brice Ramsey – 6'3 215 – Ramsey made progress during spring practice and his skill set fits in very well with Chaney's offense.
#3 – Greyson Lambert – 6'5 230 – In his final season Lambert will be relegated to an observer and a mentor as he is simply less talented then his younger teammates.
#4 – Nick Robinson – 6'0 200 – Showed some talent during the G-Day game and is an underrated athlete that made good decisions.


RUNNINGBACK:
#1 – Sony Michel – 5'11 214 – Michel looked fantastic in the spring with stronger looking legs than ever but perhaps a bit slimmed down.  He looks primed for a monster season.
#2 – Nick Chubb – 5'11 223 – Chubb will only get stronger as the season goes on but for the first three-four weeks he will play a complementary role to Michel.
#3 – Elijah Holyfield – 5'10 215 – Holyfield is a physical specimen that runs behind his pads with a lot of energy and effort.
#4 – Brendan Douglas – 5'11 215 – Douglas is a tough, durable between the tackles tailback with reliable hands and a solid blocker in pass protection.
#5 – Tae Crowder – 6'3 225 – He showed that there is some potential their but he still needs to get bigger and stronger in the lower body to be ready.


TIGHT END:
#1 – Jeb Blazevich – 6'5 248 – Jeb had a quiet spring game but he is UGA"s most well rounded tight end and will thrive in Chaney's system.
#2 – Isaac Nauta – 6'4 242 – Nauta is special, there is no other way to put it.  I'm going to call him Baby Gronk and he is going to be nearly unstoppable as he matures.
#3 – Jackson Harris – 6'6 254 – Harris would be a #1 TE for nearly any other team in the SEC and the big, soft handed target will get plenty of opportunities.
#4 – Jordan Davis – 6'4 235 – Davis will have a limited roll but it will be important.  He can stretch the field from the TE position and run away from linebackers down the seam.


WIDE RECEIVER:
#1 – Terry Godwin – 5'11 178 –  An incredibly fluid athlete with velcro-like hands.  Add that into a precise route runner and a fearless attitude and you have an elite WR.
#2 – Jayson Stanley – 6'2 204 – In the spring game you saw what makes Stanley special, he is big, strong and can stretch the field vertically.
#3 – Javon Wims – 6'4 215 – I'm taking a bit of a flyer here on Wims but from what I hear he is an instant impact player and ready to roll from Day 1.
#4 – Michael Chigbu – 6'2 216 – A possession WR with great hands and runs very solid routes that will be a reliable target for a young QB.
#5 – Reggie Davis – 6'0 170 – A track speedster whose biggest strength is his ability to stretch the field and will benefit greatly from a QB like Eason who throws a beautiful deep ball.
#6 – Riley Ridley – 6'2 198 – Crafty beyond his years, with excellent hands and fantastic route running.  He will see the field early and often.
#7 – Charlie Woerner – 6'5 230 – A matchup nightmare for cornerbacks with his big body and ability to shield defenders.  Look for him to see the field often in the red zone and as a perimeter blocker.
#8 – Shakenneth Williams – 6'1 199 – He is a solid receiver but lacks one exceptional skill that makes you really want to get him on the field.
#9 – Shaquery Wilson – 6'1 190 – The move to RB out of necessity hurt his development as a receiver but he could too low on this list based on his overall talent.
#10 – Tyler Simmons – 5'11 212 – It may be tough for him to find the field at receiver but with his incredible speed it is tough to rule him out.


SLOT RECEIVER:
#1 – Isaiah McKenzie – 5'8 170 – McKenzie is special with the ball in his hands in the open field and Chaney will find a way to get the ball in his hands often in the slot.
#2 – Terry Godwin – 5'11 178 – When he isn't lined up out wide he is going to be in the slot.  He is a nightmare matchup for nickel backs.


LEFT TACKLE:
#1 – Isaiah Wynn – 6'2 292 – Wynn is undersized but is a special athlete with incredibly long arms and fantastic quickness.  He is the best equipped to protect Eason's blind side.
#2 – Tyler Catalina – 6'6 315 – Catalina could very well end up as the starting LT but it is a huge responsibility and big adjustment to ask from anyone to protect the QB's blind side.
#3 – Pat Allen – 6'4 305 – Allen is improving but is still a year away from being ready to contribute at the SEC level.


LEFT GUARD:
#1 – Dyshon Sims – 6'4 302 – Sims is another very good athlete for an offensive lineman who the light bulb has seem to come on for.  As long as he is consistent he will likely find a starting spot.
#2 – Ben Cleveland – 6'6 345 – Freakishly strong but still a little bit raw.  He will only get better as the year goes on but is physically ready to compete from Day 1.


CENTER:
#1 – Brandon Kublanow – 6'3 295 – A little bit undersized, but the unquestioned leader of the offensive line and the perfect player for a true freshmen QB to take snaps from.
#2 – Sage Hardin – 6'6 295 – The center of the future for the Bulldogs.  He is smart, long armed and only getting bigger and stronger.


RIGHT GUARD:
#1 – Greg Pyke – 6'6 325 – Pyke spent spring practice at right tackle but his NFL future and best position is at RG.  If he plays nasty and he can be the best guard in college football.
#2 – Lamont Galliard – 6'2 310 – The switch from DL to OL was fantastic for Galliard.  He will likely play the 6th man role for this offensive line early in the season.
#3 – Sam Madden – 6'6 342 –  The monster from New Jersey is still raw but he is the type of monsterous mauler Pittman covets.


RIGHT TACKLE:
#1 – Tyler Catalina – 6'6 315 – Catalina is a grown man and physically strong enough to be a mauler in the SEC.  He is a perfect fit at RT allowing Pyke to slide back inside to guard.
#2 – Kendall Baker – 6'6 315 – Baker showed that he is improving every practice at the tackle position and he is the starting RT of the future in Athens.


---